Nisha Asnani was listed at Rockwood Music Hall a number of weeks back and instantly went on my calendar as a must attend. I've written about her a couple of times. She's more than the real deal, she's a superstar (in the making, the only ingredient she's missing is the millions of adoring fans, and that's coming, trust me).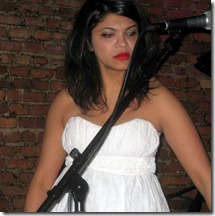 She can sing anything (meaning any style/genre) and be among the best. She plays the piano wonderfully (though she didn't touch it last night). She probably has other talents that she's hidden from me in order to wow me at future shows.
She writes wonderful songs (both seriously moving and playful/funny).
The last two times we saw Nisha were both big shows (with tons of people performing with her). I was hoping (looking forward to) a more intimate show, and Rockwood 1 promised just such an atmosphere.
We discovered Nisha through another musician who we love, David Fallo. He sent an email out yesterday afternoon letting his friends know that he'd be sitting in on one song with Nisha, but implied that she'd otherwise be solo. My excitement was building even more.
We walked into Rockwood in time to catch the last two numbers of the set before. I immediately spotted Nisha sitting at a table in front of the stage. No surprise there. But, in one of the nicest surprises I could imagine, I also recognized the person sitting next to her.
Steve Bargonetti played guitar during the first show we saw (covered here). He boggled my mind then, and I couldn't be sure I'd ever get to see him again (except perhaps serendipitously on Broadway!). I didn't know whether he was there to play or just enjoy Nisha, but I saw a tiny guitar case next to him (read the last post to understand) so my hopes were (correctly) raised.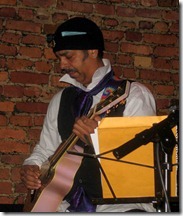 When Nisha took the stage, she announced that she was doing the entire show with Steve. Heaven does answer one's prayers.

Steve's guitar was the only accompaniment to Nisha's voice on all but the one song where David Fallo joined them.
Nisha alternated originals with jazz classics. She opened with Repeat Offender (hers) which is a mix of jazz and a bit more playful pop. The rest of the songs were much more jazzy in nature. It showed off her vocal chops amazingly well, especially given the light accompaniment.
The set would have wowed a crowd at the Blue Note on any night. For those of you who aren't into jazz vocalists, please check Nisha out anyway, as this is but one of the genres that she's a ninja at.
Steve could hold my attention on the guitar, solo, for as long as he's in the mood to play. Add Nisha's voice, and it only gets better. But Steve didn't just play straight-up guitar. Instead, on nearly every song, his intro (before Nisha started singing) was either a rhythm progression or a bass line, or both. While playing the intro, he was looping it.
Then, when Nisha was singing over the loop, Steve was playing leads and more intricate chord progressions over the loop and Nisha's voice. Stunning, making a very full sound even though his guitar was the only instrument.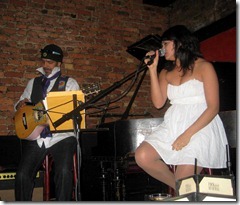 Twice, Steve teased Nisha to follow his guitar leads with her vocals (not quite scatting, more like vocal warmups). She was doing a great job until he playfully let loose with a mind-blowing solo that she simply had to acknowledge defeat.

David Fallo joined for one of the jazz standards, La Vie en Rose, which Nisha sang in flawless French (at least to my pedestrian American ears). Steve took a long solo in the middle, followed by a tasty solo by David on the viola. A lovely job by all three.
Right before that number, Nisha invited up a special guest to perform two songs on his own (she and Steve left the stage, or rather she left and Steve sat on the edge of the stage).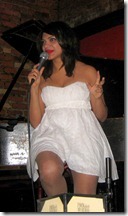 Mario Spinetti just released a new album and Nisha wanted to give him a chance to share some of it. We saw Mario once before, at Nisha's last show, and were impressed then, as well as last night. He has a crystal clear voice, with a very wide range (his falsettos are very clean). He plays the piano beautifully. I enjoyed it thoroughly, but more Nisha would have been welcome too.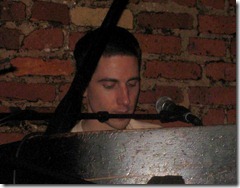 In a small-world story (that I mentioned in my previous post about Nisha), Mario produced Ian Axel's first EP, so Mario will always have a special place in our heart, independent of his own performing talent.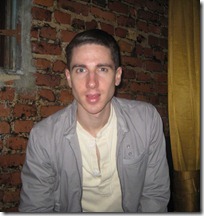 After the show I got to tell Nisha how awesome she was/is (it was the first time I've even said hello to her). Unfortunately, I didn't get to personally tell Steve what a fan I am. Hopefully, there will a next time, and soon!