Send to Kindle
Last night finally came, our long-awaited second live concert seeing Girlyman. They performed at the Highline Ballroom. We had never been there before, and only found about it from the Girlyman mailing list. It's owned by the same people that own the Blue Note and BB King, both places that we love to see shows at, so we were certainly looking forward to the venue, aside from the obvious anticipation of seeing Girlyman again.
We went with a family of three, so there were five of us in total. We got there seven minutes before the doors were scheduled to open, and there were roughly 10 people on line ahead of us, so we knew we'd have our pick of tables to sit at (all three clubs are first come, first served).
As often is the case at BB King, the doors don't typically open on time (at 6pm), and that's really annoying to us. In this case, the doors opened at about 6:10pm, not too terrible. Inside, the club is really beautiful, perhaps the nicest of the three clubs. There is a spaciousness to the downstairs, with wider aisles and very nice tables. There is a cool-looking upstairs, but (unfortunately) Girlyman didn't fill the place, so they didn't seat anyone upstairs last night.
We grabbed a very nice table for six (there are at least 12 tables for six right in front the stage), and because they didn't sell out, no one sat in our sixth seat, which worked out very nicely for us.
When we ordered drinks, I thought I was going to experience a mini-disaster, as the waitress told me that they didn't have any "chocolate martinis". Since both of the other clubs owned by the same people do (in fact, I discovered the "Nutty Angel", my first ever chocolate martini at the Blue Note!), this was very surprising. She said she'd check with the bartender, and indeed came back and said, "Sorry, no chocolate martinis". Ugh.
So, I ordered a regular martini (how droll), but asked for Belvedere Vodka (my favorite), which she also said she didn't think they had. Another big ugh. A few minutes later, I notice the bartender walking across the room (nowhere near us), with what looked suspiciously like a chocolate martini. Apparently she was walking to find my waitress, with a chocolate martini, who was beaming when she was able to deliver it to me. Whew, evening saved! 😉
A little while later, we ordered dinner. The menu is a little more limited than either Blue Note or BB King (or Joe's Pub for that matter), and more high-end in terms of prices. Still, it all sounded good. Our companions ordered the Filet Mignon (which the husband said was the best he's ever had), and the mother and daughter each had mini-Kobe burgers, which they too liked, and which looked amazing.
I had Riverhead Salmon, which came 30 minutes after everyone else's meal was out. I was not fussed, because I had ordered a side of fries which came out with the other meals, and which I got to savor on their own. Just as I was done, my salmon came out. It was extremely tasty, but full of bones, which I hate, so I won't make that mistake there again, even though it was delicious.
OK, is it time for the music review? Yes indeedy. After we purchased the tickets, we were surprised to find out that Girlyman had an opening act. We were disappointed in that it meant potentially less stage time for them. On the other hand, it was encouraging that they were potentially a big enough draw to warrant an opening act (as in warm up group). The opening act was Garrison Starr.
I don't want to spend too much time on her. She definitely has some talent. She's an OK guitar player and she sings reasonably well. That said, she's a one-woman hard-rock band, which is far from our cup of tea. Her guitar was painfully loud and screeching, and of course, she had to sing at the top of her lungs to be heard over it. Oh well. On rare occasions, she toned down the sound of her guitar, and her voice was more pleasant, and one could make out a few of her words, which weren't that bad either. We're not likely to check her out any further, but some of the crowd appeared to enjoy her music, and some might have even come out just to see her…
On to our main attraction, finally. 🙂 (Click on the image below to see a larger version.)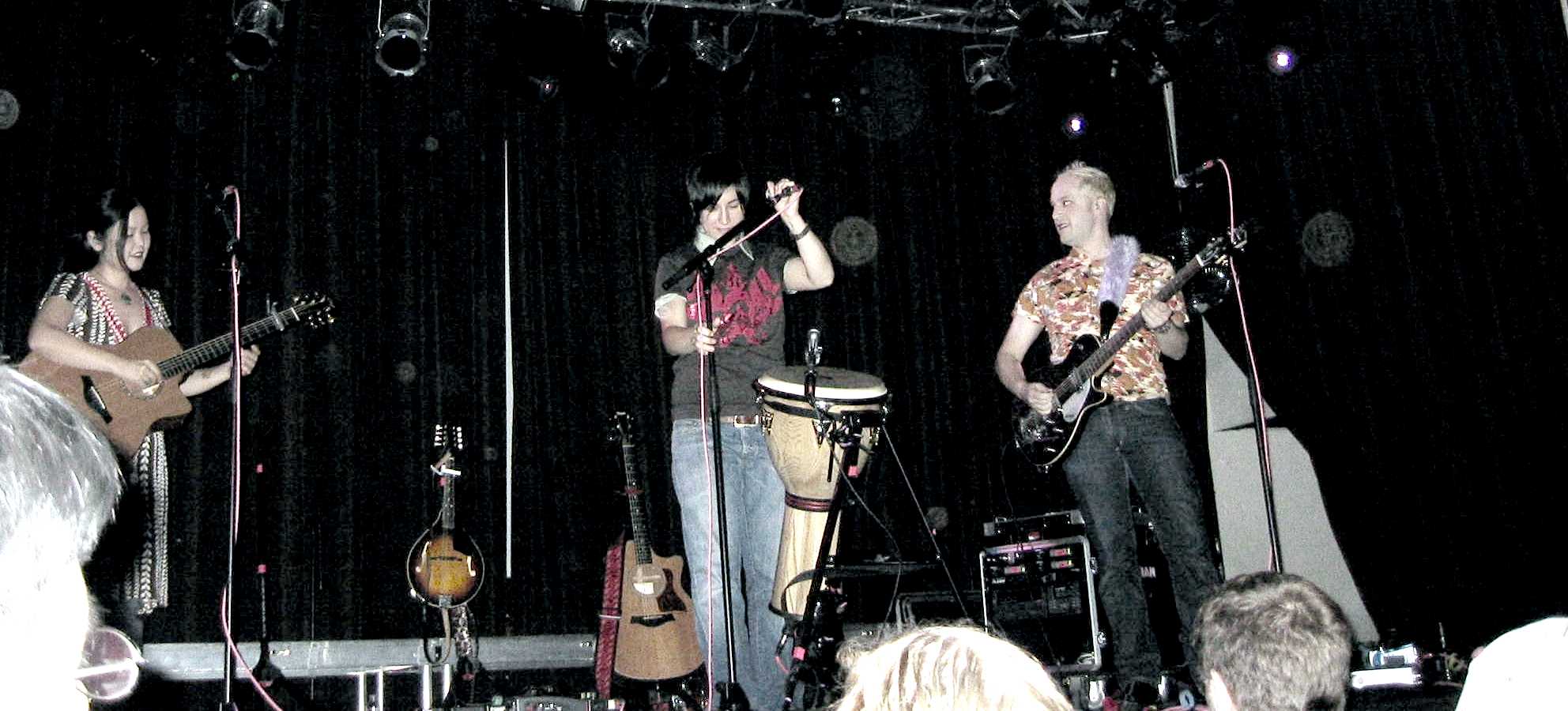 We hadn't seen Girlyman since August 19th, 2007. Even though we constantly listen to their CDs, we were counting the days. They opened with On the Air, the first cut from the Little Star CD. Instant electricity. Crowd responds with significantly more applause than for Garrison, but that wasn't a big surprise.
They played a a number of excellent songs, including one of my favorites, Sunday Morning Bird. Lois and I joked with each other that we'd have to go up on the stage and slap them silly if they didn't perform each of our individual favorites. While I'm nuts about so many of their songs, I'm reasonably sure that my slight favorite is Hold It All At Bay, while Lois' is without-a-doubt Through To Sunrise.
After a few more songs, they played Hold It All At Bay, so I was safe, but Lois was still waiting (breathlessly). As they neared the end of the show, they still hadn't played hers. Then they asked the audience to yell out a song on request. We screamed Through To Sunrise at the top of our lungs. So did a few others, but many people shouted out random Girlyman songs, so we were nervous when they finally said, "Do it again, all together!". So, again, we screamed Through To Sunrise.
After a pause, they said, well, we heard a few there, but this is the one we think we heard the most. They then played Viola. It's a gorgeous song, which we both love, and were glad to hear, but we were also disappointed not to hear Through To Sunrise…
Right after they finished playing Viola, they said: "You know, we think we heard just as many ask for this, so we'll play it too." When Doris picked up the banjo, and Ty picked up the mandolin, I knew with 100% certainty, that they were about to play Lois' song. Indeed, not only did they play it (brilliantly), but the crowd (led by us, of course!) 🙂 clapped the beat throughout the entire song (the only song that happened for the entire night!), as Girlyman themselves taught us to do at Joe's Pub! It was awesome.
As Lois said to me afterwards, given that kind of crowd reaction, how can they ever not play that song?!?!?
They closed with Joyful Sign, the title cut of their latest album, and one of my top picks (among many top picks). 😉
The cheers were so great that they came out for three encores, and all were wonderful and fully appreciated by the crowd.
That was the overview. I have a drop of detail to add, but if you've lost interest already, you at least know they were brilliant, again, and can bail now…
Their song selection varied somewhat (of course, there were overlaps) from Joe's Pub, so that was wonderful for us as well. In addition to just mixing up their repertoire, they also introduced three new songs. Each one of them had written one. All three were amazing. We literally can't wait for the next CD, since we now know they have at least 25% of it completed. 🙂
Ty's song was called The Saints Come Marching In (or very close to that), and it's beautiful. Nate's had "Easy" in the title, and I apologize for not remembering it. It was gorgeous. He played the acoustic guitar for it (something he does for less than a handful of songs each concert), and both women sang without instruments (something that rarely happens), and yet, the sound was soaring!
Doris' song was the best of the three, so, of course, bonehead that I am, I can't recall the title at all. 🙁 The harmonies on that song are so dramatic, and Doris belts out the lead in such a breath-taking manner, I can't credibly describe it. The family we were with hadn't seen them before, and the husband had only heard one or two songs in advance. He turned to me during the show and said that Doris was an amazing vocalist, and I have to concur completely.
We knew (from reading) that Doris is the harmonizing genius of the group, and obviously, we've throughly enjoyed her voice (and guitar/banjo/mandolin playing!), but she surpassed every expectation last night, every time she opened her mouth to sing. There was a raw power and clarity, and she was just generally amazing.
Nate was solid, and as entertaining as you can imagine. In fact, while I mentioned in the past that all three were engaging with the audience, they were even more so last night, telling stories, and having some (obviously) impromptu banter amongst themselves. They are thoroughly natural on the stage, and it is infectious.
On to Ty. I hesitated writing this, and as you can see, I'm burying it at the end of a long post, hoping that most people will have gotten bored and left already. That said, I pride myself on trying to share my real opinions, rather than just be a cheerleader, even when I so obviously want to just spread the word about Girlyman.
On some levels, Ty is my favorite in the group. She writes brilliant and moving songs. I really like her voice. She looks like she's 20, is probably in her low 30's, but if you listen to her voice on the CDs, there is a maturity that makes her sound older than that. The passion and emotion of her words comes through in her voice, in a very special way.
Last night, something was just off a drop with Ty. I don't know if she had a cold (though her voice didn't sound nasal) or if something else was up. Her usually extremely strong voice wavered a number of times (not cracked, more like a slight warble). More amazingly, she missed a few notes (not that many) on some harmonies. Most notably, during my favorite song, Hold It All At Bay.
In that song, Nate sings the first verse alone, and then sings the chorus alone. Ty sings the second verse alone, then the two of them sing the chorus together (in harmony). Doris sings the third verse alone, and then all three sing the chorus together in a haunting harmony that I can never (and don't want to ever!) get out of my head. When Ty and Nate sang their part together, Ty missed the first two or three notes, and she smiled because she realized it right away.
I'm hoping that whatever was wrong last night, is transient. Even more so, I'm hoping that no one who has read this far, thinks that I was in any way disappointed with Girlyman's performance last night, or even in Ty's performance. The evening was completely magical, and both Lois and I couldn't have enjoyed it more, and can't wait to see them again.
Finally, Lois and I discussed in the car today that we both think that Girlyman is better than Simon and Garfunkel and Peter, Paul and Mary. I know, heresy to many, and I can even understand that. Why then, are S&G and P,P&M so much better known (and commercially successful) than Girlyman? In my opinion, it's an accident of timing. Back in the 60's, the world was ready (and hungry) for the likes of Bob Dylan, Joan Baez, S&G, P,P&M, etc. Yes, rock and roll (in the form of The Beatles, etc.) was huge, but folks songs, and in particular the message delivered in the lyrics, were striking a generational chord.
Nowadays, there is (clearly) an audience for that kind of message, but it seems that in general, to be a big sensation, you have to deliver a different kind of sound, and it's not all that likely that any kind of folk artist will achieve the kind of fame and success that Dylan did (and still does!). Too bad, as the world would be a better place if more people spent serious time listening to Girlyman!