Send to Kindle
Last week I reported on our goddaughter's graduation and noted that we had one more to go. The formal part of the second one, our godson graduating from Medical School, is now done too. There is still some celebrating left to do tonight before it's all officially over.
On Friday, the Medical School held their convocation. It was held in the VCU basketball arena and was a wonderful two-hour ceremony. Excellent speeches given by various faculty and alumni and a moving speech from the graduating Class President.
Awards were given to some top achievers and each member of the class walked on to the stage to be hooded (an ancient tradition honoring students receiving advanced degrees). We swelled with pride throughout the ceremony, as did every single person in the audience, for their doctor.
Here is David about to be hooded, then in full hood regalia:
The next morning was the conferring of degrees, which was part of the full VCU graduation (including undergrads and all other schools). This was a very large gathering and was held in the Richmond Coliseum. Of the many people who came to see our godson graduate, I was the only one not to attend this part. I had other duties to perform, and I held up my end of the bargain.
Just for a sense of scale, first a shot of the empty floor before the Medical School Convocation, followed by the full floor at the VCU Graduation:
Between the two ceremonies, we can now definitively answer Yes to the age-old question: Is there a Doctor in the house? 🙂
Proud Parents with their newly minted Doctor: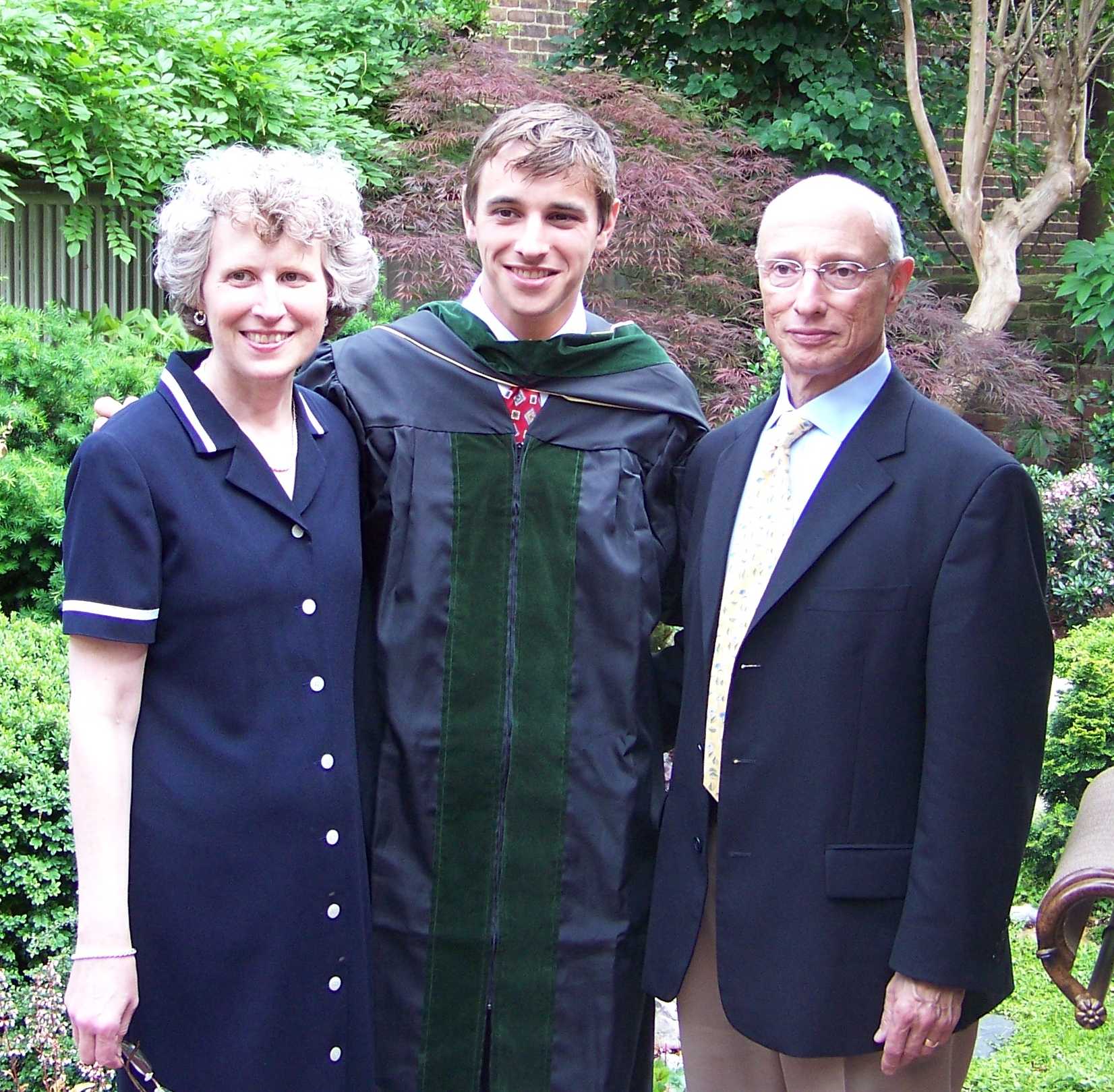 We had lovely meals both Friday and Saturday night with family and friends, and tonight is the final send-off when a much larger group will get together at one of our favorite local Richmond restaurants.
Here is a shot of the cake before the first night's dinner:
As David himself noted at dinner last night, this was the end of 20 consecutive years of classroom education (not including kindergarten).
Lois brought a special bottle of wine (called Doc's Own) from a very special person (Dr. Naumberg), who she worked for many years earlier. The story is memorialized (and laminated) 😉 and the bottle has a picture of Dr. Naumberg (now 90-years-old) on it: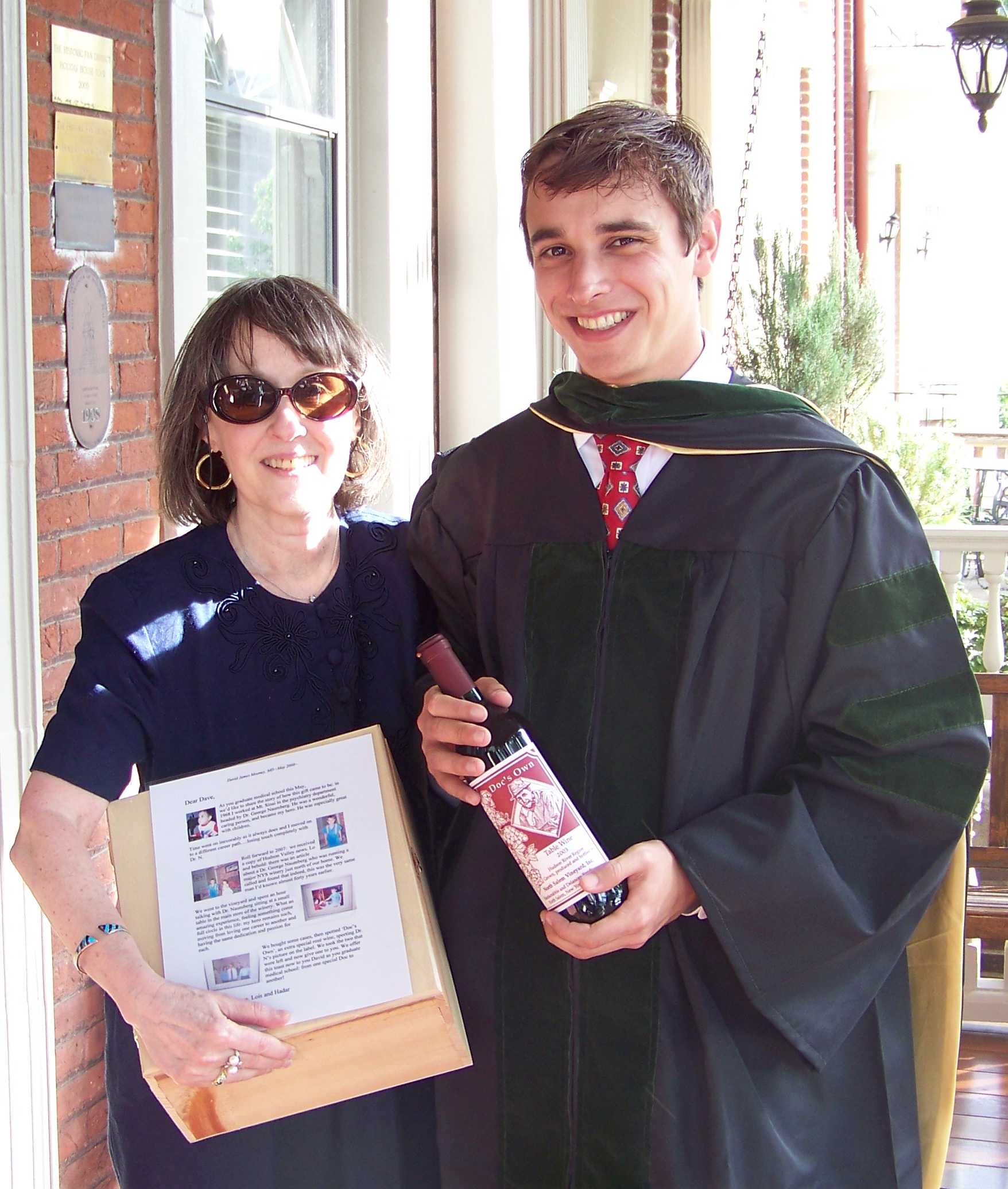 It's now officially OK to get sick in America. Dr. Dave will come to the rescue! 🙂
Here's a photo of David with a local medical contingent, consisting of his Aunt (a Nurse) and close family friends (a Doctor and Nurse, husband and wife):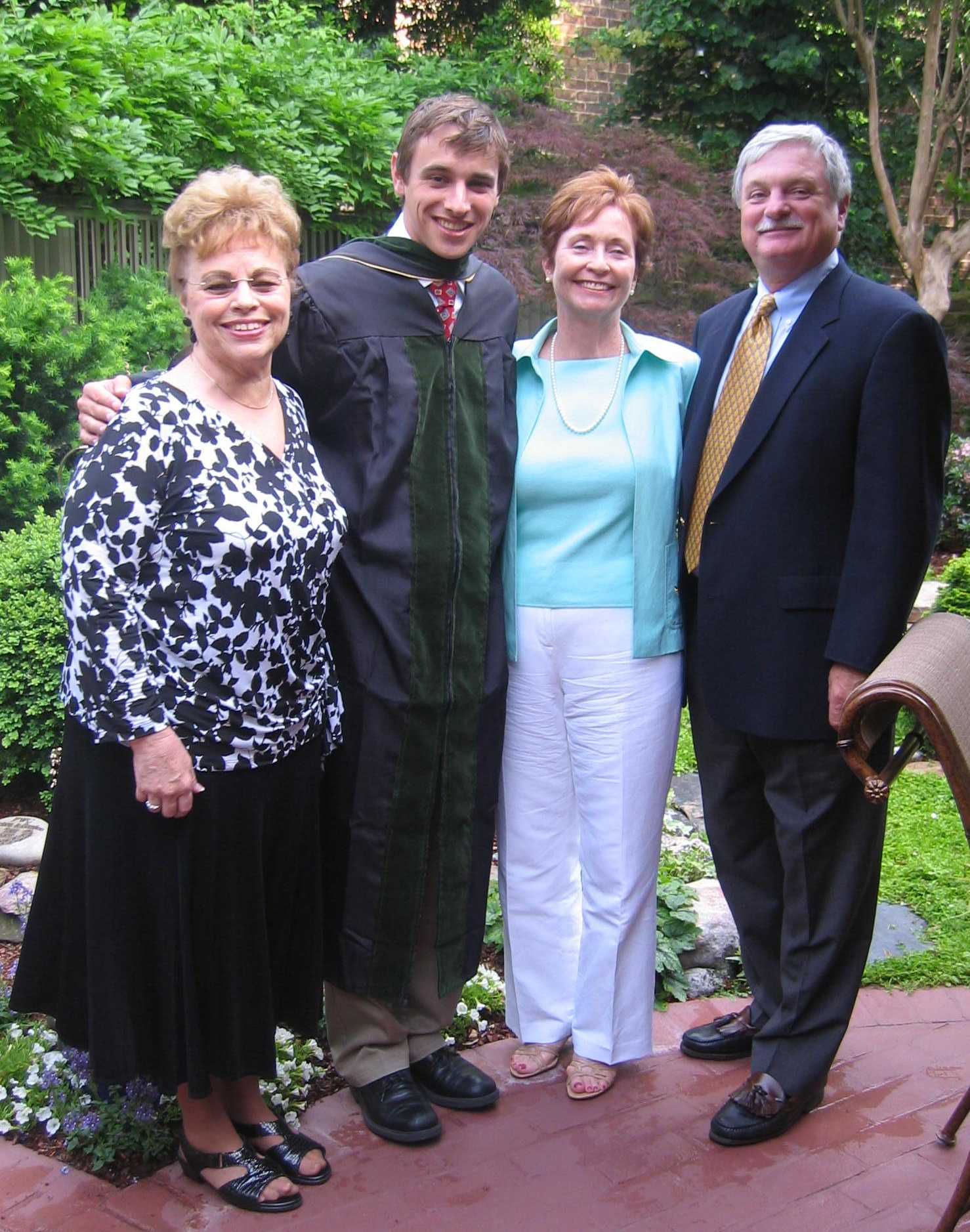 In a small world story, Lois and I ended up sitting immediately in front of the parents, sister, fiancee and future in-laws of one of our godson's good friends. When that friend and his fiancee came for a visit to NYC two years ago, they joined all of us for a great night at The Blue Note Jazz Club for dinner and a concert.
With our backs to them, we didn't immediately recognize the fiancee. But, when the sister tried to take a photo of the rest of the group, Lois offered to take one that included her, and as we began to speak to them, we realized the connection. Amazing stuff… 🙂
Here are the proud godparents, with the newly minted Doctor, proud as they can possibly be!