Send to Kindle
This is a little late, as we've had company since yesterday morning, and I'm just now getting a few minutes to bang away at the keyboard.
On Friday night Lois and I went to BB King Blues Club to see one of my long-time favorite artists, David Grisman. I've never seen him live, but I own a number of his CDs, starting way back with his 1990 release of Acousticity.
The show started seven minutes late (somewhat unusual for BB King). He had four other band members comprising David Grisman Bluegrass Experience (DGBX). They're all listed on the page linked above, but they deserve individual mention. Here's the entire band on the stage:

After the first number, David said that he was going to showcase each member of the band individually. He started with the guitarist, Jim Nunally. He sang lead (on a number of songs, and harmony on nearly every one) and played lead guitar (acoustic). He's quite good, but not in the league of the many guitarists that I cover in these pages. Solid.
Next he featured the banjo player, Keith Little. Keith has played with some of the greats in the industry. He too plays extremely well, and sings really well (lead on some numbers, and harmony on all others). I really liked his playing, but he too wasn't in the same league as Bela Fleck, Ron Stewart, and some others that we've seen recently. More than solid though.
Next he featured the fiddle player, Chad Manning. Wow. This guy totally blew me away. In addition, when he played simultaneously with David (a world-class Mandolin player), or in a duel with David, it was blissful.
Finally, he featured his son, Samson Grisman (Sam). He's about to graduate from High School. David joked that Sam was playing hooky in order to make the show. He played an upright acoustic bass. He's incredible. On the song that he was featured, he basically played lead bass, something that you don't usually see or hear about, for an entire song. He was excellent, throughout the night. A major star in the making, no doubt!
They played for 30+ minutes and then David shifted gears. He took us through a history of Bluegrass music, explaining how each of the pioneering stars got their start, formed their bands, in what years, etc. He then picked one song from each of those legends and the band played it to perfection. As David himself said, in addition to entertaining, it's also nice to be able to inform as well. I agree! Here he is, informing us: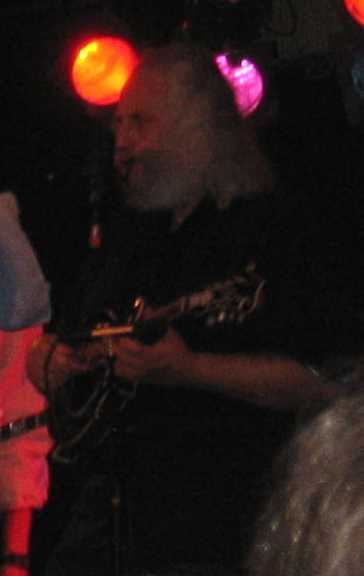 David has a wonderfully warm style when he engages with the audience. He's like a seasoned college professor, sharing knowledge in a comfortable style. He's witty and gentle. That said, like a good comedian, he can hold his own with potential hecklers (not that anyone in the crowd was actually heckling). On one occasion, and entire group of people off to the side yelled that he needed to turn it up.
Without missing a beat, he said "We can't. But, even if we could, we wouldn't. These are old instruments and they're meant to be played this way. If we turned it up, we wouldn't be able to stop. We'd just keep turning it up, and it just wouldn't be the same music!"
I agree with him completely. The volume level was perfect. The only time you had to strain to hear clearly was when he was speaking, and that's only because there were a number of people who took that as their cue to catch up with their friends. Luckily, very few people opened their mouths while the band was playing.
They played for 93 fantastic minutes before saying goodnight. After a standing ovation they came on and played one song for an encore. David hesitated, then said "Hey, I think I have some friends in the audience, perhaps I can coax them to come up and play, if you don't mind staying a bit longer." The crowd hooted their agreement.
The first guest he brought on the stage was none other than the ultra-famous John Sebastian (of Lovin' Spoonful fame). If you're young, or old enough to have lost your memory, here are but a few of his mega-hits: Summer in the City, Daydream (What a Day for a Daydream), Do You Believe in Magic. If none of those ring a bell (really?, none?), then you have to know his hit Welcome Back, the theme song from the show Welcome Back Kotter. 😉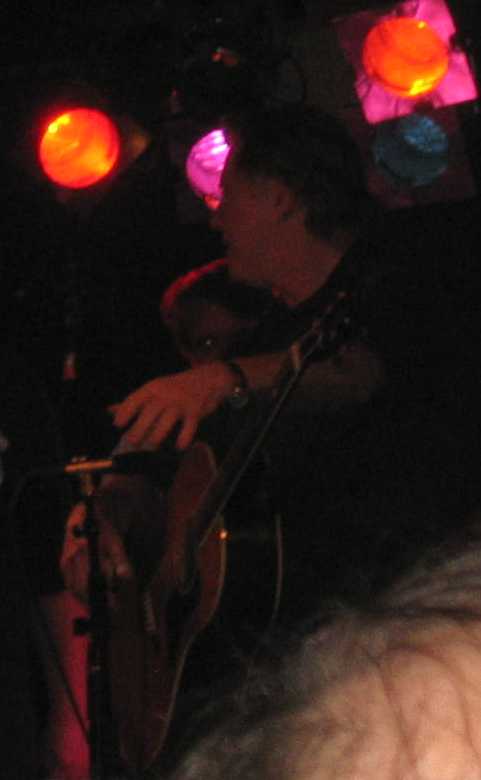 They played a song together (Sebastian and DGBX), and then he brought up another friend. I thought his name was something like John Scholes, but I can't (easily) find a mention of that, so someone will either have to help me out here, or I'll continue to embarrass myself. He played banjo and guitar. Here he is, please help!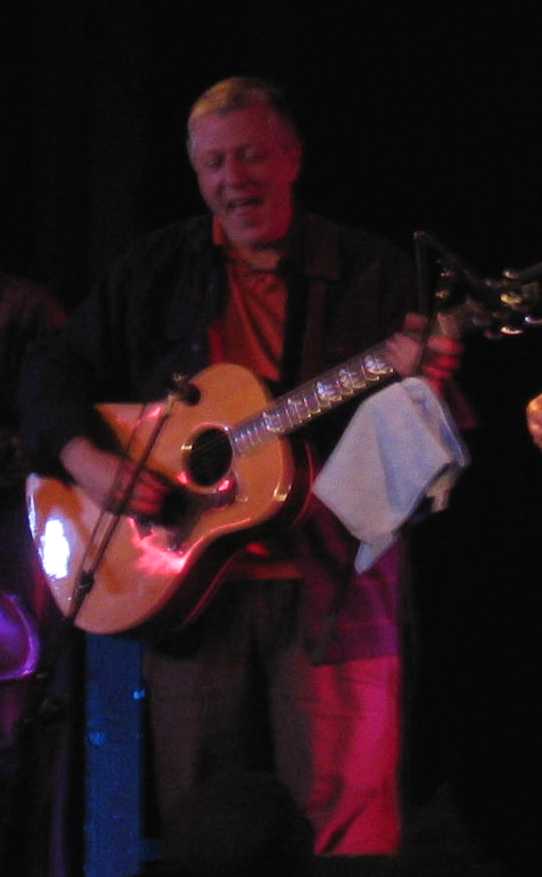 Together, they played at least two more songs, perhaps three. So, the encore turned out to be a very special treat, and long as well. When they really walked off for good, it was exactly two hours on stage (including encore). A fantastic show!
We decided not to stand on line, hoping that the holiday weekend would mean that the crowd would show up later than normal. We were right enough. We arrived at 6:20pm, and got seated in the stage area, but at a table on the right edge. We had the head two seats (which we prefer) so we were happy with the compromise of not standing for an extra 30-60 minutes, but still winding up with decent seats.
Our table was a table for six. After about 15 minutes, they seated two people at the other end of the table, leaving the middle seats open on both sides. Even though the show sold out (it was quite a large crowd), they never seated anyone between us. I guess people preferred to stand at the bar (or didn't realize there was an empty seat here or there). That made it extremely comfortable as well.
But, it allowed something else to happen as well. After the other people at our table were already there for 30 minutes, the waiter delivered to them an order of the nachos. Lois and I have seen dozen of these nachos fly by on a number of occasions, but no one at our table had ever ordered them. They are monstrously large, and are piled with meat (smoked pulled pork, bbq chicken and beef, at a minimum).
We've fantasized about ordering them, but I definitely need to drop a bunch of pounds before I'd tackle it (Lois won't be enough help). So, we turned to the other people and joked that we were jealous. It turns out that it was a father and son. The son had graduated from Haverford the week before (just like our godchildren's dual graduations), and this was part of their weekend-long celebration.
The dad plays mandolin (recreationally) and has been a Grisman fan forever. The son plays mandolin and fiddle, and after resisting for years, fell in love with Bluegrass music as well. When we started discussing some of the shows we've each seen recently, it turns out that we were both (the dad and us) at the Dan Tyminski show at The Egg in Albany. Small world.
We chatted with them for 30 delightful minutes until the show started. Thank goodness no one else was seated between us, or we would have missed out on the chance to meet two extremely lovely people!