Send to Kindle
Longtime readers know that both Lois and I are Alison Krauss fanatics (just look at the title of my post when we saw her at the Beacon Theater). I'm also a long-time big fan of Led Zeppelin, and therefore, by extension, a big fan of Robert Plant. When we heard that they were pairing to produce the Raising Sand album (and now tour), we were excited.
I already wrote a long post about the album and how I finally came to purchase tickets to the show. In that post, I mentioned that the seats were in the seventh row. It turns out that the row was labeled G, but it was the fourth row, since the left side didn't start at A. 🙂
The seats were awesome. As usual, I'll give more color to the venue and the crowd in general, after discussing the show itself, including covering the opening act.
Robert Plant and Alison Krauss came out at 8:55pm. There was instant electricity in the crowd, and many people gave them a standing ovation as they walked out. They launched into a couple of numbers from the album, and again, I was amazingly underwhelmed. It was certainly interesting (OK, even enjoyable) to see them live, but my heart wasn't skipping any beats (and in fact, my feet weren't unconsciously tapping along either).
To be clear, there are no flaws in their performance. They are both fantastic singers, with fantastic stage presence, backed by a pretty amazing band (I'll cover them individually in a bit). The problem is the material. It's nice, nothing more. I consider it to be background music. It does nothing to grab or hold my attention, but it sounds pleasant while your mind freely wanders to other thoughts…
Here they all are on stage, just to give you a sense of setting, though they shifted around a bunch throughout the show:

Then, on either the third or fourth song, one of the band members (Stuart Duncan) started playing solo banjo (yes, banjo), and within a few notes, the crowd recognized it to be the lead (and repeating theme!) from Black Dog, a very famous Led Zeppelin number. I couldn't help but smile at the thought of an iconic rock song being played on the banjo!
Robert then sang the song, in a slow, relaxed style, and it was really cool. Toward the end, it got a little much for me (sorry folks), as the original is so great, and this was more of an interesting play on it, that dragged on a bit for my taste. Here's Robert singing (not necessarily during Black Dog):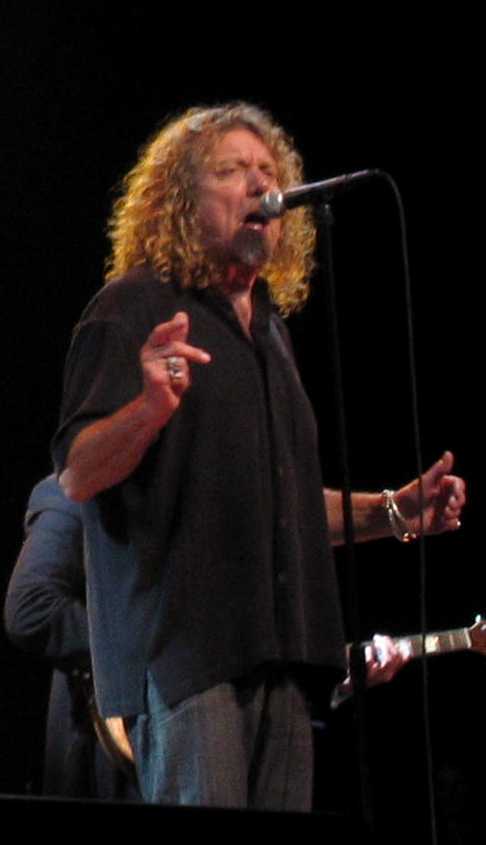 Robert also had awesome stage presence throughout the show, often acting as a cheerleader for the rest of the band. One of the hallmarks of the Raising Sand sound is both Alison and Robert clapping to the rhythm when they aren't singing. Here's a shot of that: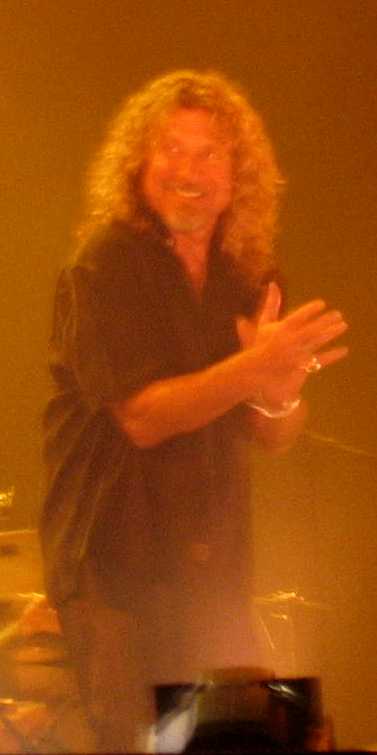 Throughout a long show, they did the majority of the new album. They also did a mini-set of Alison singing without Robert, and Alison singing with Robert (and the others) singing background (including Robert standing toward the back of the stage). Here's a shot of Alison singing: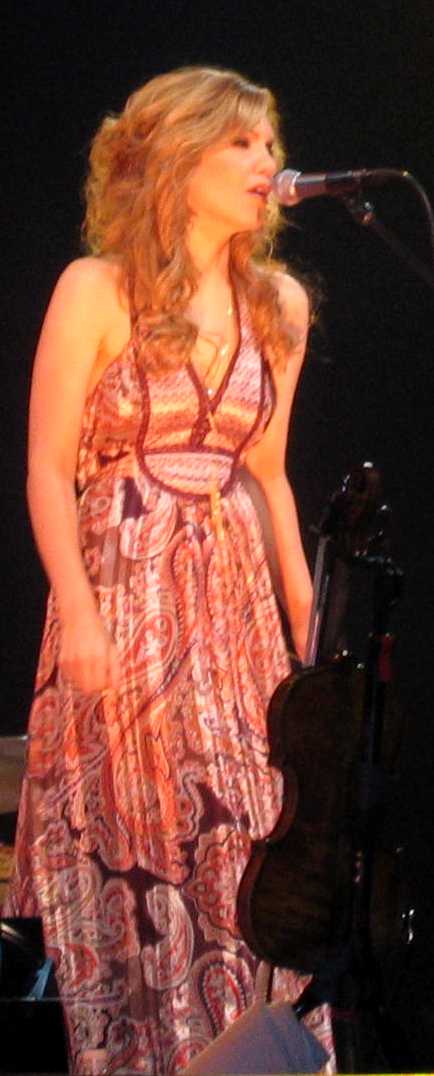 They did a couple of other Led Zeppelin numbers, including a cool (and slowed down) version of Rock and Roll, on which Robert had a great rapport with the crowd.
Both Alison and Robert left the stage for a bit, giving T-Bone Burnett (the producer of the album and the tour) an opportunity to sing lead on two songs with the rest of the band. Those songs were good too (he has a good voice, and a great on-stage persona).
One of the better numbers (again, just my opinion!) was entirely a cappella. Alison started out alone (as she always does on this number), not only singing alone, but the only one on stage. She sang Down to the River to Pray. After a verse (or two), Robert Plant, Stuart Duncan and Buddy Miller slowly walked on stage (reverently), and all shared one microphone to sing backup vocals. This version was way closer to the version on Alison Krauss and Union Station, Live, than it is to the version on O Brother Where Art Thou (where Alison sings with a choir, including many female voices, in a much more up-temp version).
They performed the song flawlessly last night, and the three men all sing great, individually and collectively, and blended with Alison to perfection. Here's a strange shot of them (due to the lighting), but it's also kind of cool, because it shows Alison in an ethereal (or ephemeral?) light, with the others singing in the background: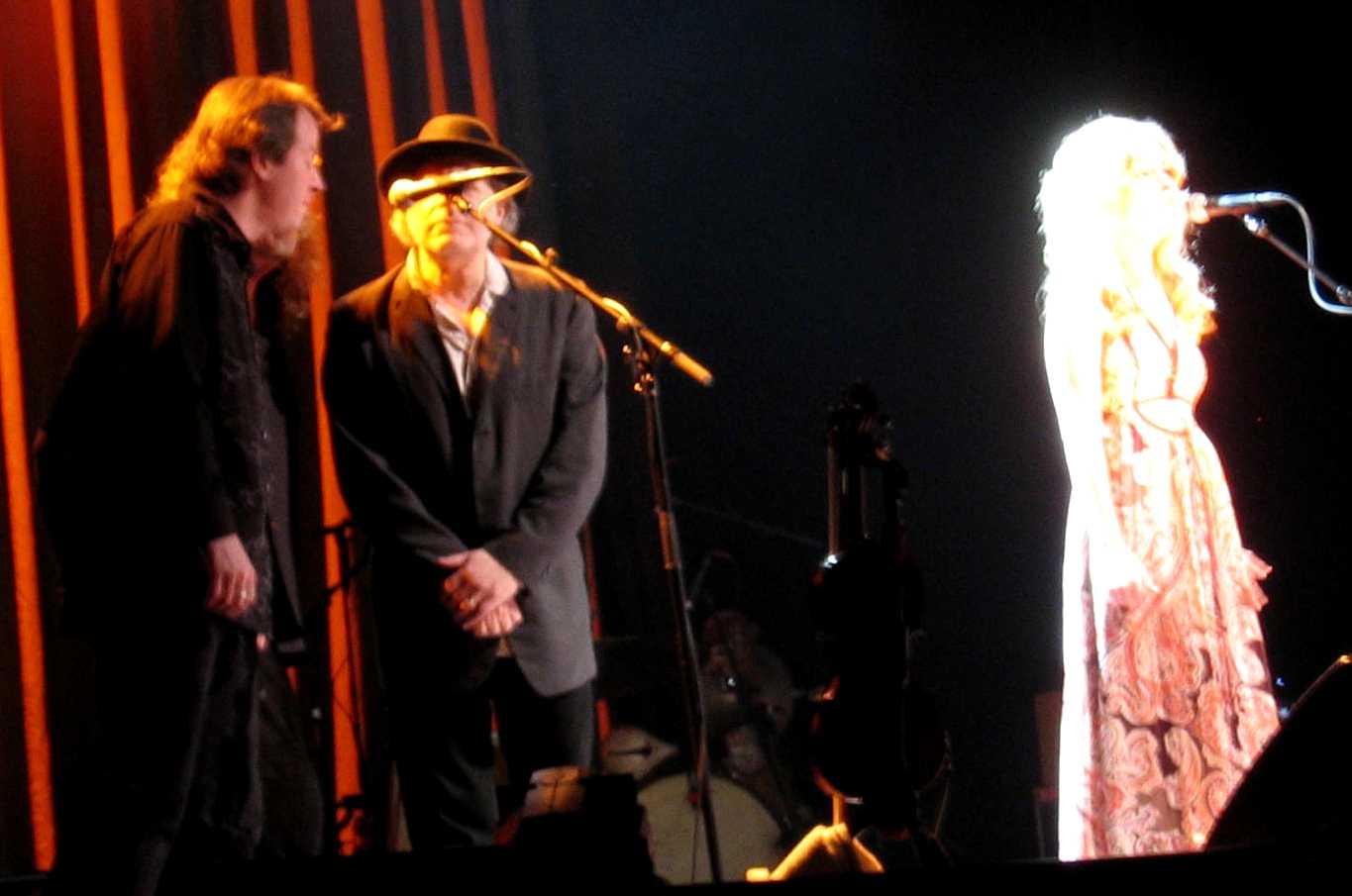 One of the problems (to me) is that they don't really know what sound they want. Bluegrass? Check! Rock? Check! Blues? Check! Soul? Check! Cajun? Check! All of the above, simultaneously? Check! Oops, therein lies at least part of the problem.
They finished up the show with Gone Gone Gone. I enjoyed it live, but it's more fun on the video. Let me cover the band first, then circle back to the encore. Before doing that, here is a shot of the three headliners (Alison, Robert and T-Bone), clearly beaming righting after they finished Gone Gone Gone, rightfully so. The crowd was in a frenzy!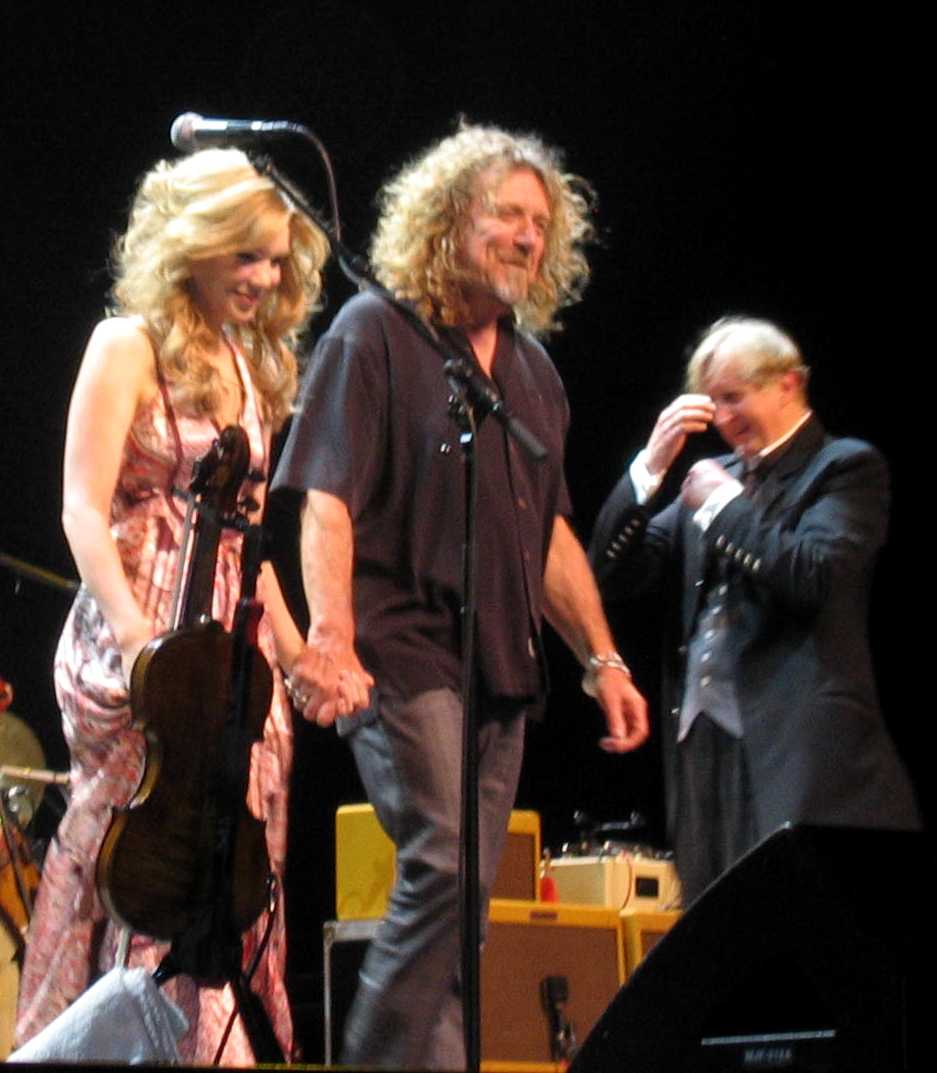 Left-to-right on the stage (not including Alison and Robert) were:
Buddy Miller playing electric guitars, peddle steel guitar, electric mandolins and autoharp. He also has a MySpace page. His fingers literally fly on the guitar. He is a truly great lead guitarist. He has an excellent voice as well. For the first 1/2 of the show, he may have had a problem with his amp, as he wasn't all that easy to hear, but his fingers were astounding to watch, even then. Then they replaced his amp, and his sound came alive, and he was awesome.
Here's a shot of Buddy (with Stuart Duncan in the background), followed by a shot of Buddy's amplifier, being worked on during the show:
Stuart Duncan played fiddle, mandolin, banjo, guitar, all brilliantly. He sings really well too. Alison Krauss called him "my favorite musician in the whole world". Wow, quite a compliment. If you read the awards he's won (linked to his name above), clearly, she wasn't being sarcastic. Still, even though he is incredible (truly!), that's quite a statement, especially given who she plays with regularly, Jerry Douglas, Dan Tymninski, Ron Block and Barry Bales.
If Alison Krauss is going to call you her favorite musician, she may as well sing a duet with you: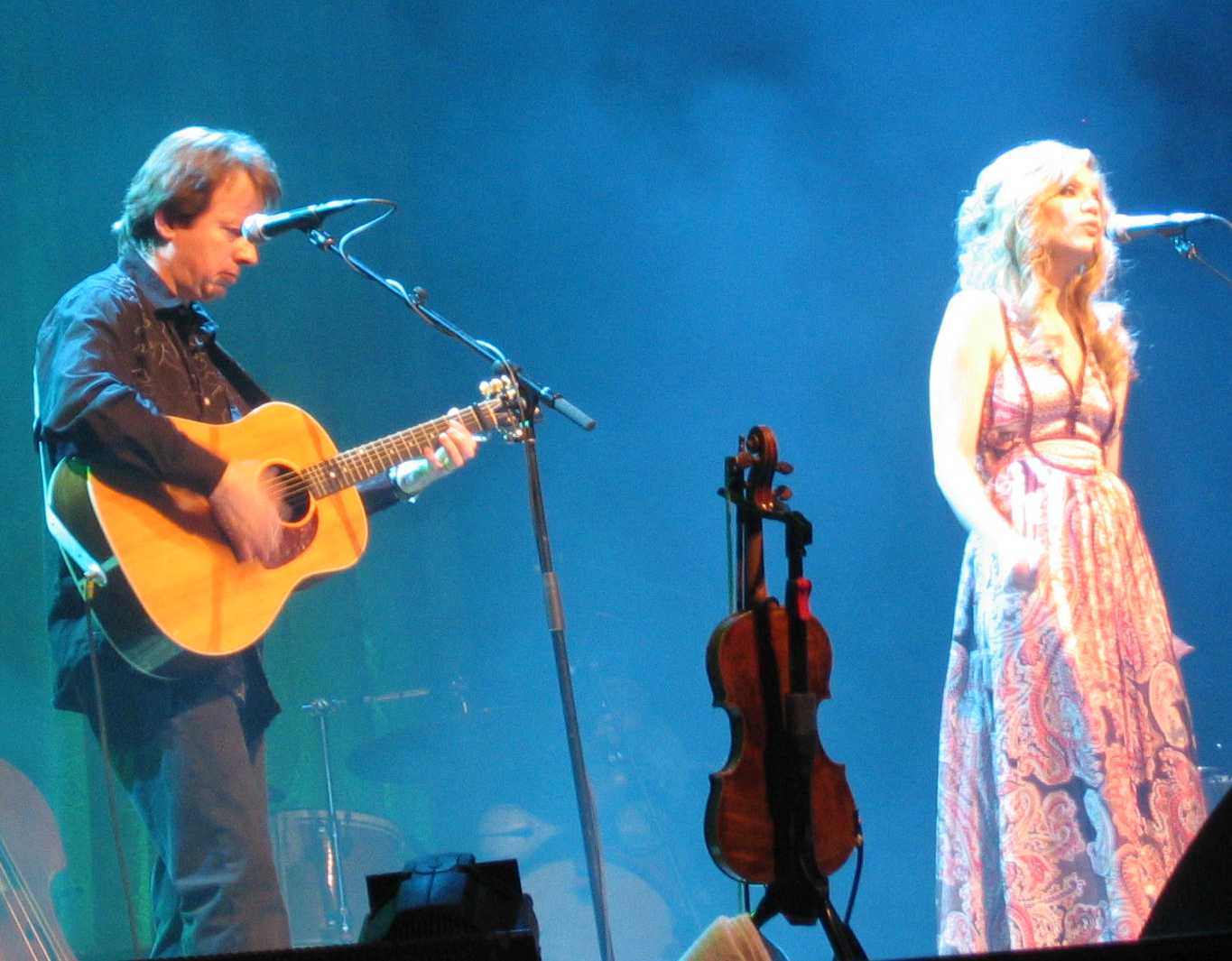 Here's Stuart on the mandolin: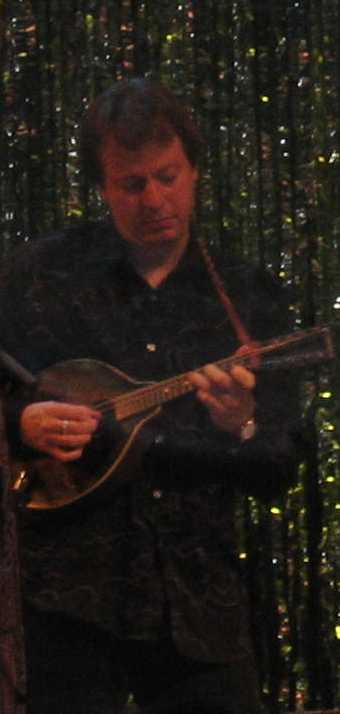 Dennis Crouch played the upright bass. He was solid the entire night, but never highlighted. Amazingly, he could be heard (but never too overpowering!) even during the louder Rock numbers. I thoroughly enjoyed his play. Here's a shot of Dennis: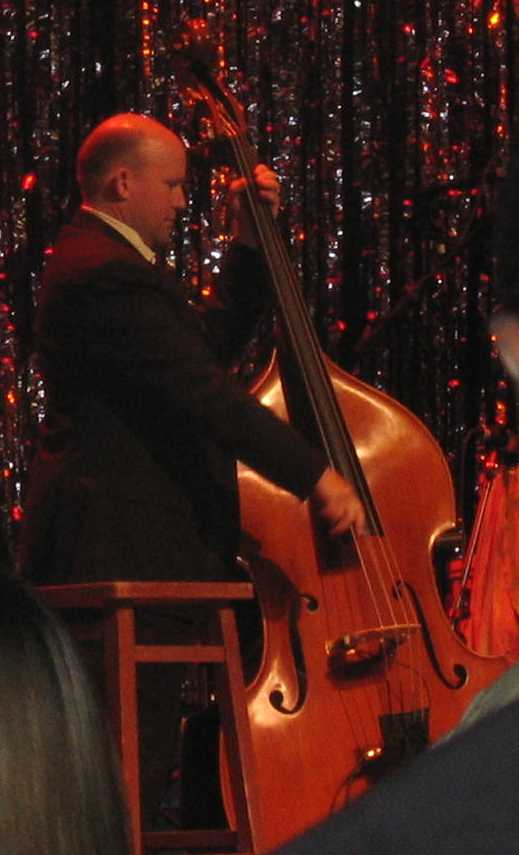 Jay Bellerose played the drums. I'm quite sure that most of the people in the audience considered Jay's performance to be awesome. It was certainly impossible to ignore. Jay drums in a reasonably frenetic style. To me, there was nothing wrong with his drumming (meaning, he keeps a good beat, etc.), but he was a little over the top, in particular, in trying to carry the Rock parts. Nothing wrong, just not up to par with some of the drummers we've seen recently. Here's Jay: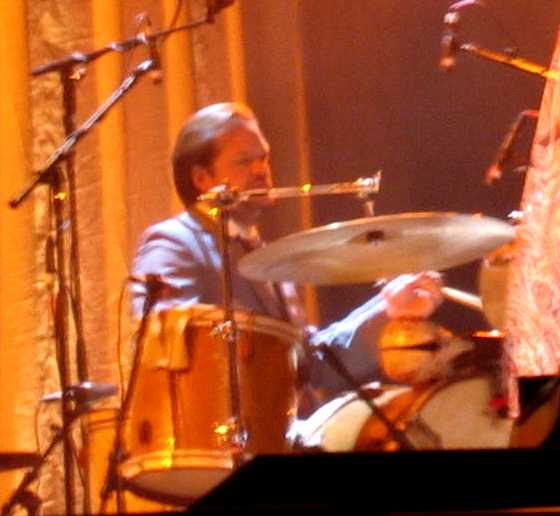 T-Bone Burnett played rhythm guitar (and took a rare lead too). He's certainly fine on the guitar, but I didn't notice anything special. He sings well, and as mentioned before, has a very nice stage presence. Definitely seems to be enjoying himself on stage, in an infectious way. Robert goes out of his way to credit T-Bone with making this entire project happen. Kudos to him for that! Here he is during his two-song set: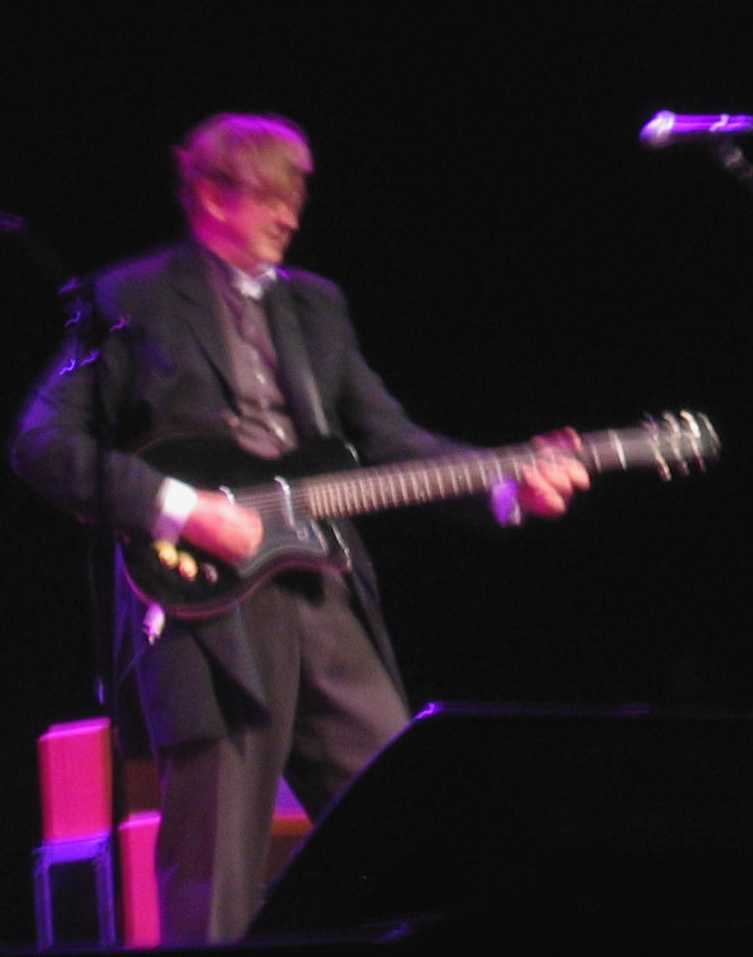 Back to the encore…
When they left the stage, the entire audience was standing and making a giant ruckus. They were off stage for longer than most bands nowadays, but there was never a doubt that they were coming back! The house lights never came on, and the energy level in the crowd was awesome.
When they came out, it was without Alison. Robert said some beautiful words praising Bo Diddley in noting his passing, and they played a wonderful rendition of Who Do You Love. Alison then joined them and they did at least two more numbers (possibly three), making it a very long and excellent encore.
The show was nearly two hours, including the encore.
My bottom line is that I am very glad we went and I loved the experience. The show itself was choppy for my taste, but at least the worst parts were pleasant. The great parts were excellent, though even those weren't quite like some of the shows I've written about in the past year.
Opening for Robert Plant and Alison Krauss was Sharon Little. She was backed by a five-piece band, including Scot Sax on guitar, who co-writes the songs with Sharon.
Sharon has a very good and powerful voice and the band members are quality musicians. That said, the material didn't do it for me. Also not unpleasant, even for a second. The sound was repetitious and Sharon over-emoted (to my tastes) quite a number of times, trying to force a feeling down my throat. Whenever she did that (or attempted to switch singing styles into something more bluesy or soulful), her voice was not as clean or nice as it was when she just sang straight up.
They were on stage for exactly 30 minutes, followed by a 23 minute break before Robert and Alison came out.
If you read my previous post (linked above) about the difficulty I had in getting good tickets, then you might be as surprised as I was that the section we were sitting in (which were awesome seats), was relatively empty. The three rows in front of us only had six people (out of 24-28 possible seats) for the opening act, and even during the main show, there were at least 15 empty eats. Only four people were in the front row.
No one sat in front of us during Sharon's set. But, just as the main event began, a couple sat in front of us. The man was a giant, with a bushy beard and wild curly hair (very much a Mountain Man type). The woman was short. She sat in front of me, and he sat in front of Lois. It was a like a giant eclipse of the sun for Lois…
I begged her to switch seats with me, and she refused. After two songs, I insisted, and forced her to switch. It made all of the difference in the world, as Lois got to see and enjoy the show. That said, the couple were annoying and distracting as hell, but then that's often par for the course at these type of events.
In other crowd news, a number of people (including two of the people in the front row of our section) gave a standing ovation after every single song. It's nice to be fans, and I'm sure they truly feel it, but come on, it's a tad much.
Most of the crowd stood for the entire long encore. Since my view wasn't blocked, I sat down when they returned to the stage. Lois stood, or she wouldn't have been able to see. A number of people (including the annoying super fans who sat in front of us) left before seeing even a minute of the encore. It was definitely a long show, so I can understand wanting to beat the crowd (or get home to relieve a baby sitter), but they missed a very nice encore indeed.
WaMu is a very nice theater. The maximum capacity is 5600 people (I would have guessed 2500 seats, so I was way off!). The last (and only) time that Lois and I were there was 23 years ago, when we took our godson (then three years old) to see a Muppets On Tour show. He just graduated medical school. My how time flies… 😉
Finally, we drove in to the city yesterday morning (and back to the house this morning). In between, I had lunch with one of my all-time best friends (we met on our first jobs after graduating college) and worked together at our third job as well, for many years. I haven't gotten to spend much time with him over the past few years, but my feelings for him have never lessened, he's just an awesome person in every respect.
So, we had a terrific sushi lunch (my first in a while, which was also a good thing to rectify), and we have promised each other that we won't let this kind of time elapse between future get together's. Our third job was at First Boston, but he is not one of the people who attends our semi-regular Boys Night Out dinners. We're going to rectify that too, and ensure that he joins us on the next one. 🙂