Send to Kindle
Last night we saw Sadao Watanabe (one of the world's great Saxophone players) and his band at the Blue Note Jazz Club in NYC. I've been a huge fan of his forever (owned many of his LPs before I bought my first CD). I've never seen him in concert.
The band came on the stage at exactly 8pm. I was surprised to see that all but one member of the band was Japanese (not that I had any idea what the band makeup would be). Then Sadao explained that the Japanese airline ANA sponsored this tour, and for the first time, he was able to bring his own band members from Japan with him for a US tour. Previously, he picked up local professional session musicians to accompany him.
Already it promised to be a cool show. While he didn't tell the following story until the middle of the show, it's more appropriate at this point in my narrative. The lone non-Japanese person was the percussionist (separate from the drummer). Sadao met him eight years ago in Senegal. He then met and married a Japanese woman and moved to Yokohama. Aside from also having two children now, he was able to join Sadao's permanent band.
Here's a photo of Sadao Watanabe speaking to the audience: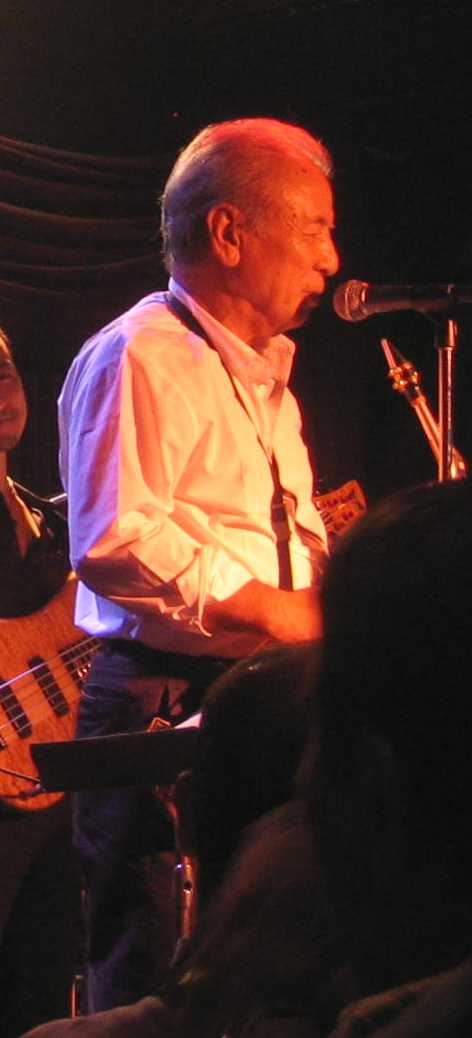 To summarize, the show was fantastic. The selection was incredible (Sadao has something like 69 albums, so choosing what to play is not a simple matter!). His playing was crisp, fast and fabulous. The few stories he told were touching, amusing and heartwarming. He's as lovely in person as he is a great musician.
Here are two more shots of him. The first is of him playing the sax. The second shows him playing the flute, which he did on one song only last night: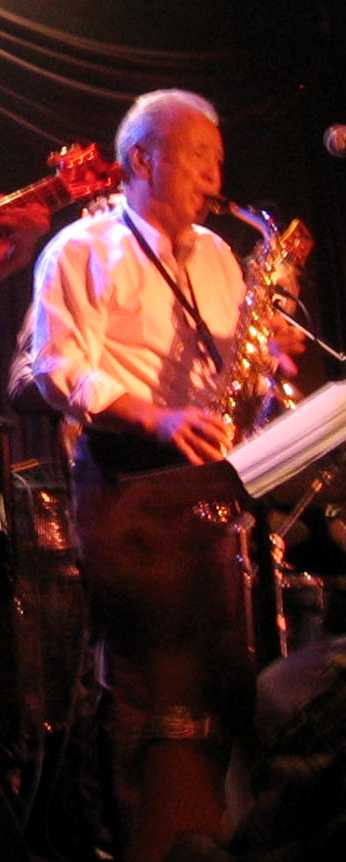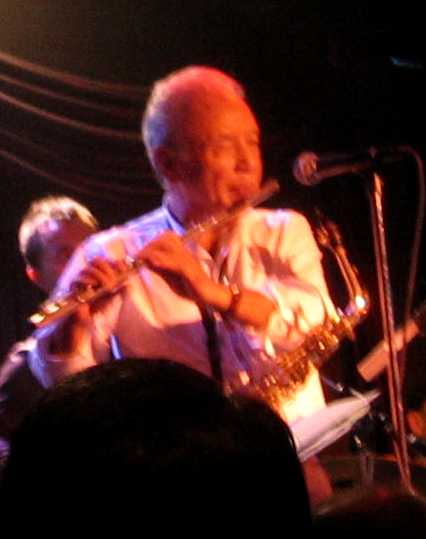 From left-to-right appearing on the stage with Sadao (he was in the center) were:
Akira Onozuka on electric keyboards and grand piano. Sadao mentioned that he's also a great percussionist, but the budget didn't allow for them to bring his set along. 😉 While there aren't a ton of real pianos in the shows we frequent, there are many electric keyboards. Akira played roughly five songs on the electric stuff, but the majority of the show was on the grand piano.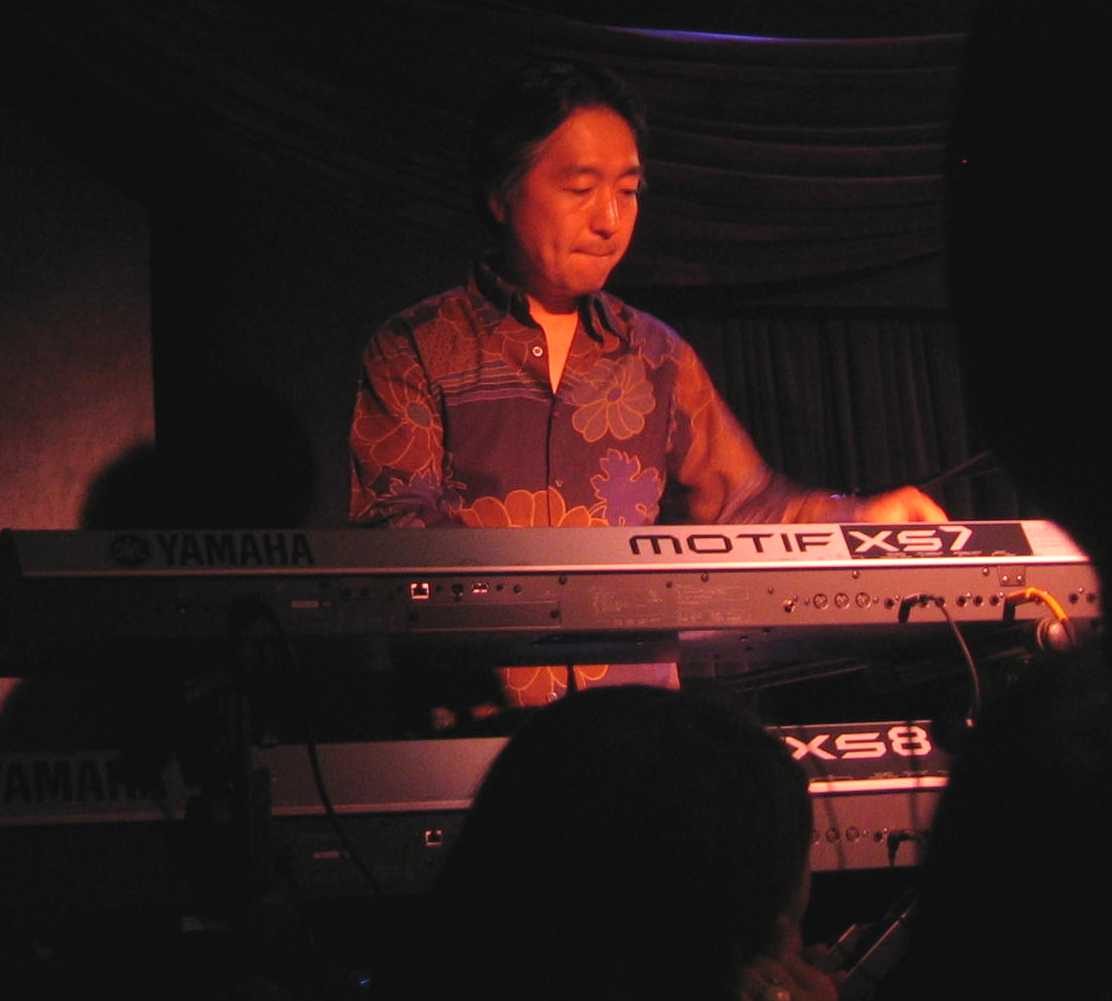 I'd be hard pressed to say that I ever heard a better pianist live, including David Benoit (who blew Lois away when we saw him), Bruce Hornsby, Bob James, etc. He was both flawless and fascinating, on every single note. He could play the slowest, softest ballads (on one number, he was the only one accompanying Sadao) as well as rock out to hard-driving funk jazz numbers. He took long, detailed, mesmerizing solos. Let me not slight his electric keyboards work, it was unbelievably good as well!
Jun Kajiwara on electric guitar. In a word, wow. The first thing Lois said when we left the club was "Don't you think he's better than XXX?" (I don't want to offend fans of XXX, so I won't repeat the name. 😉 Seriously, this guy is awesome. He was highlighted early on, and late in the show again, and blew the crowd away every time. Harder for me to peg him above my favorites, because I listen to so much more guitar work (live and on the iPod) than to piano, and those all get the spotlight in every song. In any case, Jun is fantastic.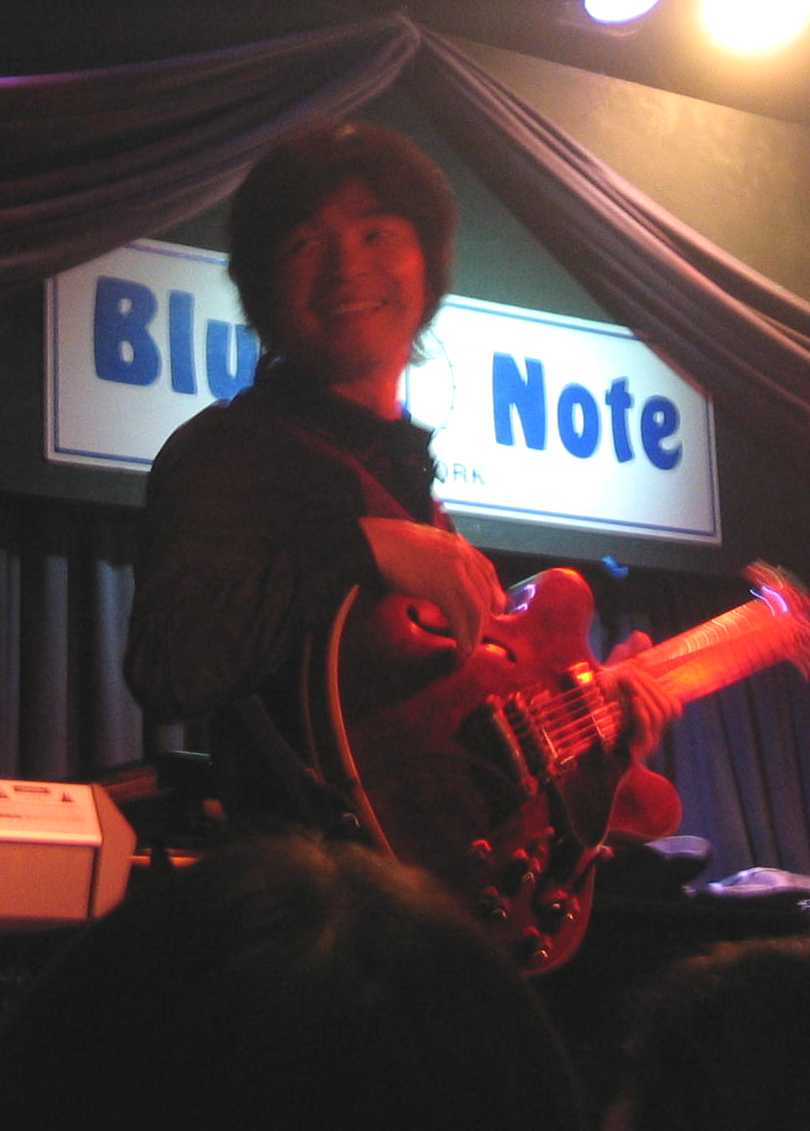 Kichiro Komobuchi on electric bass. He's likely the youngest (and perhaps newest) member of the band. He played an excellent bass line the entire night. On one number, Sadao let him loose for an extremely long and detailed lead (the others accompanied him, so it wasn't a solo). He was amazing.

Masaharu Ishikawa on drums. Very solid. One long solo, and another highlight with the percussionist.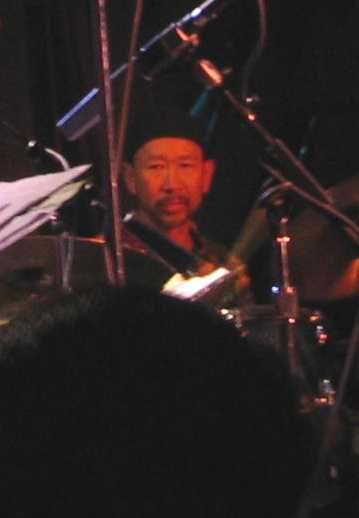 N'diasse Niang on percussion. I've seen a number of percussionists over the past few years, but never one who plays quite like this. Most play entirely with their bare hands. N'diasse has some kind of ball taped to his index and middle fingers on each hand, so that he can achieve more impact (and therefore also various tones) if he strikes the bongos (I'm sure they are fancier than that) with those fingers, other fingers, palms, etc. He electrified the crowd the entire night.
Apologies for the horrible quality on this photo. N'diasse was sitting perpendicular to the rest of the group (facing Sadao), at the corner of the stage, so the lights weren't on him at all, and the stage is relatively dark to begin with.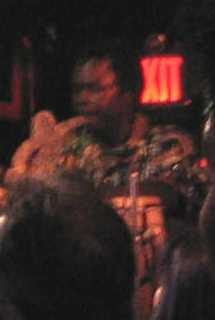 Just to repeat, in addition to being superb musicians in their own right, the six of them were tight and fantastic as a group all night long. They played for 85 minutes. The crowd roared after every lead, and literally worshipped Sadao himself.
We got to the club at 6:06pm. While we were happy with out seats, it was somewhat surprising that in the six minutes that the doors were open, many better seats were already taken. Yet, there was no line outside when we got there, so a bunch of people were seated within the first five minutes, or they opened the doors a bit early (not so likely).
Jazz draws quite diverse crowds in our experiene. That includes Japanese people, no matter who the artist is. That said, last night was one of the more unique experiences we've had in the US. The club was jammed, but there were perhaps 10% (20% max) non-Japanese. The overwhelming majority of patrons were Japanese. I mentioned above that they worshiped Sadao. It had to be an even bigger treat for them that the rest of the band all came over from Japan.
I said "non-Japanese" rather than US residents. That's because it turned out there were a number of Europeans, and two women who came from Brazil just to see this show! They introduced themselves to Sadao before the show, and he dedicated a song to them right near the end of the show. Pretty cool.
I had my usual (at least my recent usual) marinated skirt steak. It was excellent, but seemed to be twice as large as usual. I didn't have any trouble finishing it, but it was one of the longer dining experiences I've had in a while (I eat way too fast, always).
Sadao, thanks for making this very special one-night-stand in NYC (it felt like he could sell out the Blue Note for an entire week!), and more importantly, for arranging to share your truly amazing band with us! 🙂