Send to Kindle
Another day, another CMA Song Writer Series concert at Joe's Pub! 😉
Seriously, in addition to this being our seventh such show, it was also our second night in a row. The only repeat performer was the host, Bob DiPiero.
I will have some things to say a little later on that will feel less flattering than I've been about previous shows, but it's truly not meant to be that, so I feel the need to start off with a bottom line first: this show was excellent, and we thoroughly enjoyed every minute of it!
Sitting left-to-right on the stage with a shot of all of them first: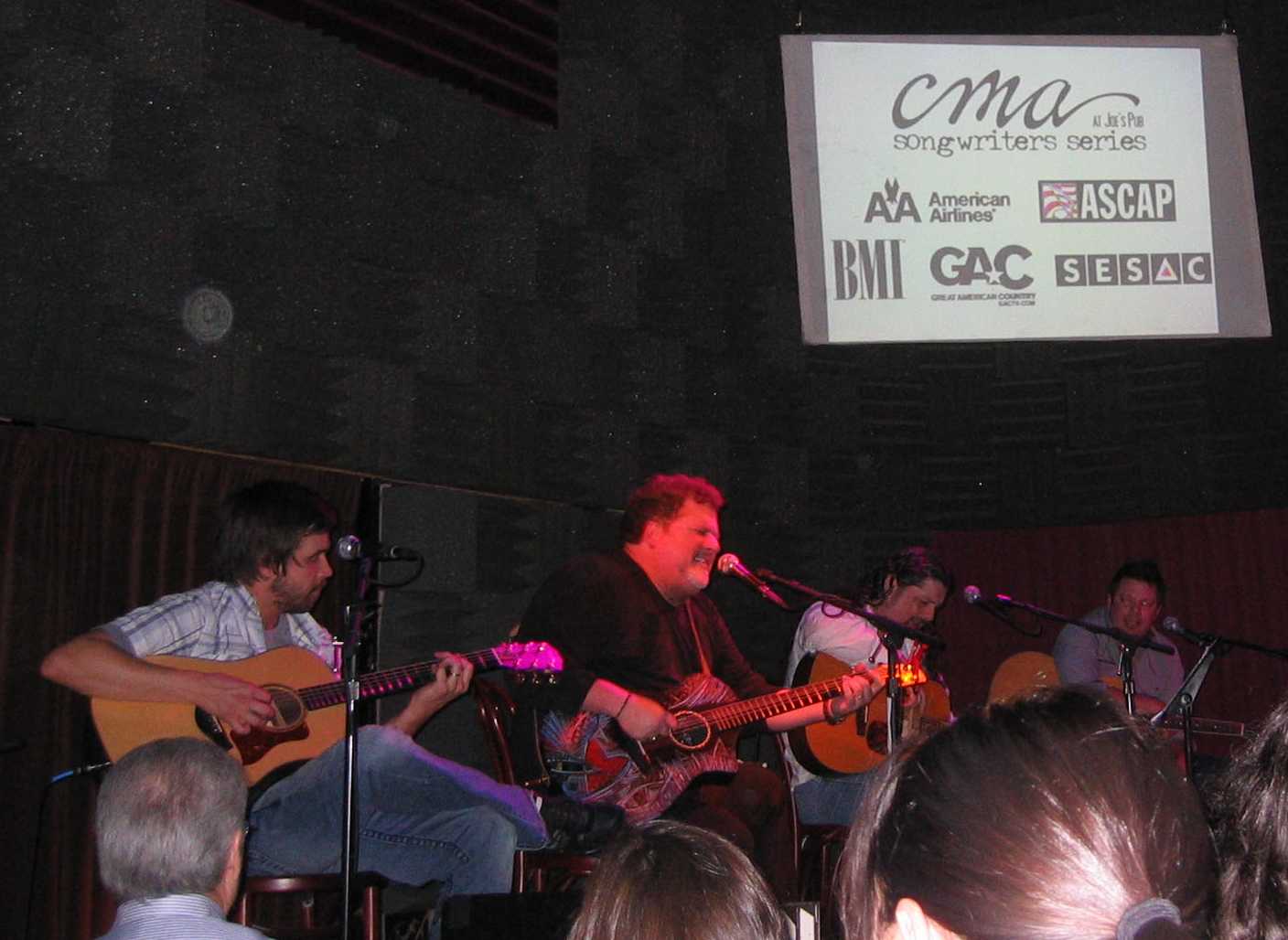 Jonathan Singleton was a newcomer for us. In addition to not having seen him live before, we hadn't heard of him. But, we did know one of his big hits, Watching Airplanes which was cut by Gary Allan. Jonathan was probably the strongest guitar player from last night's bunch, and he has a nice voice as well. He put on a good show in general and we enjoyed him, though his songs haven't gotten to us like many of the previous performers in this series. He's solid, if unspectacular.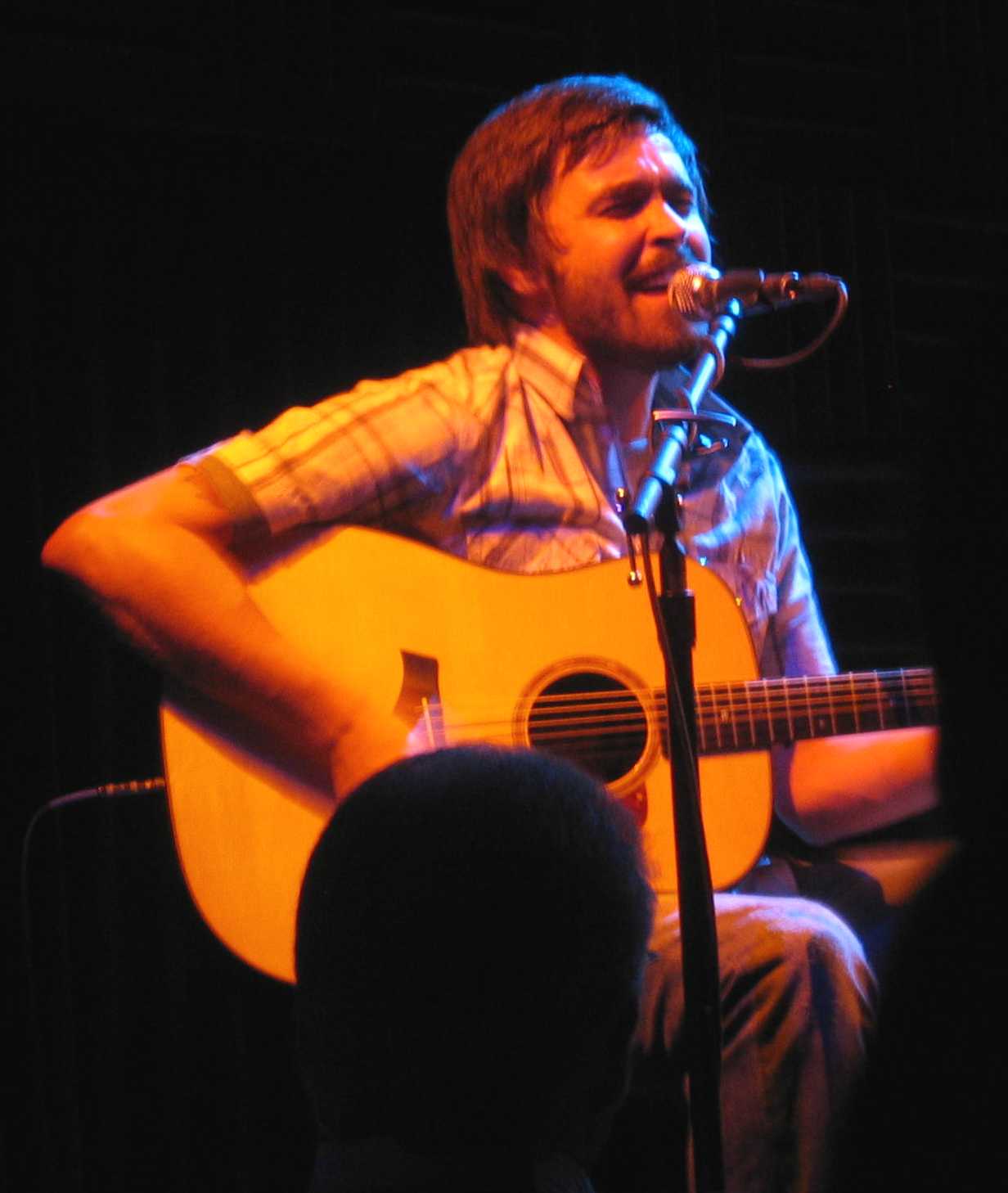 Bob DiPiero couldn't be exactly in the middle, since there were four people on stage last night instead of the more typical five. 😉 I've noted in the past (including in yesterday's post) that Bob typically plays the same five giant hits at each show. Interestingly, and thankfully, that changed last night (perhaps he's reading these posts). 😉
He opened the show with one of the usual numbers, The Church On Cumberland Road. But, when it came around to him again, he picked a song that he hadn't played in a while at Joe's (I'm not sure he ever played it while we were in attendance). Then the next time around, someone from the crowd yelled out "Play Blue Clear Sky". He told us a really long and funny story about how George Strait came to cut the song. Here's a much shorter version of the story.
On his next turn, he also sang something that he normally doesn't play, but then finished up the show with another of his standards. He was funny all night, and kept the crowd entertained with his stories and music.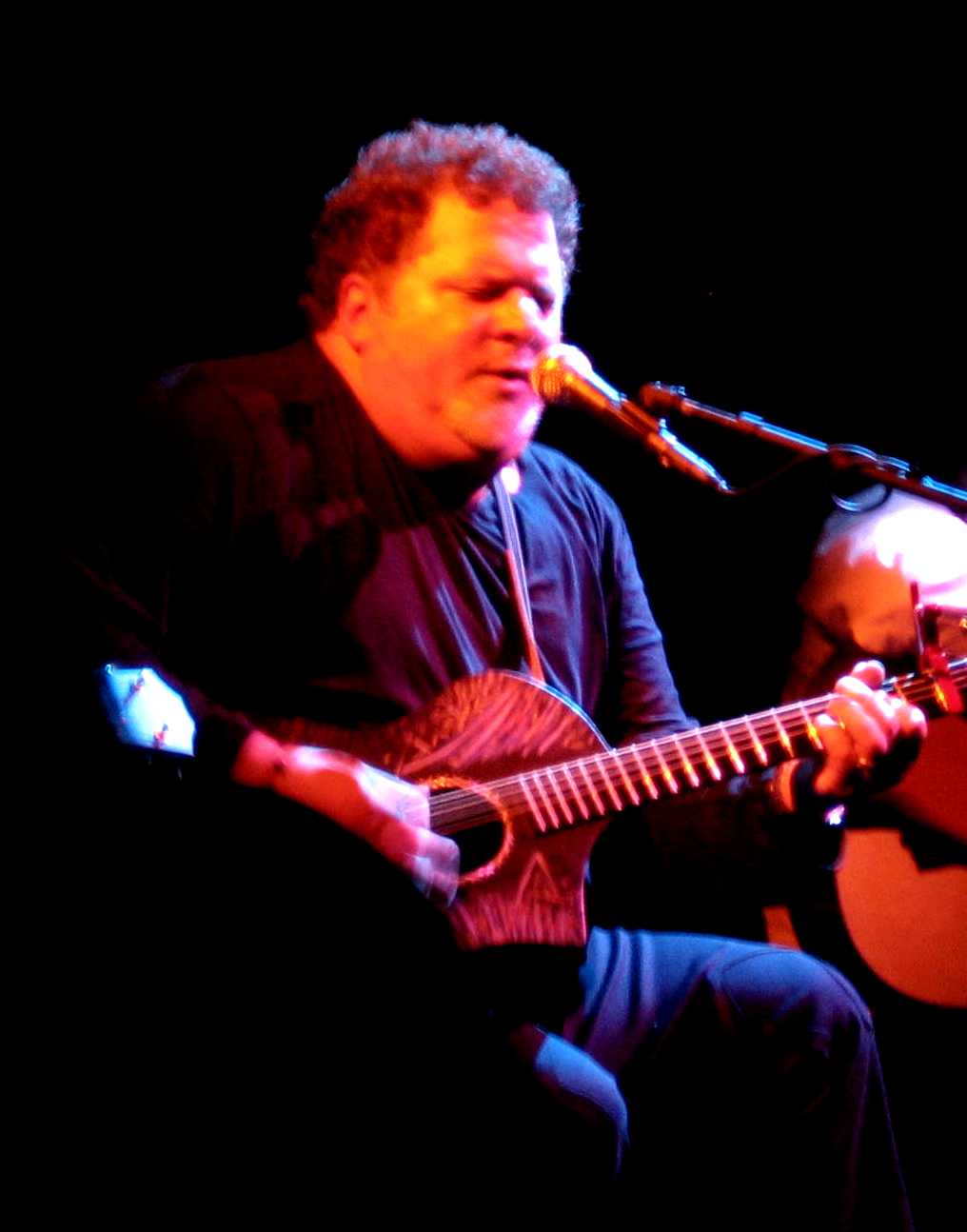 Chris Wallin was next in line. We had seen him before in this format. It was his first time at Joe's Pub (last night was his second), and it was our first time at the CMA Song Writers Series (though we've beaten him in between). I wrote about what a great writer Chris is the last time we saw him. He's phenomenal. He has a sonorous voice (rich and deep), but he has trouble keeping from drifting off key. It doesn't bother us at all, but he's one where I'm not surprised he's not a full-time performer (as opposed to Hillary Lindsey from the night before!).
Chris was as warm and funny last night as he was the first time we saw him. He seems like the kind of person I would love to hang out with.
Rodney Clawson was on the far right. We didn't know his name but certainly recognized a number of his hits. Included among them last night were Sweet Southern Comfort (cut by Buddy Jewell), a song I really love. He also performed Lost In This Moment (cut by Big and Rich). He has a long list of hits cut by major stars.
As a performer, he's completely solid, but also not of the caliber of the performers from the previous night. He comes across as a terrific guy, and there's simply no doubt that he's a prolific and wonderful songwriter.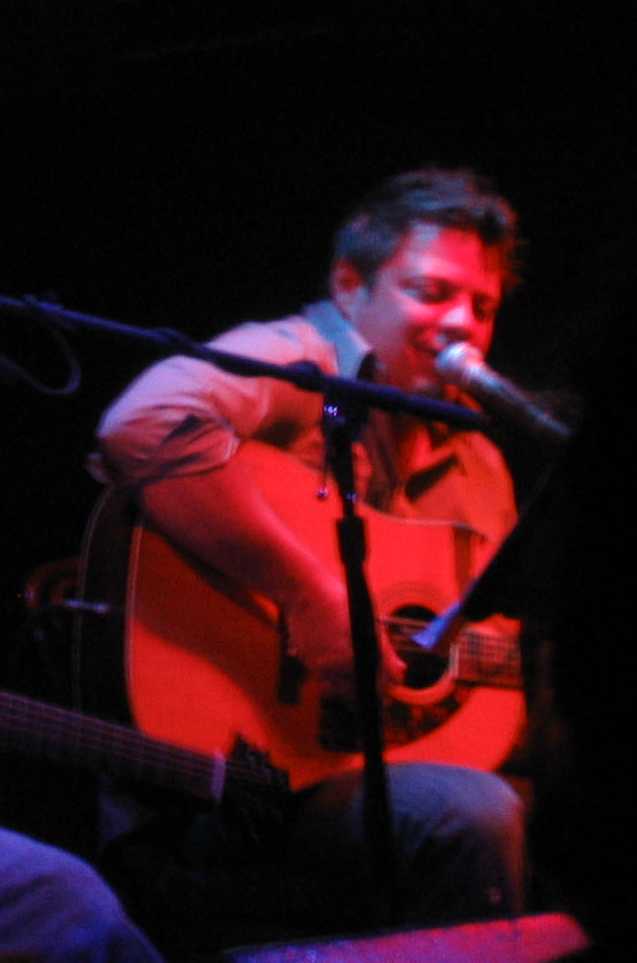 No encore last night (I'll explain in a second), but they were still on the stage for nearly two hours (probably 10 minutes shorter than the night before). Like I said at the beginning, an excellent show. Here's another shot of all of them together on stage: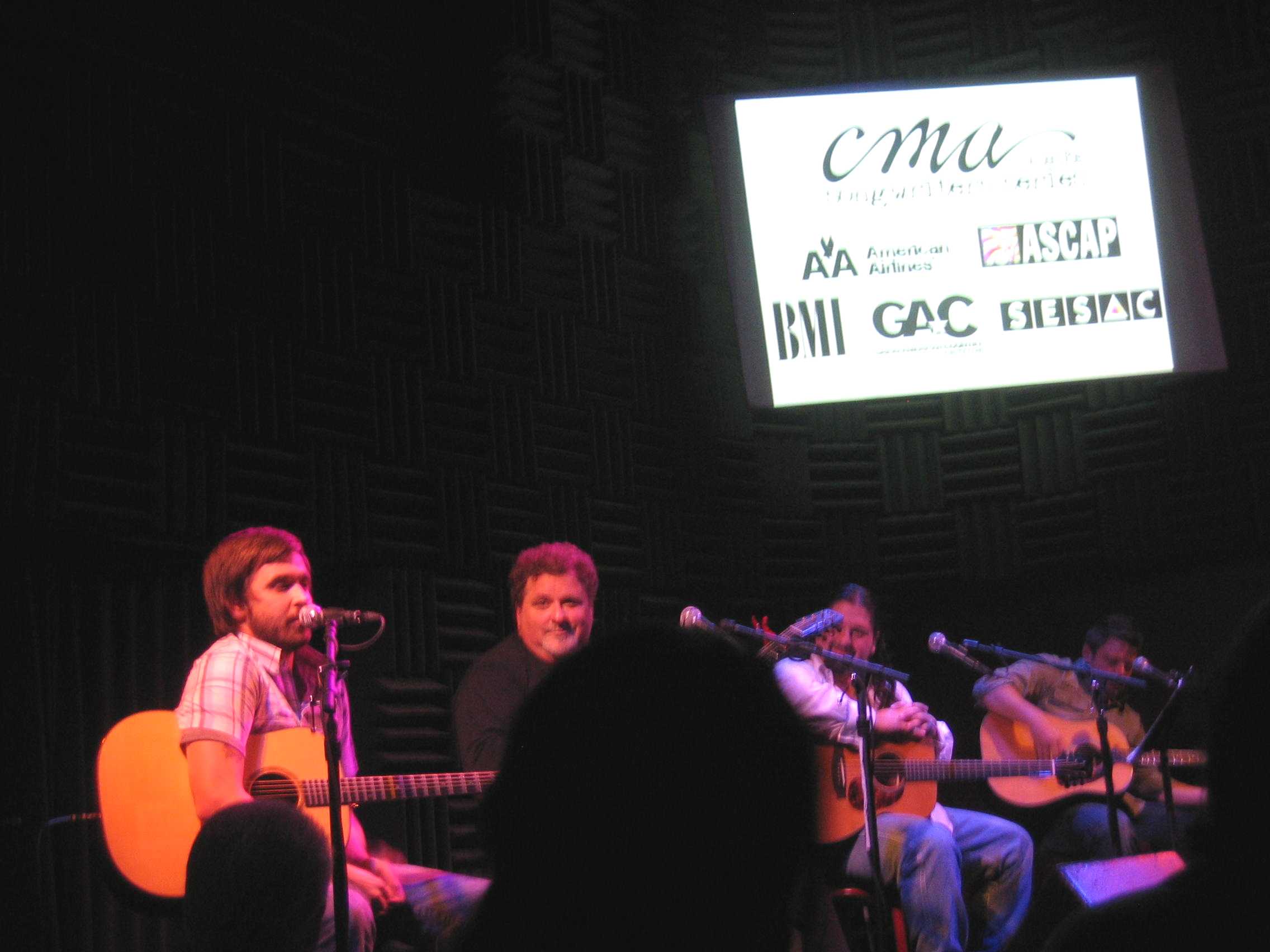 Now for some color about last night. On Tuesday, the show was effectively a sold out performance (I counted two empty seats, but I bet they were sold, but the people just didn't show up). This is typical of all of the CMA Song Writers Series shows. In addition, not only do they sell out every show, but they also have the longest lines awaiting the opening of the doors, always.
The only show at Joe's Pub that we've ever attended where we had to stand throughout was our first CMA event (the one where we first saw Chris Wallin). Clearly, there is a very loyal fan base for these shows.
That said, last night was the least attended show we've been at for any artist at Joe's Pub. I estimate that the place was roughly 1/2 full (perhaps 75 people). They seated the audience throughout the club, spaced out nicely, so that it didn't really feel empty at all, just a little roomier than usual. In addition, the audience loved the performance (entusiastically), so there was a decent energy and applause in the room for every song.
For that reason, I believe that DiPiero made the right call not to do an encore, but to simply stay on stage the same amount of time, and gracefully and graciously exit. When the place is full, it's very hard to avoid an encore, because enough people start a clapping (and possibly standing ovation) fest, that it becomes infectious. Last night, I suspect it would have fizzled, so they didn't risk the embarrassment.
I choose to highlight this to make a different point. One of the running jokes on stage at these events is that of being surprised at the number of Hillbillies in NYC. This is true to some extent. After all, these shows sell out every time (until last night).
And yet, NYC was unable to sustain a single country music radio station. The one station we had (and it was a good one), folded years ago (perhaps as many as 10, though I'm not sure). If you don't have XM Radio in NYC, you don't get Country Radio. So, on a number of occasions after one of these concerts, Lois has commented to me that this was proof that there are real Country fans in NYC.
True. In fact, when Rascal Flatts, Kenny Chesney and Keith Urban all sell out Madison Square Garden, and you can see that all of the fans know every word to every song (meaning, they aren't there just to see a star that they haven't heard of), and Martina McBride and Dolly Parton sell out Radio City Music Hall, clearly, there are 10's of thousands of Country fans in NYC.
Still, when CMA chooses to put on back-to-back shows at a small venue like Joe's Pub, the drop-off from one night to the next was jarring. I don't think the economy suffered that much more one day later. I think that the regular sellouts at Joe's come from a core crowd, with a number of them unable or unwilling to make that commitment on consecutive days.
When DiPiero asked the audience last night how many people had attended a previous showing in this series, I'd say that 80% raised their hands. When he just mentioned that they had been there the night before, roughly 60% of the audience whooped it up indicating that they had been there for that show too (we recognized a few people on the line before the show).
So, as much as we loved the opportunity to see this series on back-to-back nights, I think they do better when they space them out. That won't be a problem for the next show, which was just scheduled for March 19th, 2009. That's a little too much time between shows for our taste, but hey, you can't have it all! 🙂