Send to Kindle
Last night was our eighth Girlyman concert. It was the third time we've seen them at Joe's Pub (where it all began). The other five shows were spread out over five venues, in two states, in five cities, with vast differences between the venues and at times, the audience makeup as well. These statistics may become relevant later in the post. 😉
There were many things that were typical of every Girlyman show:
Amazing music
Lots of laughs
Adoring audience
Great venue
Long line after the show to say Hi to Girlyman and buy Merchandise
Some things were notably different. There are probably many reasons for that, including some that I probably couln't guess, but here are the three categories of things I believe contributed (perhaps all incorrect):
Obama becoming the President-Elect the night before
Girlyman playing in NYC
9:30pm show, rather than the typically earlier shows we attend
Before I tackle each of those, in the order I listed them, I'll say something that is also delightful (but both different and not different at the same time) about most Girlyman shows. Even though we've just seen Girlyman shows four times in a three week period (meaning, the same tour), their repertoire is large enough to mix it up, even on consecutive nights, to keep it fresh for the fans who attend more than one show.
Last night was no different (in that it was different!). 😉 They played Saints Come Marching In. This is only the second time we've heard it live, the first being on November 4th, 2007 at the Highline Ballroom, so it was like an Anniversary Gift. 🙂
It was one of the five great songs they introduced last year, but also one of the two (Trees Still Bend being the other) that didn't make it to the Somewhere Different Now Live CD. On the other hand, they've been regularly playing Trees Still Bend on this tour, but not last night.
Another one that I listen to all the time on the CD, but haven't heard live in a long while was Good Enough. There were a few other differences from recent shows in the playlist, but my observations to those changes might be more appropriate in one of the three above-mentioned categories.
Here are photos of the three of them. We were flush up against the stage, so the angles aren't great, and the lighting was aimed toward the cameras, etc., so apologies all around: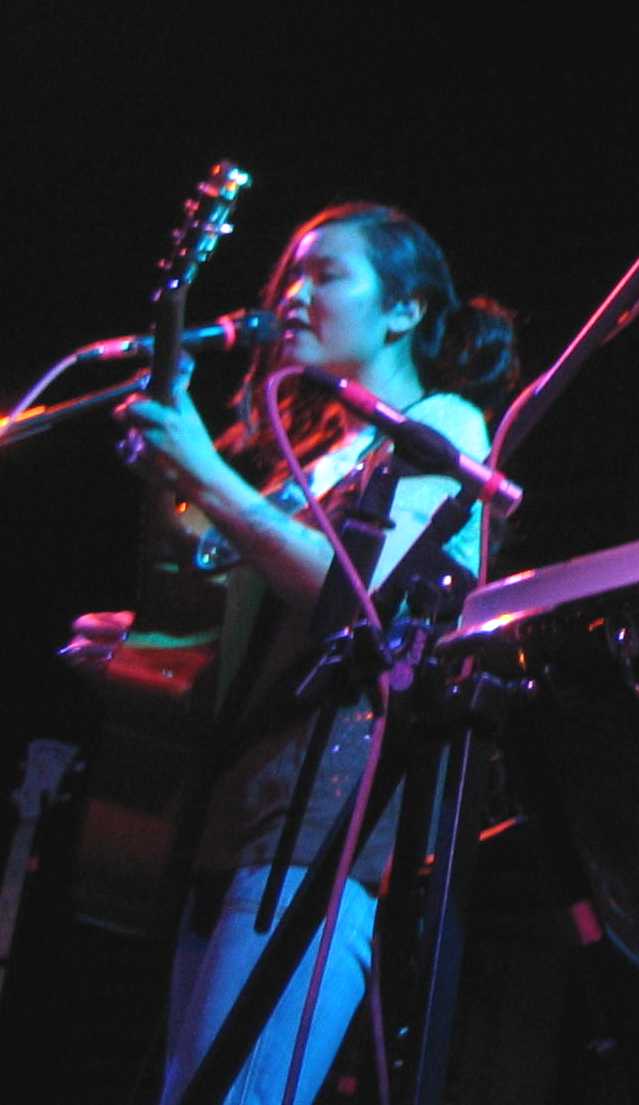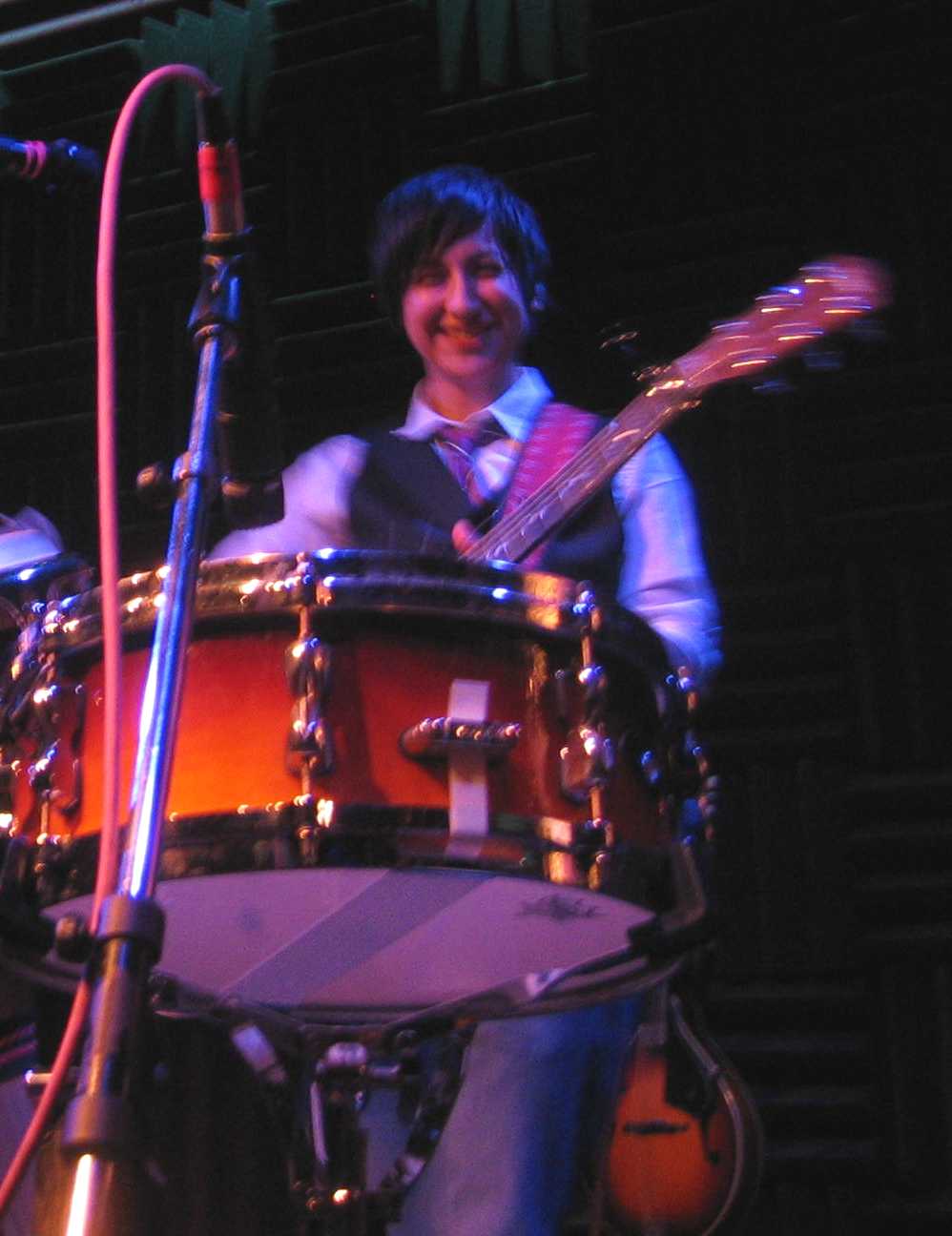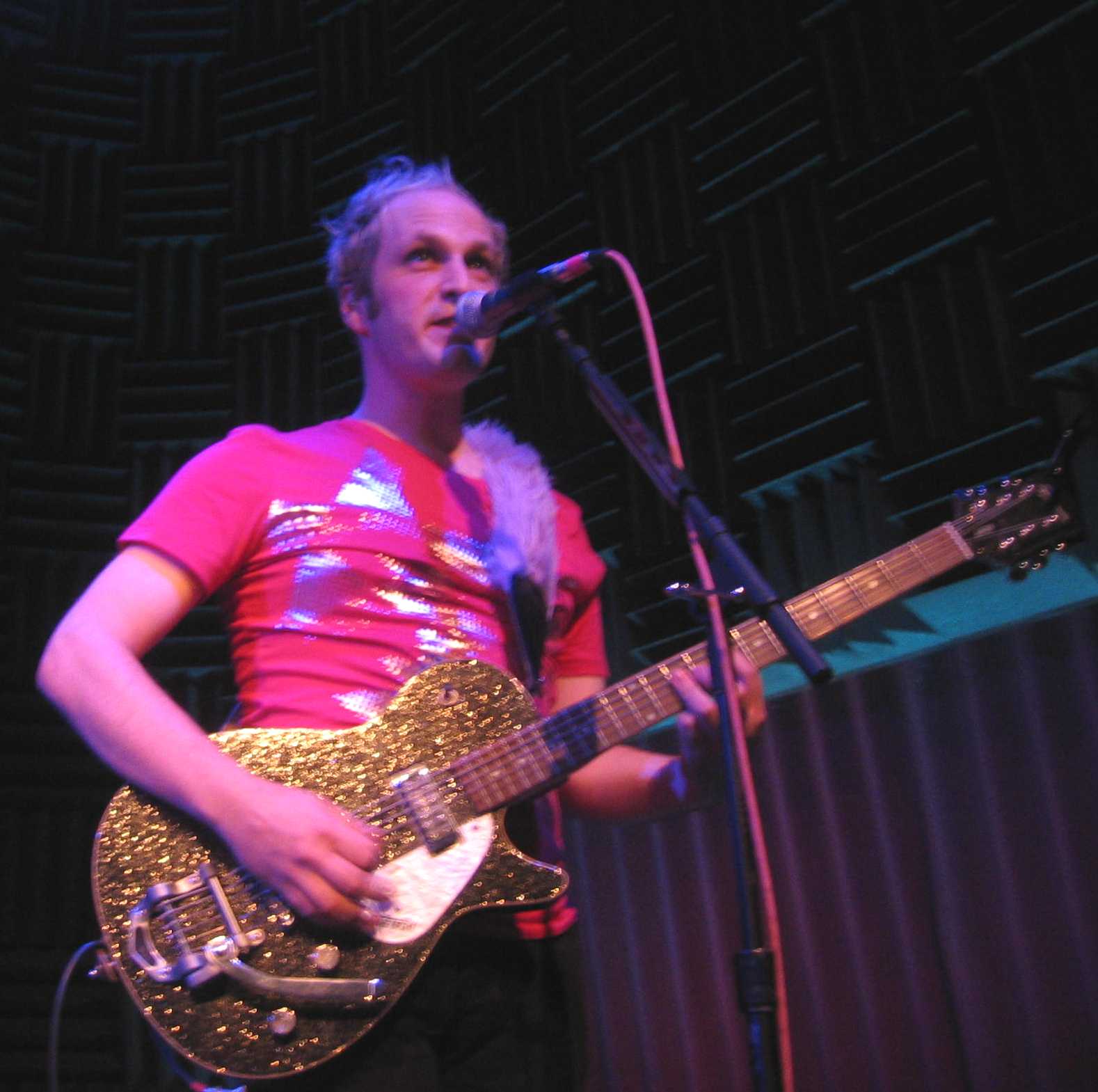 1. Obama
Aside from the obvious fact that Obama won a clear majority across the country, including winning some previously hard-core Red States, there are few places where his support is more obvious than NYC. Any mention of his name last night (or allusion to the victory) brought incredible cheers from the crowd, and joy from Girlyman. They told amusing stories of a party the night before, and bantered with the audience, very happily.
Aside from the natural focus on this historic event, and the relief that most of the people in the audience (and most definitely on the stage!) felt at the end of the current Administration, it also affected the playlist of the show!
In the previous seven times that we've seen them perform, the last six in a row all had the same opening number for every show: On The Air. It's a fantastic song in every respect, but it also sets such an up-tempo that we think they are smart for opening with it, and getting everyone's juices flowing.
Last night, they opened (after a nod to Obama) with Through To Sunrise. While also an upbeat song (and for a very long time Lois' favorite Girlyman song, though on occasion she's not as sure, because others are rising fast to catch up), I believe they chose it because it is their protest song against the current Administration. They didn't introduce it as such last night, but I'd be surprised if I was wrong. They play that song in most shows anyway (thankfully!), but opening with it was a statement (IMHO).
I already mentioned above that Saints Come Marching In was added to the playlist. Ty introduced it as fitting last night, so I assume that this one too moved them in relation to Obama's victory to get back on the list.
Finally, while they play Amaze Me at many shows, right before they played it last night, Ty said that she's been waiting a long time for America to Amaze Her (since she wrote the song over seven years ago), and it was clear that she was no longer singing it as a hopeless plea, but rather as a done deal!
2. Girlyman playing in NYC
Girlyman is consistently excellent wherever they play. Their audiences love them wherever they play. Those are just the facts (ma'am). But, this crazy thing started right here, in little 'ol NYC, so their tenured fan base is here. That too is just a fact. Moreover, since they lived here for six+ years (as Girlyman), many of the people who come to their NYC shows are close friends, independent of the music.
Like it or not, that changes the character of the shows in NYC a bit (or sometimes more than a bit!) from some other venues. Girlyman definitely feeds off of the energy in the NYC crowd, as do the vast majority of the audience (perhaps all), but I do think about what it must be like for a first-time attendee, who may even know and love the music, to find themselves in the midst of this kind of a love-fest.
That would be on even a normal night in NYC. Add to that the euphoria of the Obama victory, and it was more than a little raucous there. For one (bad) example, Girlyman rarely curses on stage (I said rarely just to cover myself, because I was tempted to say never). Last night, more than a few times, the expletives flew. For those who might prefer not to hear that, I can only hope that they could appreciate the unique circumstances of last night's show, and not think about it too much…
3. 9:30pm start time
Joe's Pub has an early show (start time anywhere from 6:30pm to 7:30pm) and a 9:30pm show, nearly every night. The two prior times that we've seen Girlyman there, they had the earlier show (one of those times, they also did the 9:30 show). For most folks, there are pros and cons associated with that. For us, it's mostly cons, other than the overwhelming pro of getting to see Girlyman in the first place!
Pros (for some people, not us!):
Don't worry about having to leave work early
Potential for a show to go longer. Early show has a hard-stop deadline
Some artists don't wake up before 9pm 😉
Cons (for us, and some other people, clearly not all):
Doors rarely open by 9pm when they are supposed to
Not enough time to finish dinner before the band comes on stage
A very late night (way past our bedtime)
The show might be shorter (e.g., if the band needs to hit the road)
All of that was in play last night. The doors didn't open until nearly 9:20pm, for a 9:30 show, where you are expected to order dinner! I am not blaming Joe's Pub, that's just the nature of the beast, and I understand it. But, we hate to eat in the band's face (we sat flush up against the stage!). Nothing we could do, so we did it, as discretely as possible.
Girlyman is performing in Philadelphia tonight, and I think it caused them to play a few less songs than they have at every other show we've been to on this tour (three others). They were also likely exhausted from partying the night before, and I am not blaming them for that either. 😉
The other change (not likely caused by any of the above) is how the show ended. On this tour, they've been closing each show with Joyful Sign. They did that last night as well. Then, after the inevitable thunderous applause, they came out for their typical encore. Also typical of this tour, the first song they played for the encore was a brand new one, My Eyes Get Misty (I really like it a ton!).
In the three previous shows on this tour (and in most of the ones in the Fall/Winter tour), they conclude with Son Of A Preacher Man (and on occasion, though not often enough, they throw in the Girlyman Benediction). Last night, after singing My Eyes Get Misty, they left the stage. What? Really?
The applause didn't die down, so they came back out (reasonably quickly). That was unusal as well (score another one for NYC). At that point, I was sure they would do Son Of A Preacher Man. Wrong! They asked for another request (The Shape I Found You In was the requested number during the regular show). This time they performed Speechless, another great song. Then they left the stage for good. Definitely different, though no complaints!
Since I've gone on for a long while already, I'll keep the backstory short this time. We invited two very dear friends who we get to see all-too-rarely. We asked them to meet us at Joe's at 8:45pm. Lois always insists on leaving too early, and I usually resist just enough to irritate her a lot, but not get to the venue ridiculously early.
Last night, I irritated her, but not enough to avoid getting there ridiculously early. 😉 We were first on line (shocking) when we arrived at 8:19pm. The guy working the door came out and said "You realize that the show that's currently going on won't end until past 8:40, right?". Sadly, I told him we realized that all too well… 🙂
But, in an amazing stroke of serendipity, roughly six minutes later, our friends (who drove in from Long Island) found a legal spot across the street from Joe's, and we got to catch up and chit-chat for nearly an hour before the doors finally opened. That was an unexpected treat.
Three of us had the burger and all raved about it. The fries are heavenly too. Last night was the first time that I have seen Joe's have a Price Fixed offering, and we took advantage of that as well, so we had starters and chocolate cake, all for a very reasonable price. OK, to be honest, it was more than reasonable for Lois and me, since our guests insisted on paying for dinner. Thank you very much! 🙂
It was raining throughout the evening, and since we live very close to the midtown tunnel (which our friends had to go through anyway), they gave us a lift back to the apartment. That was a very nice ending to an exceptionally enjoyable evening.
We already have our tickets for the next time we'll be seeing Girlyman, which is April 4th, 2009, at The Barns at Wolftrap (where we saw them this past March). We can't wait, but somehow, we'll make do…