Send to Kindle
Until this year, our closest friends could always count on their family being together for the holidays. Their kids (our godchildren) went to school in the vicinity, or at least were guaranteed to choose home (Richmond, VA) for the school break at the holidays.
Now, things aren't as guaranteed. Laura is married and living in NYC. There will always be the possibility that she will choose (or need to be fair and accept) to spend a holiday with her husband's family (the other coast entirely). David is in Birmingham, AL, and may not even be able to take time off for some future holiday (e.g., he was unable to get away for Thanksgiving this year, and Lois and I spent it with him in Birmingham).
Thankfully, the kids (yes, yes, they're fully formed adults in all respects now, but they will always be kids to us!) were able to come home for Christmas this year. Laura and Chris will be out in CA next week so they're not cheating his family out of the pleasure of their company, just delaying it by a week.
Lois and I felt blessed to be part of the festivities this year. Not only did that include the seven of us spending a lot of quality time together, we also got to see quite a number of dear Richmond-based friends as well. That included being part of the annual extended family get-together on Friday afternoon. Not only are all of Bob's relatives a joy to be around, they all bring special food creations for the rest of us to enjoy.
Some random shots from the various gatherings: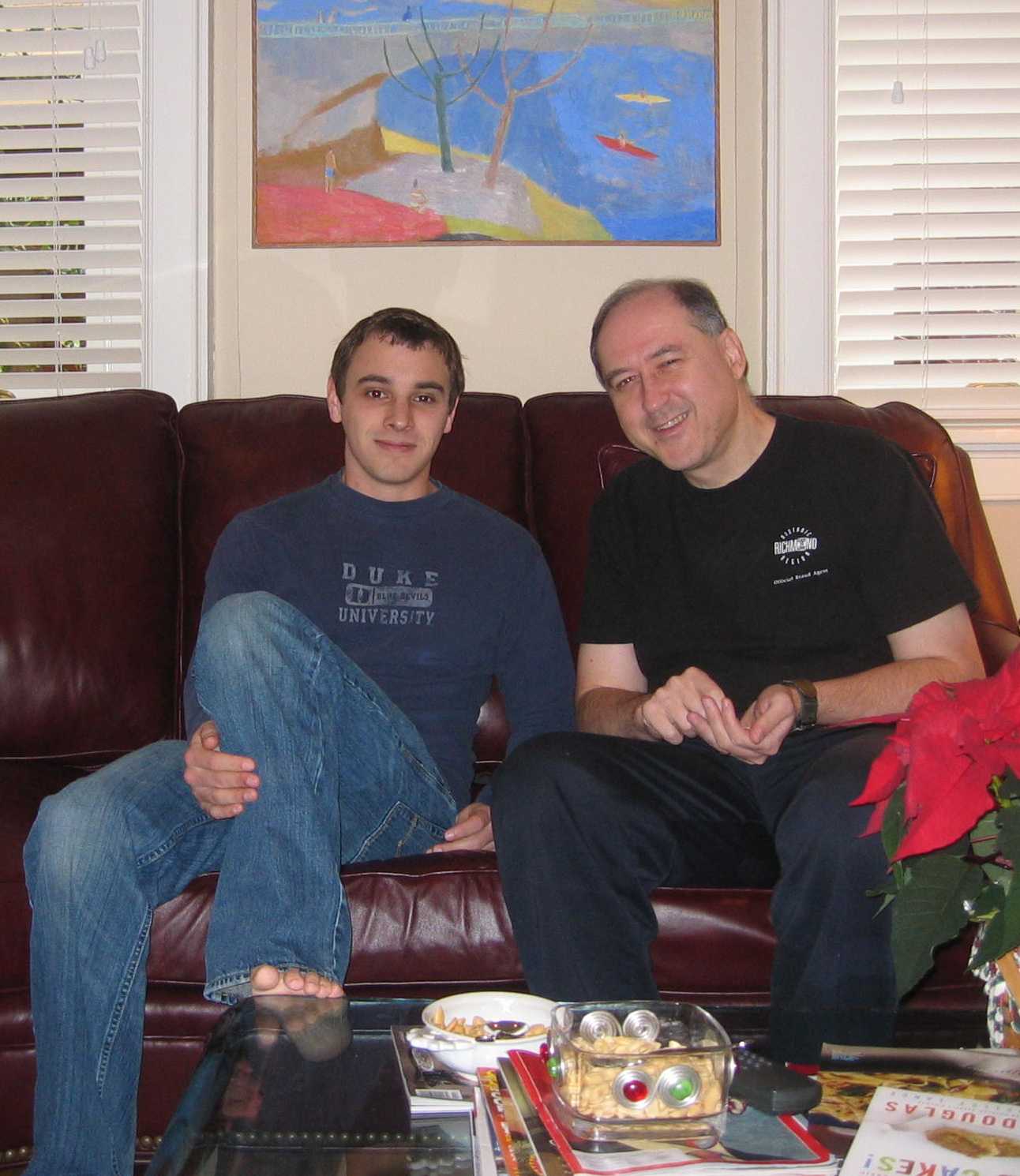 Who cares if I gained a ridiculous amount of weight in the past few days. It was worth it! Aside from Bob's always-groumet meals (he made a spectacular Thai dinner for nine on Saturday night), Nancy brought over an artichoke dip that kept calling me back. While I singled out the artichoke dip, every single thing that I sampled was unbelievable.
This photo is too fuzzy for you to appreciate how good the food looked, in addition to the above-mentioned great taste:
Laura created little droplets from heaven, otherwise known as homemade dumplings (with Hoisin and Soy sauces for sweet and savory dipping):
Bob has been known to share with Sally on more than one occasion. This year, he raised sharing to an art form. In the first photo, he's inconspicuously reaching over with his telescoping fork, and in the second, he's successfully snagged a piece of Thai Chicken. It's only fair, since he went to all the trouble of cooking it in the first place. 🙂
Good food, good conversation, great laughs. Who could ask for anything more? Well, we didn't ask, but we indeed received more. 🙂
A year ago, I wrote about the best gift-giver in my personal circle. One of the many amazing gifts he's given me was my first (and until now, only) GPS, a Garmin StreetPilot 2620. When I got it, in May 2005, it was the top-of-the-line Garmin GPS. It has served us extremely well over the years, but on occasion, it also acts up a bit. Of course, it typically acts up when I need it the most, so it can be quite frustrating at times.
Lois has complained to me for months that we should just break down and buy a new one. I kept resisting, as the old gal still has some good life in her, and it pained me to kick her to the side of the road prematurely.
Well, the decision was taken out of my hands (thankfully!). Our friends (including David, Laura and Chris) bought us a Garmin Nuvi 265WT. It's so cool, I encourage you to check out the features at the supplied link. But, here are a few of the things that it has that our old gal doesn't, aside from the obvious svelte figure. 😉
Battery-powered portability (with pedestrian and bicycle modes)
Bluetooth that turns the Nuvi into a hands-free speakerphone for my Treo!
Ability to download Google Maps addresses (with notes and phone numbers)
Real-time traffic reports (free, but ad-supported)
We love it, so thank you very much for the amazing gift, and the perfect timing for it.
We're not the only ones who enjoyed ripping into our gifts:
If you're curious as to how gifts arrive in Richmond, the answer is obvious, just like they do elsewhere, via Santa Claus. Sometimes though, Santa has his normal sleigh in the shop, and he arrives in Richmond in style:
Lots of other things to be thankful for this holiday season, and we are indeed thankful for all of them.
One of them is the family dog. He's 16 years old, which is pretty darn amazing. On occasion, he still has some pep in his step. Whenever he gets groomed, they put a bow on him. It looks silly, but no one takes it off. Since this was a holiday, they put on a colorful kerchief instead. Lois couldn't stop calling him The Sherrif of Nottingham every time he trundled by. It was definitely cuter than the bow. We probably should have gotten him a tiny cowboy hat to go with it, though he probably would have growled when we tried to fasten it… 🙂
Here's hoping that we will all have the opportunity to spend many more holiday seasons together!