Send to Kindle
I've written about our love of Ceili Rain before, most recently after we saw them perform at Joyful Noise III. At the time, their new CD, I Made Lemonade was not yet available for purchase, but as of July 1, happily, that's no longer the case!
In the above link, the new CD is highlighted in the big block in the center. You can order it (please do), listen to snippets of every song and read all of the lyrics.
You can also hear full Ceili Rain tracks (including the title track: I Made Lemonade) on their MySpace page. You can also check out two of their huge hits, That's All the Lumber and Love Travels.
In other words, don't take my word for it, listen for yourself, fall in love, then go out and buy the new CD (and the old ones, if you don't already own them!).
I Made Lemonade is very special to Ceili Rain, and to their fans as well (including us). After making five studio CDs under the Music Label system, Ceili Rain decided to create and produce this CD with the direct support of their fans. Lois and I happily and heartily participated, sponsoring two songs on the CD, including the title track: I Made Lemonade.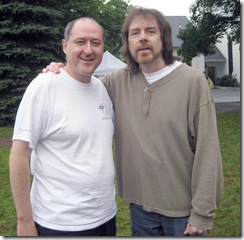 The sound is fantastic (who needs a record label anyhow) and the songs are wonderful! We believe Ceili Rain will appeal to all music lovers who appreciate great musicians, an amazing vocalist, uplifting lyrics and a totally professional, energetic performance that always delivers.
Most people (including me) classify them as Christian Rock/Pop, because the messages are full of spirituality, love, God, etc. The music supports, yet far transcends that classification in the universality of message and sound. I have read that they would like to spread their message more broadly.
I don't believe they'll add an overwhelming number of non-Christian listeners with this one, as it is a Christian-themed CD throughout. It's a joy to listen to, over and over, but they'll need to make another one if they want to expand the current base. So, even though I'm still enjoying this one, I'm eagerly anticipating the next one. 🙂
In the past, when we love an artist, we've done one of two things:
Give CDs away to our friends
This time, we're going to do it a bit differently. We have a bunch of the new CDs, and are going to give them all away, with a twist. Instead of just handing them out, we're specifically asking our friends whether they want the CD, and if so, that they try their best to share the music with at least one other person, hopefully more.
In other words, ask for a copy of the new CD if you will help spread the word actively!
Second, instead of a contest, we'll entertain requests from strangers for a free CD, but it will have to be in the same spirit as with our friends.
Tell us why you want I Made Lemonade, preferably by pointing out how you have, or will help spread the Ceili Rain love, and we'll seriously consider sending you one of the CDs. No promises (as opposed to the contest above), but we're serious about sharing the music with people who will appreciate it and spread the word as well.
Disclaimer: while we participated in the production of this CD, it was purely a donation, and we have no financial relationship of any kind with Ceili Rain. We don't derive a penny from any sales of the CDs.