Send to Kindle
Earl Klugh is my favorite solo jazz guitarist, and has been for 30 years! Bob James is my favorite solo jazz pianist, and has been, for nearly as long! I've seen each of them perform (separately) at the Blue Note, but last night, finally got to see them play together, for the 30th anniversary of the release of their album One on One (I own three of their collaborative CDs).
When we saw Earl at the Blue Note, I covered it extensively, including a very long and detailed back-story (how I discovered Earl, how I tried to get Lois to see Earl for our first date, etc.). If you haven't read it, I personally recommend it. 😉
Since this was a collaboration last night, there were fewer supporting players on stage with them. Earl brought along his normal bass player, Al Turner, and his drummer, Ron Otis, both of whom were with him the last time we saw them. Both keyboard players were absent, naturally, since Bob James is such a master at the keyboards. The horn player (the great Lenny Price) wasn't there either.
Sitting left-to-right on the stage:
Bob James played the piano (a grand), but it had to have electronic components, because he had cool sounding organ sounds on some numbers. He was beyond brilliant last night. Practically every time he took a solo he received a rousing ovation. Half way through most solos, you could feel people dying to clap to let him know how much they were enjoying his play.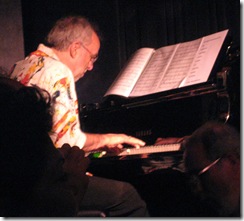 Earl Klugh was superb, but for the most part, took shorter leads than Bob did, which made people miss opportunities for applause, because they didn't expect him to pass off the lead so quickly. Don't misunderstand, he got plenty of applause, and most of the songs were his compositions (fabulous set selection last night!), but he wasn't as highlighted as Bob James was.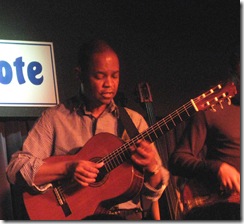 Al Turner was fabulous all night (mostly on the electric bass, but on two songs, on an upright bass as well). Toward the end of the song Angela (the theme from the TV show Taxi, written by Bob James), Al took a smokin' bass solo that rocked the house. People were applauding wildly long before he was done, which is cool, and he appreciated it, but it also means you're missing part of the solo.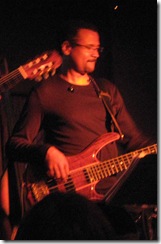 Ron Otis was incredible all night. A soft but inspirational touch all night. Even though it was soft (appropriately), his hands were flying, keeping an extremely up-tempo beat for Bob and Earl to dance around.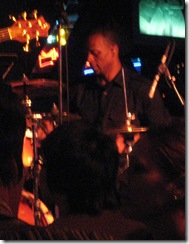 During the encore, Ron took a long solo, or rather, a long duel, with Bob on the piano. Ron would take a solo, then Bob would do something dazzling on the piano, and when he stopped, Ron would counter with a drum solo to match what Bob did on the piano. They kept it up for a few minutes, and it was awesome (both of them). Great way to close a great show!
In total, they were on stage for 80 minutes (they never left the stage to play the one song encore, which would take too long at the Blue Note).
Last night I had the Grilled Salmon (I usually have the steak there), and it was perfection. I haven't been highlighting the food aspect of many of these clubs lately, but I feel compelled to do so now. I believe that Lois enjoyed her chopped salad nearly as much as I enjoyed my meal. 😉