Send to Kindle
Note: this post is guest-blogged by my lovely (and incredible) wife, Lois. 🙂
We received this invitation in early August (from the wife of the man in whose honor the event would be held):

……….and attended yesterday.
What an incredible celebration to honor the life of our extraordinary friend and his accomplishments.
But no less, we honored the journey this couple has taken as so kind and generous friends, parents, siblings, children to their parents, and hard-working, contributing people. Near the start of the festivities, the wife introduced every person in the room, extolling their accomplishments and how the connections came to be. So she made certain there were no strangers in that room. We are able to reach out easily to this great extended clan.
Wonderful tributes were presented to the honoree: by his wife; by his mentor/boss and finally by his professor….all of whom are steadfast friends traveling through life with them.
The wife was my resident advisor freshman year of college. That I'm still part of her journey with her husband, children, grandchildren, my husband – is part of the magic of Life and fills me with gratitude and joy!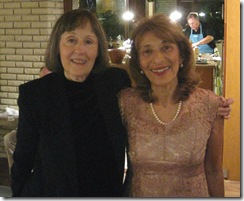 She and I sat in a room some many years ago when her first child was about to be born. She asked me to play the guitar, and a few hours later, her son entered this world. You may draw your own conclusions about the impact of those songs. 🙂
Her husband – as she – is the kindest, smartest, funniest, most spiritual and joyful of people. They embrace others far and wide and make a positive difference in all the lives they touch. They care about 'their own'. But 'their own' extends to the widest of communities.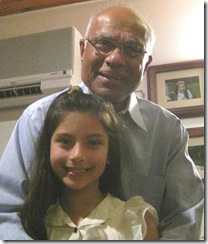 They travel the world, have amazing adventures, and yet most important of all to them are family and friends. They brought me along from age 17 when we first met, through to now, helping me with some of the difficult times I endured, and celebrating the joyful ones.
They each had milestone birthdays…..he last year, she last week. It would not surprise anyone to think they'd celebrated 35 (him) and 30 (her). With their boundless energy and excitement in life, it is our hope we will be celebrating with them long into the next fifty years. We love you!
Back to me! 🙂
We apologize in advance for the graininess of some of the pictures, and for the impromptu poses some of the guests were caught in. Lois avoided the flash most of the night, and tried to get candid shots throughout, so treat these more to get a feel of a wonderful evening, rather than portraits. Each photo can be clicked on to see a larger image.
Normally, I make clicked images open in a new window/tab. I didn't do that here, so if you click on any image to see a larger one, you'll need to use the back button to return to the post: