Send to Kindle
If you've visited this space before, then you know we love Ceili Rain. After listening to them for years, we finally got to see them live this summer and I wrote about it in this post.
That show was awesome in every respect. That said, it was an outdoor concert, and that has it's own feel (and in this case, particular problems). I was talking to the drummer of Ceili Rain (the amazing Bill Bleistine), and he told me that one of the best places for us to catch one of their shows indoors was at Tin Angel in Philadelphia. Shortly after seeing them at Joyful Noise II, they announced a show at the Tin Angel, and we immediately purchased tickets!
Tin Angel is a pretty small club, with a very nice atmosphere and vibe. It has the feel of a long railroad car. The stage is teeny tiny, and with Ceili Rain showing up with a full band (six people on the stage), there were some acrobatic moves necessary to stay out of each other's way (especially given how active Bob Halligan Jr. always is!).
They performed the same entrance last night as they did at Joyful Noise III, which was surprising and impressive given the vast difference in the venues. Bill Bleistine, playing a drum strapped around his neck (as in drum and fife), along with John Dreibelbis playing the bagpipes, came up the stair case in the back, so that at first you just heard the drums and pipes, then you saw them. The crowd clapped to Bill's beat, and was already in a frenzy by the time the procession reached the stage, and the full band joined them!
The majority (all?) of the crowd were hard-core Ceili Rain fans. Nearly everyone knew the words to every song, and reveled in the opportunity to sing out loud with Bob (or on occasion without him!), when prompted. Since I sing That's All the Lumber out loud in my car all the time, it was a hoot to sing it at the top of my lungs last night, with 100 other people. 🙂
Each of them could sustain my interest for an entire set, even if they were on stage alone, that's how good they are as musicians, individually. Obviously, the whole is greater than the sum of the parts, but I'll give a sentence or two on each of the parts. Standing left-to-right on the stage:
John Dreibelbis (I couldn't find a good link for him) played the pipes, tin whistles and flute. He was good throughout, but I was significantly more impressed with Burt Mitchell who we saw at Joyful Noise III.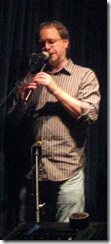 Joe Davoli on the fiddle. Awesome, as he was the last time. He has an incredible touch on the fiddle, and when he took solos (specifically, on Yankee's Revenge, which he played mostly with John), his fingers ran up and down the fiddle like greased lightning!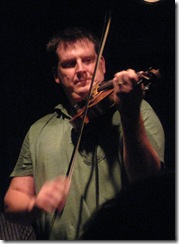 Bob Halligan Jr. on vocals and acoustic guitar. I could listen to him sing a capella all night, what a voice, it's really an instrument, not just a delivery vehicle for lyrics. He's also superb on the guitar. He's excellent on keyboards too, but Tin Angel is way too small to have crammed that in as well.
Raymond Arias on electric guitar and vocals. As I mentioned in the last post, Raymond's voice and harmonies complement Bob perfectly. His guitar play last night was on fire in general, but really smoking in a rock and roll medley that highlighted him singing lead and playing lead guitar.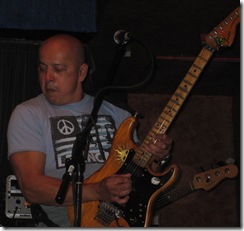 Kevin de Souza played bass. He was incredible throughout the set. Given the size of the stage, and the pressure they had to not go over (there was another show after Ceili Rain), Kevin didn't get to take a solo like he did at Joyful Noise III. We missed that, given how great he is, but he still kept the bottom full all night, and toward the end of the show (I believe on Love Travels, but I wouldn't swear to it), he threw in some really fast bass lines at the end of the song.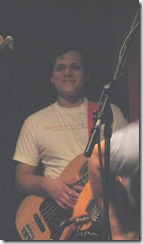 Bill Bleistine was squeezed into the back of the stage trapped behind his drum set. That didn't stop him from reinforcing my belief that he's one the best drummers I've ever seen/heard live (and I'm a big fan of quite a number of drummers!). The man is just amazing, and tireless. Keeping up with Bob's energy on any instrument is difficult enough, but the drummer better do cardio and weight training as well, or he'll easily pass out during one of these shows!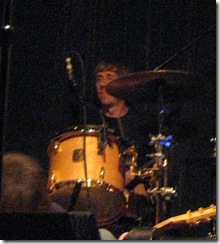 They were on stage for 95 minutes, and were definitely being rushed by the club to wrap it up and clear the stage and club for the next show. I understand the commercial nature of the business, so I'm not annoyed, but it was disappointing nonetheless. These were adoring fans who wanted either more music, or more time to schmooze with their idols, and the band was certainly happy to give them either (both I suspect), but it wasn't to be.
Most of the audience respectfully caught up with the various band members as they were packing up their instruments and then we all said goodnight and piled out into a lovely Philadelphia evening.
On our way out, Lois bought six more CDs, even though we own them all. Buying CDs at shows is one of the most direct ways that you can support the bands that you love. When we buy extras like this, it's always for the purpose of giving them out as gifts, to introduce new potential fans. Try it, you'll like it! 🙂
That's it for the music. On to our back story, if you have the patience for a bit more magic. 🙂
In the post about Joyful Noise III, I called out Rich Baringer, the main coordinator of the event. Right after we bought the tickets to the show, Lois said that she thought it would be special (for us, for Rich and his wife, and for Ceili Rain as well) if we were to invite Rich and Mary Beth to join us for the show. I thought it was a great idea. We reached out, and they agreed.
A few weeks later, Lois was exchanging emails with another member of their church, who had been involved in the fund-raising aspects of the show, and with whom we interacted quite a bit during the day, and we invited him along with his wife (we had not met her yet) to join as well. They too accepted, and we bought two more tickets.
To get a reserved spot at Tin Angel you have to eat dinner downstairs (street level) at their restaurant, Serrano, otherwise, the show is first-come first-served. We made a reservation for six people at 5:30pm (the show began at 7:30pm).
The food was exquisite (all six of us had different dishes, and all raved about their meal). We got to know the other two couples better, and are very happy for it, because our instinct that they were exactly the type of people we would like to be friends with couldn't have been more on target! We both really enjoyed meeting Bruce's wife (Bunny), as well as enjoying all of the conversation, food, and the show, with four lovely people.
While I highly recommend the food at Serrano, and the staff were all very nice as well, it wasn't all smooth as silk. The place is as long and narrow as Tin Angel (one building, separate floors), and couldn't have been noisier if they were pumping in heavy metal (I think the noise was all from dinner conversations!). We had to scream at each other to be heard.
Our entrees came out very late, which made us nervous about missing the start of the show, and caused us to wolf them down. To repeat, they were fantastic, so in the end, it all worked out well, but a slightly more pleasant dinner experience could have been had with less noise, and the food served 15 minutes earlier…
We headed home after the show and walked into the apartment at 11:20pm. Not too bad in terms of the logistics, and well worth the 4-hour round-trip drive to enjoy such a wonderful evening with so many wonderful people!