Send to Kindle
Laura and Chris saw Mary Poppins on Broadway last year and raved about it. Aside from Wicked, we rarely see any shows unless we go with friends who are visiting NYC.
Chris' parents are in town visiting them this week, and Chris and Laura bought four tickets to take them to see Mary Poppins. When they realized we would be around as well, they invited us to join, which we happily did.
Laura was able to get tickets at a nice discount, and even though she bought the tickets on separate days, we were able to get two tickets in the center orchestra, roughly 15 rows back, immediately in front of them.
Lois and I both felt that the sets were the most creative and technologically sophisticated of any show we'd seen on Broadway. Amazingly, Lois has never even seen the movie (Disney has long been searching for the one person in America who hasn't!) so everything about the show was fresh to her!
The entire experience was delightful. Good moral tale, enough magic to please kids and adults alike, and excellent singing and dancing throughout. One very creative scene (when the stuffed animals come to life) is apparently being taken out of the show next week and replaced with something different. Considering how much I enjoyed that scene, I'm doubly glad we went last night!
The entire cast was wonderful, I didn't feel that any of the performances were weak. That said, I feel it necessary to specifically call out the Mary Poppins actress, Scarlett Strallen, who was perfect in the role. While a few people (including Lois) rose to give the Bert character (Adam Fiorentino) a standing ovation, the entire audience rose to their feet when Scarlett came out for her bow.
It pays to have friends in high places. 😉 A good friend of Laura and Chris plays in the Mary Poppins orchestra and was in the pit last night. We've had the pleasure of meeting him and his wife and spending a wonderful day with them hiking in Bear Mountain.
After the show, we all met him outside the stage door, and he took us for a tour back stage. It was fantastic. We got to stand on the stage, and look out at the theater, and get a sense for what the actors feel like. Apologies, but I couldn't get the red eye out of this photo…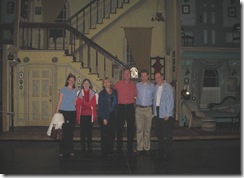 Looking up at all of the cables and gadgets that make all the magic happen was wonderful too, and didn't detract from the mystery in any way (since they were all sleeping at the time).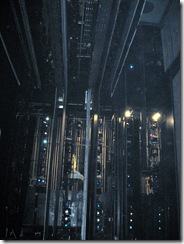 We then walked down in the orchestra pit itself, which was interesting too. It's quite a maze down there, and all of us commented on how it was much warmer than we expected. At least they have a bunch of fans spread out for the musicians.
After the tour we walked back to the apartment at a leisurely pace, and had some of Laura's award-winning (well, I don't know if they're formal awards, but they are from me!) apple pie on the deck. The weather in NYC yesterday could not have been more delightful.
Before heading to the show, we had dinner at Bobby Van's (the one on 50th Street). Getting there was a bit of a nightmare, because the Pulaski Parade was still underway, and most of the cross streets were closed off. We enjoyed a terrific meal there, with excellent service, but had to rush out at the end to make the curtain. That worked out, as it left room for Laura's apple pie, since we had to skip dessert at Bobby Van's. 🙂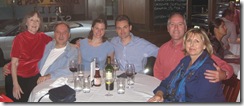 An absolutely delightful afternoon/evening with wonderful people. One of life's true pleasures! Thanks all for including us!