Send to Kindle
Last night was our 12th CMA Songwriters Series show at Joe's Pub. We look forward to all of them (and buy our tickets the minute the shows are announced).
We were even more excited about last night's show when our friend in Nashville told us that Jessi Alexander was very special. Since this is the same friend who recommended we see Jeffrey Steele live, we knew not to take her opinion lightly. 🙂
I'm going to bury the headline down below, just because I don't want to take away from the wonderful talented people who sang their hearts out and kept us entertained all evening with their stories. So, if you want the big news, you'll have to keep reading, or skim/skip a ways down…
Sitting left to right on the stage: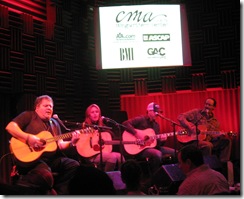 Bob DiPiero was left-most this time (first time that he wasn't in the middle in all 12 of our shows!). He's always entertaining (musically, as MC and as comedian), but he was even more on last night. I think it was a combination of a few reasons, all of them positive, but one of them would ruin my headline surprise, so I'll leave it at that.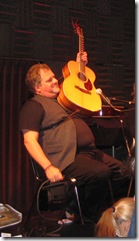 Jessi Alexander sang and played acoustic guitar. Jessi sings beautifully and writes superb songs. She is a co-writer on Miley Cyrus' huge hit The Climb.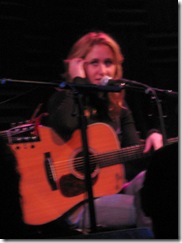 I confess to knowing very few of Miley's songs. I've never watched Hannah Montana, etc. However, we do watch a few hours of GAC (Great American Country) TV most weekends, and catch a number of the top videos of the week. The very first time I saw Miley's The Climb video, I fell in love with the song. When Lois came back into the room I told her how shocked I was that I reacted so strongly to it.
Ironically, Miley's movements in the video are distracting, so there's nothing about the video that made me like the song. In fact, overcoming her overacting to fall in love with the song is what made me realize what an excellent song it was. So, it was a very nice treat to see/hear Jessi do it last night. I still love Miley's version sonically. 🙂
Jon Randall sang and played acoustic guitar (all forms, rhythm, flat picking, finger picking, etc.). Let's get the bottom line out of the way first: he's amazing!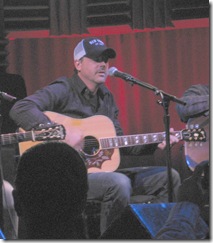 Jon has a great voice (absolutely star performer quality). He writes great songs (you've probably seen/heard Whiskey Lullaby, cut by Brad Paisley and Alison Krauss). He is one of the best guitar players that we've seen at a CMA show.
Jon happens to be married to Jessi Alexander. That may be one of the reasons that Bob sat on an end last night instead of the middle, so that Jessi and Jon could sit near each other. Jon accompanied Jessi on every one of her songs, and they sang harmony together on both of their numbers, beautifully.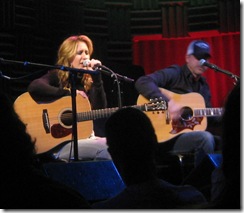 Mark Sanders sang and played acoustic guitar. I couldn't find a link to a web site or MySpace page devoted to him, so I linked his name to an old article (1997) that might give you a good background on Mark.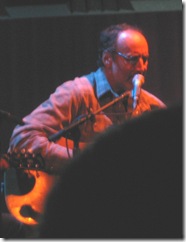 He's an incredible songwriter. Don't take it from me, he was recently inducted into the Nashville Songwriters Hall of fame (Bob DiPiero is an inductee as well). He has written quite a number of smash hits, including one of our all-time favorites, I Hope You Dance (cut by Lee Ann Womack).
Mark is not much of a singer, and he pointed that fact out all night (in extremely funny fashion). He praised Jon over and over, and boy, is he right about that.
None of that matters. He writes extraordinary songs, plays the guitar well enough, and delivers the emotion associated with the person who actually conceived of and wrote the song, which is precisely what we love to hear!
In fact, all of the above would be enough for us to have been thrilled to see Mark last night. But wait, there's more! If you order now… 😉
Mark is one of the funniest, natural, spontaneous people we've seen (not just at a CMA show, but in general). He kept us in stitches all night. Mark has also written a lot with Bob (including some smash hits), so they know each other well.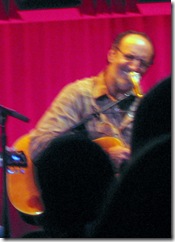 We believe that one of the of factors that made Bob a bit different (and better!) last night was their shared history, love of having a good time together, and knowing that Mark would make fun of anything Bob said that might sound serious. 😉
We got to hear the story behind Daddy's Money (a song we've heard Bob sing more than 10 times) and it was awesome! The inspiration behind the songs is fascinating to us.
Their banter was so funny that Jessi commented that she and Jon had to sit between them to keep them separated. 🙂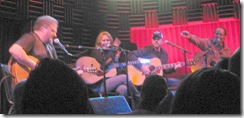 OK, finally, the buried headline.
About 1/2 way through the show, Bob announced that we had a superstar in the audience, and with some encouragement, he was likely to agree to come on stage. No extra prodding was necessary.
A minute later, rising from the second level was none other than Troy Gentry of Montgomery Gentry. He walked through the crowd and climbed on to the stage. He performed two songs (singing and playing acoustic guitar), both written by Bob DiPiero. The first was Montgomery Gentry's first #1 hit, If You Ever Stop Loving Me. He followed that with the crowd favorite Gone (which the crowd begs Bob to sing at every show!).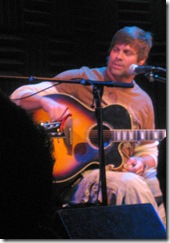 He was awesome. He commented that he hasn't played an acoustic set in a very long time, and he was nervous, because he's usually surrounded by the giant sound of a large electric band. Troy, no need to worry, we'll be thrilled to welcome you back onto the small stage any time. You owned it! 🙂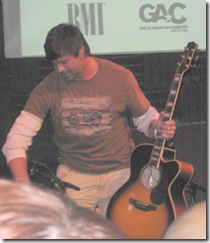 Another great CMA night at Joe's Pub. The next one is expected to be in March 2010, no specific date set yet. Barring an unmovable scheduling conflict (and there might indeed be one if the CMA is near March 12th), we'll be there!