Send to Kindle
Jerry Douglas has a new Christmas CD out, Jerry Christmas. He's touring actively in support of that CD. Special guest stars on this tour are John Oates (of Hall and Oates fame) and Maura O'Connell. Both John and Maura are up for a Grammy this year. Jerry has 12 Grammys already!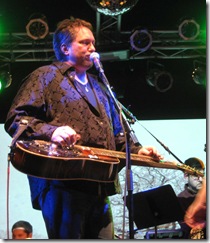 We expected the majority of the show to be Christmas songs. They started off the show with the first two cuts from the Christmas CD, The First Noel and God Rest Ye Merry Gentlemen. I was completely entranced.
The mood was quickly broken. Jerry introduced Maura O'Connell (an obvious crowd favorite). She sang two numbers that were lovely, but didn't feel Christmasy to me. Maura has a saucy stage presence. While we both typically like artists who can connect directly with the audience, it broke the reverent mood created by the first two instrumental numbers.
After the fourth song, Jerry introduced John Oates. His first number was Christmas Song (written by Mel Torme). John still has an excellent voice, and he surprised me throughout the show with his quality guitar playing. He is an incredibly self-effacing man, who fit right in with the amazing spirit always put out by the Jerry Douglas Band.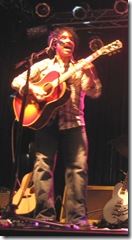 Sprinkled throughout the set, John played a number of other songs, including She's Gone (one of the many Hall and Oates hits). He also sang with Maura (and she harmonized on a few of his numbers). Still, most of his songs were not Christmas ones. While they were really good, they too didn't strike us as fitting the overall flow and mood of the evening.
When neither John nor Maura was singing, the Jerry Douglas Band played eight of the 12 songs from the new CD. Every one was special, as is the CD (which we own).
The first of a two-song encore was a Gaelic a capella number sung by Maura and Jerry. Gorgeous (he really has a very good voice). Jerry also sang harmony with Maura and John on a few numbers, all well done.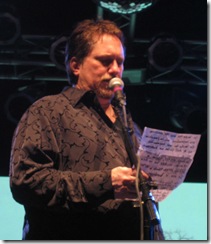 Jerry also threw in Who's Your Uncle, a high-energy Jerry Douglas tune that would typically highlight a normal Jerry Douglas Band show. They played Sir Aly B to close the encore. Both Who's Your Uncle and Sir Aly B are on The Best Kept Secret CD.
Guthrie Trapp blew me away again on the guitar. The man is just incredible. His mandolin playing isn't half bad either. Lois got him to sign a set list for us (really me) after the show. I was speechless, so she had to do the asking. 😉
Chad Melton played the drums (like he did when we saw them at the Blue Note). Again, he was excellent. Very understated, but right there with the right beat and sound the entire set.
Todd Parks was again wonderful on the bass all night, both upright and electric.
Normally, Luke Bulla fulfills the fiddle playing for the Jerry Douglas Band. He wasn't there last night (even though he's on the Jerry Christmas CD), and there was no mention of why he wasn't there. As good as he is, he wasn't missed.
Taking his place were two fiddle players. It didn't take two to fill his shoes, as both are great in their own right. But, especially with the Christmas music, having two fiddle players (perhaps I should say violin this one time), made it sound more like an orchestra playing with Jerry!
I am most embarrassed to say that I can't remember the name of one of the fiddle players, even though Jerry said his name (once) last night. To make matters worse, I've seen him play before (with another band), and can't for the life of me remember which one. Of course, no end of searching yielded the answer either… 🙁
He was excellent all night, in particular when he played duets with the other fiddle player, and he played mandolin on a few numbers as well. Here's his photo, perhaps a kind reader can fill in the details for me:
Alex Hargreaves played the fiddle and sang on one number. He looks like he's 12. 😉 He's an absolutely extraordinary musician and has played with some of the greatest musicians in the country, now including Jerry Douglas.
We had a great time, and loved the show. That said, we each would have enjoyed a more typical Jerry Douglas show, or a Christmas-only show. Mixing and matching worked only in the sense that each song is played by consummate musicians who will make anything sound good, but the flow/magic was missing at times.