We've seen Alex Berger perform twice before, but last night at Rockwood Music Hall was our first time seeing him headline a full set with a full band. The show started at 11pm, which is way past our bedtime, but Alex is well worth today's exhaustion.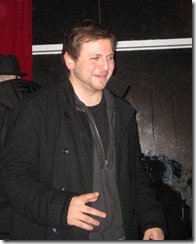 After the show we finally got to meet another friend and fan of Alex, and she said exactly what I was thinking: "Alex is an old soul!" So true.
Alex has a great voice, plays the piano wonderfully, and writes beautiful songs. Most are from a throw-back era of great jazz singers who wend their way through heart-tugging lyrics and sophisticated melodies, highlighting their vocal and musical chops along the journey. Hence the term "old soul".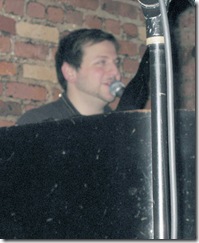 Alex has completed work on his soon-to-be released CD Snow Globe, but still needs some help in getting the final package put together and delivered to his eagerly awaiting fans.
We've already helped by being the first to pre-order the CD and then being first to contribute when he announced the final push on his Kickstarter Page. As of this minute, he's less than $600 from his goal of $3,173 to get the CD released. Please help out, however much you can. 11 days left to make this a reality!
Last night Alex was accompanied by a very talented group of musicians. Sitting left-to-right on stage:
Marika Hughes on cello. I am pretty sure that Marika also plays on the Snow Globe CD, so seeing her perform live added a bit more excitement to finally getting our hands on the CD in a few months. She was wonderful throughout the set.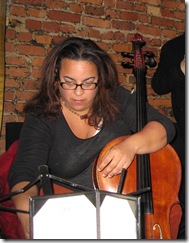 Tony Maceli on electric and upright bass. Tony is wonderful. This was our third time seeing him perform, the other two times were both in support of amber Rubarth. He has the right touch on the bass and complements whoever he is playing with.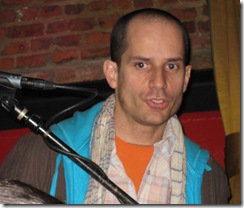 Adam Christgau on drums. I've written about Adam many times, the most recent time being his performance this past Friday night at Canal Room in support of Ian Axel and Greg Holden.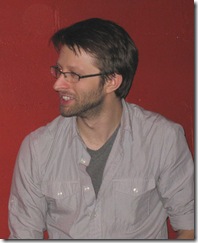 As always, Adam proved my thesis last night, that he can play any style to match the performer he's accompanying. Alex's Jazzy/Bluesy set called for an entirely different drumming style than Ian Axel's energy-laden pop-fest. Adam is always up to the task!
Alex brought two very special guests on stage with him. Amber Rubarth came up to sing a duet with him. Gorgeous! She just got back into town that day after a long tour down the East Coast and into the mid-West. I am impressed that she had the energy to come out that late and sound so good!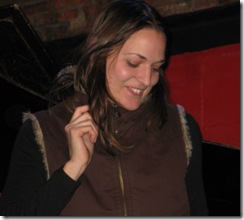 In a small-world coincidence, we just got our copies of amber and Adam Levy's new EP in the mail yesterday. We listened to it right before heading to Rockwood. Nice timing! 🙂
Martin Rivas joined Alex for the last two numbers of his set. Martin played guitar (really well!). That freed Alex to leave the piano tucked in the corner of the stage and come out and just sing the last number. It was great!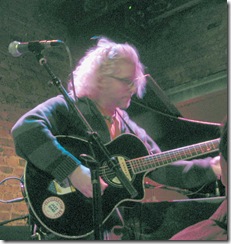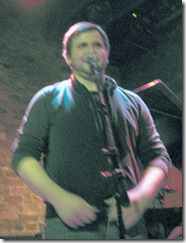 Alex joined in a tradition of baking cookies and brownies for his holiday audience. Martin Rivas has been doing this for a while (I think) and the two of them baked up a storm for all of us. Lois was kind enough to let me sample (devour) some, and they were awesome! I bet the place would have been even more crowded if people knew what they were missing in the dessert department! 😉
It's not clear whether Alex had to pay Adam in cash. It appears he would have happily performed for cookies and brownies. 😉
Alex has a lot of fans. The place was packed, on a cold Monday night during a holiday week, for an 11pm show. Well done!
When Alex's set was over, Martin Rivas took the stage. We really wanted to stay and hear him, but alas, we were turning into midnight pumpkins, and had to run out to hit the sack. We'll look for a Martin Rivas show as soon as possible.