Send to Kindle
We weren't scheduled to be in NYC last night. When we ran into Alex Berger on Saturday night at City Winery and he mentioned that he was playing on Monday at The Living Room. That was all we needed to hear to rearrange our schedule and stay in the city a few extra days.
Alex is a wonderful singer/songwriter with excellent piano skills. He is primarily a master of Jazz/Blues/Ragtime styles, though he's by no means boxed in there.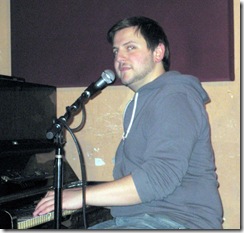 Listening to Alex sing and play causes me to instantly transport to a simpler time and place. My body completely relaxes and I'm lost in the journey. He's a crooner for those of you old enough to know the term. 🙂
We'll have to see if he can continue to write such lovely songs if his love-life stops throwing material at him. 😉
We've seen Alex a few times before, but he still managed to surprise us last night. One one number, he brought up the incredible Adam Levy to play the guitar while Alex sang (no piano). It's a song they co-wrote last year. You can see a black and white YouTube video of them playing this song.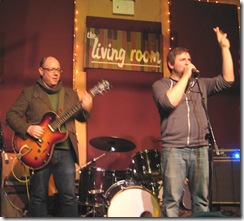 Sitting (and not playing) on the right in that video is the wonderful bass player Tony Maceli. Last night, Tony accompanied Alex throughout the set, including joining Alex and Adam on this number. Adam took an incredible guitar solo (accompanied by Tony), and Tony took a wonderful bass solo with Adam supplying the rhythm.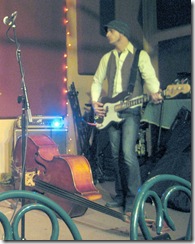 But, that's not the surprise. Surprise! What was new was Alex picking up Adam's guitar (before Adam came on stage) and Alex did a song we'd seen him play before on the piano, but this time he did it on the guitar. He did a very nice job, and I look forward to him arranging guitar parts for existing and future songs as well!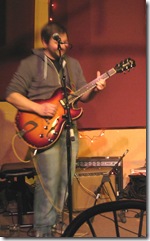 The other major surprise (for a very different reason), was getting see the amazing Adam Christgau on drums. I've written about Adam many times, as he's the primary drummer for The Paper Raincoat, ambeR Rubarth, Ian Axel, Greg Holden, Alex Berger and many others who we haven't had the pleasure of seeing live yet (he's one busy guy!).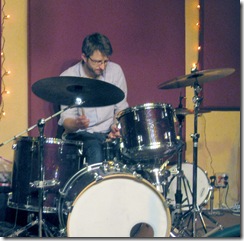 From seeing Adam's tweets over the weekend, I knew he was very sick. Still, he played a show (perhaps two!) on Sunday night. But another artist that he plays with, Jenny Owen Youngs tweeted yesterday that she was off to Maine for a week of songwriting with a bunch of people, including Adam! So, I was sure he was not going to be there last night.
It turns out that Adam is joining them this coming weekend, and even though he was still incredibly sick, he was as good as he always is, adding to our enjoyment of Alex's set. Adam, you should have stayed in bed for your sake, but for ours, we thank you for dragging yourself out! 🙂
Alex's set last night was made possible through an invitation by The Bowmans for Alex to open for them. The Bowmans have a residency this month at The Living Room, performing on three consecutive Monday nights at 9pm, beginning last night. We decided to stay to hear them as well.
The Bowmans are (beautiful) identical twin sisters from Iowa, who now make their home in Brooklyn (as so many excellent indie artists do). While they indeed look alike, I would bet serious money that I could tell them apart even if they went out of their way to fool me. There, I've laid down the gauntlet! 😉
They both have exceptional voices, with a lot of range, clarity and power. Their harmonies are anything but vanilla, and the sound is often hauntingly beautiful. Sarah accompanies them on the guitar on every song (except for one a capella number). Sarah is also the primary songwriter (at least for last night's set).
Claire said that she wrote the a capella number that they performed. She also played the glockenspiel on one or two numbers, and used a shaker a few times. She had two tambourines, and played one or both to excellent effect.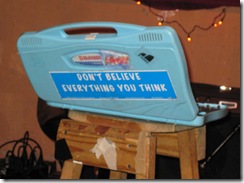 As beautiful as their sound is, it also felt pretty dark throughout the set. There is a brooding, angst-ridden quality. If you're in the mood to delve into those dark places (lyrics or music), then The Bowmans may be exactly what you're looking for.
We had a lovely evening out and are very glad we changed our plans. If we were younger, we would have wandered a few blocks over to Rockwood Music Hall to catch Ari Hest and Rosi Golan, neither of whom we've had the pleasure of seeing live yet. A number of the people who attended Alex Berger and The Bowmans did just that.