Send to Kindle
This post is a day late because we didn't complete the trifecta and follow Vienna Teng and Alex Wong to Louisiana. Instead, we kept our word and drove home from Birmingham, AL, a trip that took a day and a half of driving.
On Thursday, we drove from Atlanta to Birmingham to catch Vienna and Alex (along with Glen Phillips) for the second night in a row, this time at Workplay. In addition to not wanting to miss another opportunity to see Vienna and Alex, we really wanted to introduce David and Rebecca to their music, and David told me that Workplay was a great venue. He was right, Workplay is highly recommended!
I don't know whether the artists that we surprise in strange places like being surprised (or care either way). All I know is that we amuse ourselves and get a kick out of showing up in unexpected places to see our favorite performers. For a second night in a row, our surprise was sprung earlier than expected. While we were sitting in the bar area waiting for the doors to open, Alex Wong wandered out to get something, and we were busted. 🙂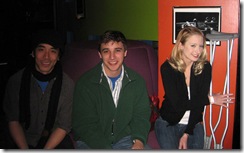 Workplay is a much smaller venue than Variety Playhouse (at least on the Theater side, which is where this show was held). This alone would have made the experience different from the night before. Of course, road warrior artists find other ways to keep each night fresh.
There were a few substitutions from the previous night's set list. Even for songs that were repeated (thankfully, because we promise not to tire of hearing them if Vienna promises to keep performing them!), different ones were introduced with stories than from the night before, and in one case, a totally different story was told (consistent with the night before).
Vienna and Alex were a little more chatty (and funny) early on as well, which is always welcome. Glen joined them for one number, playing guitar but not singing. He didn't join them in Atlanta.
They played for 70 minutes with no encore. This was a few minutes longer than the night before, including the encore. They created a new set of fans, including David and Rebecca. The guy who sat in front of me became a fan as well (he was there to see Glen). He bought Inland Territory after the show and Vienna and Alex signed it for him. 🙂
Lois asked me to include the following thoughts from her (consider it a guest blog):
Vienna Teng is the epitome of grace and generosity. She's a brilliant songwriter who paints the human condition via her great and diverse musical creations. Being in her presence is humbling and inspiring.

Her voice is pure and strong. Her lyrics capture deep emotions, often making you joyful and even toe-tapping to her strong rhythms and playful themes.

You'd imagine there were triplets on that stage as she effortlessly gives us her takes on life with classical – folk – jazz – country (and more) overtones in her songs. It's extraordinary to hear her go from 'Augustine' to 'Stray Italian Greyhound' to 'Grandmother's Song' and realize it's the same Vienna writing and performing vastly different numbers.

She's a hero to many – and it's clear to Hadar and I why this is so: She is to us as well. We'll continue crisscrossing the country to keep up with her. 🙂

We saw her twice on our recent journey south with the also-incomparable Alex Wong. Individually they amaze. Together they create sheer musical bliss for their audiences! We are grateful they do what they do – and that they share their magic with the rest of us!
Glen Phillips also mixed up his set a bit and changed his banter as well. He told a few stories he hadn't the night before. He continues to impress me as a solo performer, and the audience once again was way more familiar with his songs than we are/were (though we're starting to catch up).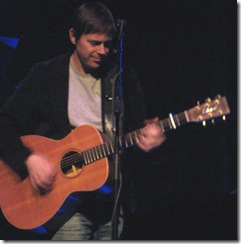 In Atlanta, Vienna joined Glen for one song and then again for his encore. In Birmingham, Vienna joined Glen for three consecutive songs during his set, and Glen performed his encore solo.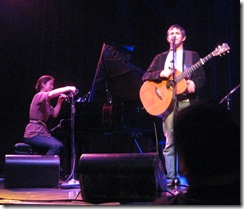 We had a fantastic time and hung around to say hi after the show even though we were exhausted.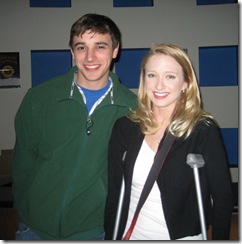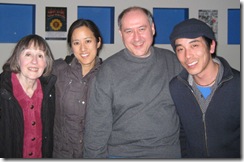 Here is the set list reconstructed from memory (now two days late), and not presented in order (other than the opening and closing numbers). I am sure that I left out a few songs, and I apologize for that. I guess I was too busy enjoying the show to note each number:
Whatever You Want
Gravity
The Tower
Harbor
Stray Italian Greyhound
In the Creases (Alex sang lead and played the guitar beautifully. He also dedicated the song to two audience members who traveled far to see them. I assume he meant us!) 🙂
1 Br / 1 Ba (1 Bedroom / 1 Bath)
The Last Snowfall (Vienna had trouble with the buttons on the looping machine, and she started the song three times. I love that she's a pro, and didn't just muddle through it, wanting to give the crowd the best experience. She did! Bravo!)
Augustine
No Gringo
Antebellum
Grandmother Song
Just to repeat, I'm sure about the above, but I likely dropped a few inadvertently.
We're so happy to be home it's hard to describe. That said, there's no way that coming home two days earlier and missing these two shows would have been worth it. If only we were going on the Cayamo Cruise starting tomorrow, we could try and get our fill of Vienna and Alex (unsuccessfully, of course!)… 🙂