Send to Kindle
Last night was our (lucky?) 13th time at a CMA Songwriters Series show at Joe's Pub. There was a very special guest star, announced well in advance, which made them sell out even sooner than they usually do (and they always sell out!).
In order to give the special guest, Dierks Bentley a little more time with the crowd, they only had four performers rather than the more typical five (though I'm just guessing at the reason).
For the first time in our experience, Bob DiPiero (the host of the series) sat at the left end rather than the middle.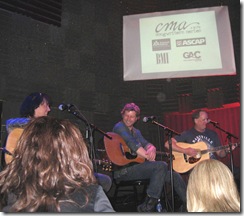 Going from left to right:
Bob DiPiero is always a crowd favorite. I'm convinced that he could show up himself, and most of the people that attend these shows would come anyway. There's no doubt that he's written huge hits, and that many are great songs, but for as large a catalog as he has, he doesn't vary it all that much from show to show (for my taste). I don't blame him, as every morsel gets eaten up by the audience, so he's playing to the heart of his fans.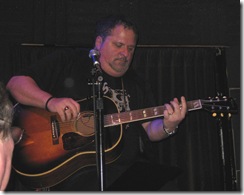 David Lee Murphy played guitar and sang. We saw David Lee once before on September 9th, 2008 at one of these shows. He was excellent that night, as he was last night again. He's a polished performer with a lot of hits. As I mentioned in my post the last time we saw him, he's funny, but lower key than many of the others who come to this series.
Dierks Bentley played guitar and sang. We saw Dierks at Madison Square Garden on October 21st, 2009 when he opened for Brad Paisley. I covered that show in this post. If you read that, you know that Dierks was great that night. We were extremely excited to see him at our favorite club, in an intimate environment.
He didn't disappoint that expectation, in that he was amazingly personable, funny, and he played a nice selection of his hits. Unfortunately, it wasn't magical, since he was fighting some sort of throat condition (cold?) and as he himself pointed out, his voice wasn't coming out as he and we all know it to be (he really has an excellent voice).
Jim Beavers played guitar and sang. Jim is incredibly funny in a totally self-deprecating manner. He was the target of both Bob and Dierks the entire evening, and he held his own both pushing back and piling on himself. He has written a number of hits and performed them well last night.
It was a fun show, with a slightly higher banter-to-music ratio than normal (something we both appreciate) with a very appreciative crowd. The energy and enthusiasm of the crowd alone would have made it an event you wouldn't want to miss, but for my money, the quality of the music itself last night was below the norm for these shows.