Send to Kindle
Lois and I go out of our way to avoid concerts where we have to stand throughout the show. That cuts out a number of top venues in NYC where that's the norm.
For most rules, there are some exceptions. Last night, knowing we would be standing, we still couldn't imagine skipping The Paper Raincoat and Ian Axel. We would have gone to see either separately, but together, it was a lineup that was a crime to miss.
In fact, here's my friend's Facebook update about last night's show:
HOLY CRAP!! Okay, seriously if you live in NYC and you did not come out to the Mercury Lounge to hear Ian Axel and The Paper Raincoat tonight you should be ashamed of yourself. A-M-A-Z-I-N-G show!
The only thing that would have added icing to the most delicious (birthday) cake would have been adding Vienna Teng to the lineup. While that magic didn't happen, she was in the audience, so we were at least graced with her presence. 🙂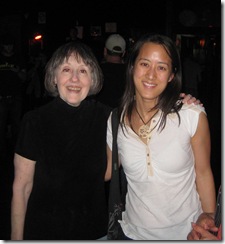 Both The Paper Raincoat and Ian Axel had all-star musicians supporting them. I'll give each of them a shout-out toward the end.
Aside from the always spectacular performances that these artists deliver, last night had an extra-special surprise in store for us. Lois has a birthday this week, and The Paper Raincoat worked up a rendition of Happy Birthday which the jam-packed crowd sang along to.
They were singing the wonderful It All Depends, and toward the end, stopped singing, but continued the beat. Alex Wong announced that their friend Lois was in the crowd, and that it was her birthday, and would everyone please sing Happy Birthday to her. That was cool enough, but he got everyone in the audience to clap a rapid beat (to match the song), and ambeR Rubarth handed Lois a tambourine to play along.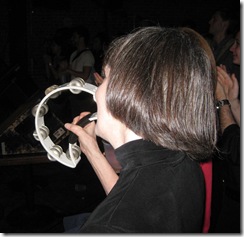 This was super meaningful to both of us, because it's only a tad over a year ago, April 17th, 2009, that we first discovered The Paper Raincoat, and that night, Lois also played the tambourine during It All Depends at Canal Room!
They end the song with three people drumming fantastically on the same drum set at the same time (Alex, ambeR and Greg Ritchie). It's incredible. But this time, because Alex got the crowd clapping in high-speed rhythm, everyone was essentially drumming together at the same time. What a crescendo!
Speaking of clapping, there was another magical moment early in their set. They opened with Brooklyn Blurs, and then played Sympathetic Vibrations. Before announcing Sympathetic Vibrations or playing a single note, Alex merely said:
For those of you who already know your part, join me now
Nearly everyone in the crowd (probably close to 200 people) didn't need any other clue. We all started clapping a pretty intricate beat to Sympathetic Vibrations. Too cool to describe, seriously. Having 200 people stop on cue as well is something to behold.
For the tiniest taste of the show (you can't capture the feeling in a YouTube video), here they are performing the above-mention song, clapping and all, Sympathetic Vibrations at Mercury Lounge, last night.
Mercury Lounge has a capacity of 250 people. It had to be close to full. The crowd was insane for Ian Axel and just as loud (between songs) and interactive for The Paper Raincoat. Standing wasn't bad, because it's impossible not to move with the music, so you're really not stationary (not that we'll start searching out shows to stand for).
Early in Ian's set, he played a particularly energetic song, sung with his usual passion. He was probably close to collapsing in a pool of sweat at the end of the number. Someone in the crowd yelled out "Play in again!". Lois immediately added "This time, with feeling!", which evoked a huge laugh both from the audience, and from Ian himself. 🙂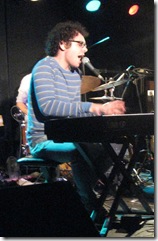 Joining Ian on stage for two numbers was Chad Vaccarino. For the first number, they were also joined by Mike Campbell (I can't find a good link for him). They played Shorty Don't Wait. It was awesome. Here's a YouTube video of them performing it from last night's show.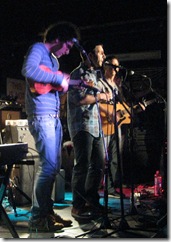 Immediately following that, Ian did his signature song (which is the title cut of his new CD), This Is The New Year. Chad is featured on that as well. Seriously, check out the "official" video of that song as well. If an Ian set was comprised of simply playing that song 10 times in a row, I bet no one would leave disappointed! 🙂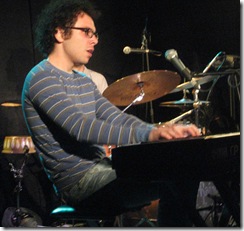 During The Paper Raincoat set, they announced that Paste Magazine (one of the premiere music industry publications) will be featuring them for the next month or so. I think the magazine will be giving away a free song each week, and a bonus free song from artists that The Paper Raincoat will pick to match their own free song. Awesome for those of you who haven't yet bought their amazing CD!
The Paper Raincoat et. al. taking a bow at the end of their show: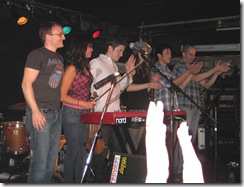 On to the shout-outs for all the amazing musicians who were on stage. Starting with the people supporting The Paper Raincoat:
David Fallo on viola was superb!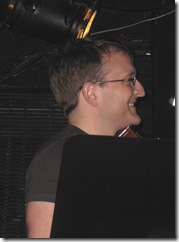 Melissa Tong on violin was her typical excellent self!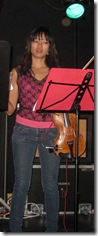 Greg Ritchie on drums. As I pointed out in a recent blog covering The Paper Raincoat in Norfolk, VA, the drums are an integral part of The Paper Raincoat sound. They did an amazing job in Norfolk without a drummer, but the sound was distinctly different.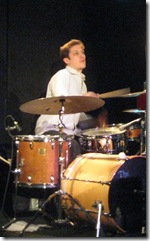 Filling the shoes of Kevin Rice and Adam Christgau, the two drummers who between them play at nearly every show is no small task. Greg did an excellent job. I judge that by how many times I can't help but look away from the singing (and other instruments) and I'm forced to zone in on some top-notch drumming. That happened often enough last night. 🙂
Tony Maceli on electric bass. Tony is always wonderful. Typically, Tony plays the upright bass and occasionally switches to the electric. Last night's show was purely electric (both the instrument, and Tony's play!).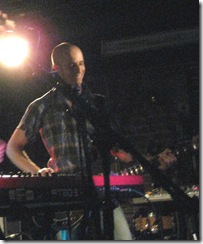 On to Ian's band:
Chris Kuffner on electric guitar. As masterful as he always is, but I'm still dying to see him wail on the bass (where I'm told by people I trust that Chris will blow my mind!). We also finally got to meet Chris last night after seeing him play quite a number of times. He's incredibly nice (no surprise for this group of musicians!).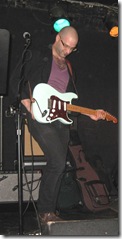 Adam Christgau on drums. Man, it's been a little too long since we've had the pleasure. We got hooked on seeing Adam often over the past year, and he's captivated me each time. Adam was a trooper because directly from last night's set with Ian, he ran to Joe's Pub to play the 9:30 show with Julian Velard.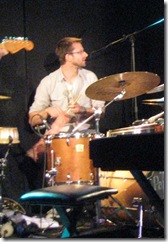 Chris Anderson on electric bass. Chris is perfectly matched with Ian, both musically and passionately. We love his play and his style every time we see him.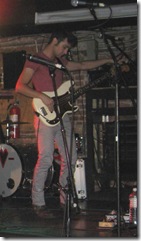 We were at the head of the line to get in when the doors opened (no surprise). That had the added benefit of us being at the door when the musicians were coming and going after sound check. Here are some pictures right outside the club, before the show started, with a few shots at the bar after the show thrown in for good measure. 🙂