Send to Kindle
We love Red Molly. On Friday, I saw their Facebook update that they would be playing at The Turning Point Cafe in Piermont. In fact, they were playing two shows, at 4 and 7pm.
We had dinner plans with a couple that we see so rarely, that there was no way we were going to cancel. We invited them to join us, but they couldn't, so we decided to go to the 4pm and be back in plenty of time for dinner.
Unfortunately, the 4pm was sold out, but the 7pm wasn't. We called, and they told us to show up and they'd try to squeeze us in. We did, and they did. We stood for the entire show, near the bar, but the place is so tiny that the view and sound were still darn good.
Red Molly is three women, each with fantastic voices (in different registers) and each an accomplished string musician as well. Because their voices are distinct, their harmonies are extraordinary.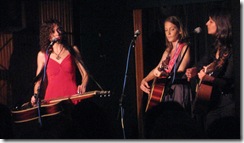 Appearing in their usual left-to-right order:
Abbie Gardner sings (she has the widest range of the three) and plays guitar and dobro. Abbie is a delight in every respect, full of life and mirth. She also performs solo and with others, but she's definitely best known for her part in Red Molly. Most of the instrumental leads in Red Molly are taken by Abbie on the dobro.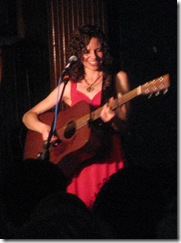 Laurie MacAllister sings and plays guitar, banjo and bass. She has an excellent voice and handles the middle of the range in the three-part harmonies (for the most part).
Carolann Solebello sings and plays guitar and bass. She has an excellent voice as well and fills in the bottom on most of the songs. Her song Summertime is one of Lois' favorites, and when Carol started introducing it, Lois flashed a mile-wide smile.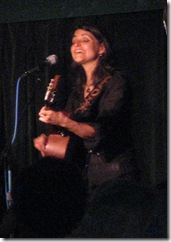 Individually, they are all incredibly talented. Combined, they are magic!
Joining them for two numbers was Abbie's father, Herb Gardner, on the piano. He was excellent, in particular on the second number, where he took a very long ragtime-like solo. They call him Pops.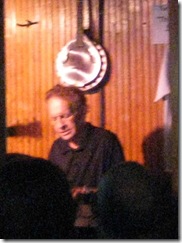 After briefly heading off stage (to a rousing ovation), they returned to do their signature cover of Susan Werner's May I Suggest, always a tingle-inducing number. Including the encore, their set was about 95 minutes. Well worth standing for, since we were looking over people's heads, rather than standing amongst a crowd.
Just in case you're curious, dinner was fantastic as was our company, so we got to do it all yesterday. 🙂