Send to Kindle
We've seen Ian Axel perform nine times prior to last night. The very first time was at Rockwood Music Hall, on October 23rd 2009. He blew us away. As hard as it is to imagine, he's never disappointed us, even with a wide variety of venues and setups (solo, different band members, etc.).
So, it's as much of a surprise to me as it will be to you when I say (pretty definitively) that last night's show was the best of all of them (though the worst was awesome as well). There are a number of reasons for that which I'll mention, but at every show there are always intangibles (and I'm not allowed to discuss those under penalty of law).
Ian quit his job six weeks ago at Apple to become a full-time musician. As scary as that decision had to be, it is also freeing. I'm sure that his confidence builds with every show and that last night won't stand for long as our best Ian Axel experience.
Ian was signed to a brand new record label a few weeks back. That label has a distribution deal with Sony, so there's a very good chance that many more people will be hearing about Ian and listening to his wonderful CD: This is the New Year.
Ian debuted a new song that he performed with Chad Vaccarino (they co-wrote it) without the rest of the band. People were still buzzing after the show about that song.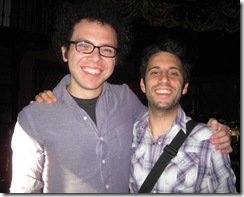 Finally (for the tangibles), last night's venue. We love Rockwood Music Hall and have seen many shows there. Last night was our first time at their new venue (right next door), named Rockwood Music Hall Stage 2. It's a larger room (not dramatically), with a small upstairs area as well. I think the capacity is roughly 200 people (which would make it roughly twice as large as the original Rockwood, which is still very much a thriving venue).
There is a fantastic Grand Piano at the new stage (there is an old one next door), and Ian rocked it hard. The sound system is evolving (so I'm told by other regulars), but it was awesome last night. I have no doubt it will be consistently great shortly, because it's always great next door. The people who run Rockwood are music lovers, and they'll do whatever needs to be done to nail this.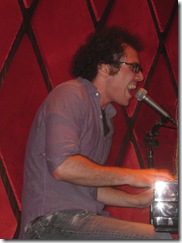 On to the show itself. Ian had a full band with one substitution. Chris Kuffner normally plays lead guitar for Ian. This past Saturday night, Chris married Bess Rogers so his excuse for not showing up last night is reasonably solid. 🙂
Adam Christgau on drums and harmony vocals. I can never say enough about Adam. I couldn't see him even for a second as the piano was blocking him completely (Lois raised her arm to capture the photo below). That said, I could hear every connection of a stick to a drum, cymbal or drum rim, and it was Adam at his finest.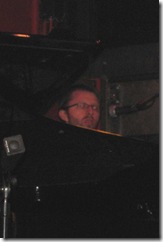 Chris Anderson on bass and harmony vocals. As always, Chris is a highlight of any Ian set, matched perfectly in sound and energy to Ian. Just another in a long string of wonderful performances.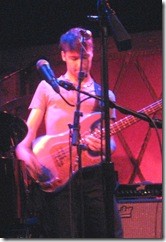 Dan Hindman on electric guitar (filling in for Chris Kuffner). I can't find a good individual link for Dan, but there are a number of YouTube videos of him playing with Martin Rivas and others. He did a nice job but wasn't highlighted.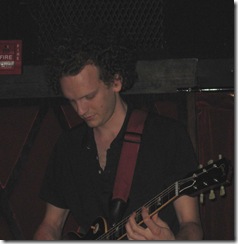 A friend of Ian's, Shockey (sp?) Chocky, joined on stage for the ever fun Girl I Got a Thing. This is the third time that Shockey has joined the band for this song while we've been there. I am convinced that Shockey Chocky has the best job in music. He comes on stage for one song, drinks whiskey while the band plays, goes nuts with a tambourine when Ian sings about a tambourine, and leads the audience in singing along with "Girl I Got a Thing for You, Na na na na, Woah wo, Na na na na, Woah wo, etc."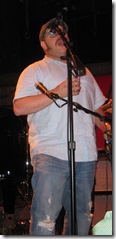 In addition to debuting their new song, Chad Vaccarino joined Ian (with the full band) for two other songs. First, the crowd favorite title song from Ian's CD, This is the New Year. It's hard to describe what it's like to have 200 people get goose bumps at the same time, so get yourself to a show and find out first hand.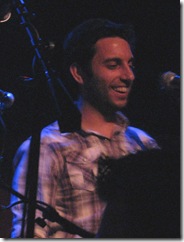 Right after that song, Mike Campbell also joined them for Shorty Don't Wait (the only song that Ian played the ukulele on). This has quickly become one of my favorite Ian/Chad songs. Chad has a wonderful voice, and he nails this song each and every time.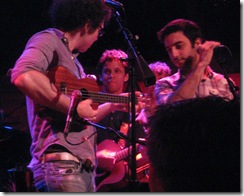 Ian played Say Something solo on the piano. I love that song. When I first heard it, he used to play it on the ukulele. Even though it's awesome when he does it on the piano, every time he he plays it on the piano, my friend and I look at each other (on the second note of the intro) and smile knowingly, because we both miss hearing it on the ukulele, where there is a stark soulfulness that we love.
The show was sold out and the place was packed. A friend of ours was turned away at the door. 🙁
Opening the show was Katie Costello. We've only seen Katie sit in on two songs with Greg Holden at a previous Ian Axel show (Canal Room), so we didn't know what we were in for.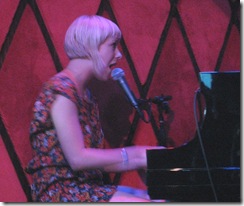 Katie has a lovely voice, nice range, wonderful smokiness whenever appropriate for the song. She accompanies herself very well on the piano. She opened and closed the show solo. All of the songs in between were with a full band. On one number, she sang without playing the piano, accompanied by the band.
Katie's band was:
Mark Stepro on drums. This was a surprise (a very pleasant one). We've seen Mark once before playing with Joey Ryan and Kenneth Pattengale. That night, he played guitar, so I didn't know he was also a good drummer.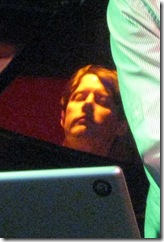 Tony Maceli on electric bass. We love Tony, so the pleasant surprise here wasn't how good he always is (we know that), but rather that he was playing with Katie!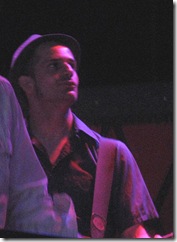 Daniel Mintseris played electric keyboards. He wasn't highlighted much so I didn't get a good sense.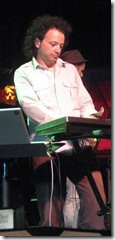 Rich Hinman on electric guitar and pedal steel guitar. This was the first time we've seen Rich. I was very impressed with his play on both the guitar and the pedal steel guitar. Reading his bio I see that he plays with other groups I'm not familiar with, but have heard wonderful things about (specifically, the Madison Square Gardeners). I very much look forward to catching Rich in the near future.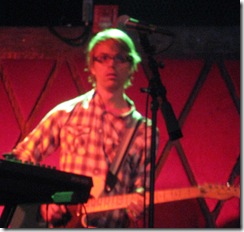 Greg Holden joined Katie for one song. The harmony was beautiful, and Greg did a very nice job when he sang a bit of solo as well.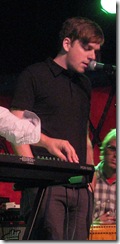 I enjoyed Katie's set.
Sandwiched in between Katie and Ian was Matt Duke. We've seen Matt once before, when he opened for Ian and Joey Ryan. I enjoyed last night's set more than the previous one. I find the numbers when he sings more softly more compelling and there were much more of those last night. He does an excellent job of accompanying himself on the guitar.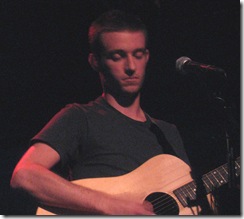 Rosi Golan joined Matt for one number. I really love her voice, and they sang beautifully together. An extremely nice surprise!