Send to Kindle
Joey Ryan in NYC the same night that we are? No need to wonder what we had planned. 🙂
Joey just completed a UK/Europe tour with Jay Nash. After joining a lot of our favorite artists for a show (way) upstate in NY over the 4th of July weekend, they headed down to Rockwood Music Hall Stage 2 to spread some of the love to us sweltering city dwellers (OK, the heat actually broke yesterday, but perhaps that was Joey and Jay's doing as well!). 😉
There was another musician on the bill last night, Chris Seefried. All three played at various times with each other, but technically, they played three separate sets (with nearly zero time between them, since each had their instruments already on the stage). I'll cover them in reverse order (as I typically do).
Jay Nash was ostensibly the headliner, playing last. This was our first time seeing Jay. We've been looking forward to this for quite a while, since he is beloved by many of the people that we love.
Not only weren't we disappointed, we feel cheated that the people we love didn't kidnap us and force us to go see Jay sooner. Wow!
I just followed him on Twitter (@Jay_nash) so that I would never miss an announcement of a future show. He's also moving (or just moved?) back to the East Coast (after seven years in LA) so we should have more opportunities to fulfill our new wish.
Jay is an exceptional guitar player, both acoustic and electric. He has a powerful voice that is also incredibly clear. He writes great songs and delivers them with a passion and energy that is infectious.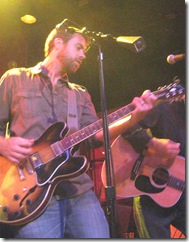 He plays a variety of styles. Last night included the softest (gorgeous) finger-picked number, a fantastic Country tune, and full-on Rock 'N Roll (in the best tradition). He can carry the show alone (vocally and instrumentally), but he also sings amazing harmony during his set, and backing the other two guys.
Jay has excellent stage presence, keeping us all amused and interested during the tunings and shuffling around on the stage.
All three were joined by a variety of band members and special guests. I would normally mention the band members here, as part of Jay's set, but since most played with all three performers, I'll save my comments about each until after I cover Joey and Chris as well.
The crowd wouldn't let Jay off the stage, so the show ran longer than planned. Yay! 🙂
Joey Ryan started his set off solo, and as usual, just crushed it. After that he was joined by a combination of players (to be covered later). What never ceases to amaze me about Joey is his ability to delicately hit very high notes, but deliver such incredible power in the middle range.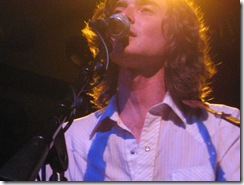 Of course, he writes great songs, and delivers them well when playing solo, or with the full band pumping up the volume supporting him.
Joey also has a great stage presence, but it's extremely different than both Jay and Chris. Joey is both completely self-deprecating (100% of the time) and soft-spoken (you have to strain to hear his cracks, but man, it's totally worth it, as the cracks are as clever as his lyrics).
After a couple of songs, Joey asked the crowd for requests. Lois asked for Broken Headlights. Joey ignored her and played California (beautifully). One song later, we found out why he didn't consider Broken Headlights. He invited the one-and-only Vienna Teng on stage to join him (and the full band) in playing (and singing) Broken Headlights. It was awesome. Lois was happy. 🙂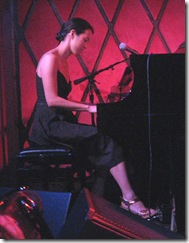 Joey asked Vienna to play on the next song even though she didn't know it. While the others were tuning and setting up, Joey played one verse (no vocals) and the chorus for Vienna, so she would be prepared. Vienna needed nothing else, as her piano playing on the song was outstanding, complementing the mind-blowing leads that Jay Nash played on the electric guitar.
Kicking off the show (six minutes early) was Chris Seefried. We've never seen Chris before (nor heard of him). He was excellent in every respect (vocally, on acoustic and electric guitar and on the piano supporting Jay Nash). He also has a warmth (with strength) on stage.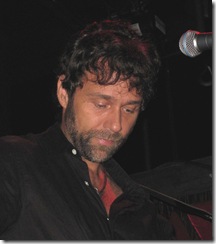 He started off the show with Rich Pagano singing harmony and playing a drumstick that had a built-in cymbal/tambourine for the percussion. Immediately thereafter, both Joey and Jay joined him and people kept coming and going from the stage throughout his set.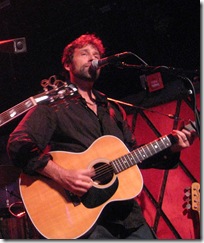 At one point he introduced a song saying that it would start out a cappella and that we might all be asked to join in at the end of the song (we weren't). The three part a cappella harmony was chill-inducing (Joey/Jay/Chris). But, there were a few people chatting loudly toward the back of the room.
Few things annoy me more than people who are so rude, in particular during a super soft number. There are hundreds of bars/restaurants/lounges in NYC where you can go to have a drink and conversation, and perhaps even hear background music. If you're going to a show, in particular one where people are buying tickets in advance, don't come if you want to talk.
Chris handled it perfectly (something 99.9% of all artists simply ignore, though it has to annoy them nearly as much as it annoys me!). He stopped the song and said: "If you want to talk, please try to do it in the key of A". Thankfully, they took the hint and stopped. He restarted the song, and it was mesmerizing start-to-finish.
One interesting fact was that both Jay and Chris allowed the other to shine on the guitar during their respective sets. When Chris was up he played well, but Jay took the majority of the leads. During Jay's set, Chris played the electric guitar (which he didn't during his own set), and took some incredible leads, really showing off his skills.
Chris also played piano during one of Jay's songs, and Jay played piano during one of Chris'. Nicely done, highlighting the other during your own set!
On to the band:
Rich Pagano (mentioned above) sang with Chris, and played the drums (and the aforementioned percussion). I liked his harmony. I would have enjoyed it more if he had been a bit more forceful with it. He was very respectful of not wanting to step on Chris' vocals, but he needn't have worried, Chris has a powerful voice.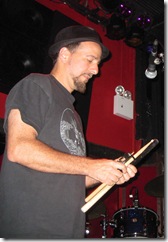 Adam Christgau played the drums on various numbers with all three performers. If you've never read any of my posts, then I need to tell you that we love everything about Adam, as a drummer and as a person. We discovered the great Ian Axel through him and would be grateful to Adam if that was all he ever delivered to us.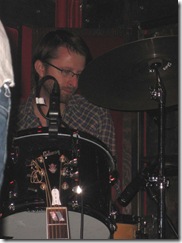 Matt Delvecchio on electric bass. He played a bit with Chris, a lot with Joey, and throughout all of Jay's set. Very solid on the bass. Toward the end of Jay's set, he gave Matt a bass lead (Jay continued to play) and it was extremely tasty. Matt also sang harmony on a few songs (mostly Jay, but also a bit with Joey). He did an excellent job, both when it was just him and Jay, and when he was one of a four or five part harmony.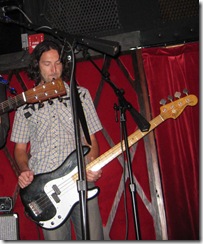 Jano Rix played drums throughout Jay's set and a bit of percussion on Joey's. He was tight and solid throughout. The bio leads me to believe he's much more awesome than he let on last night, though he didn't miss a beat nor disappoint in any way.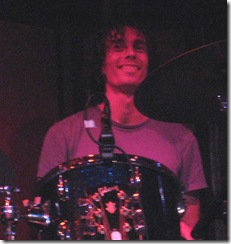 Here are two typical fancy set lists: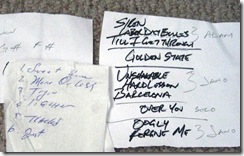 In addition to a perfect night of music we had the pleasure of bumping into other friends and musicians during and after the show. In fact, we typically run out immediately after saying goodnight, so us old folks can hit the sack, but we lingered for quite a while chatting on Allen Street and having a blast.