Send to Kindle
In January, City Winery hosted three shows to benefit the Haiti earthquake disaster. We attended one of those shows and I covered it in this post. They have repeated that generosity this week, hosting three shows to benefit those affected by the Gulf Coast Oil Spill. All proceeds went to the Gulf Restoration Network.
This provided another opportunity to do some good, while enjoying a night of incredible music, and for us, dinner and NYC-made wine as well!
Update: Thanks to the commenter below who correctly chided me for not mentioning the two videos that were shown before the music started. Here is the link to the organization that presented them.
Covering the acts in the order they appeared:
Martin Rivas opened the show. I have been waiting too long to see Martin perform a full set. Last night was small progress, three songs in a row. It only made me want to see more, so my quest continues. Martin has such a clear, strong voice, I can listen to him sing all night!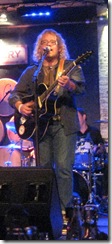 Martin was accompanied by a full band (left-to-right):
Patrick Firth on piano (not sure that's the right link). Very nice job, playing both the grand piano and an electric keyboard propped on top of the grand.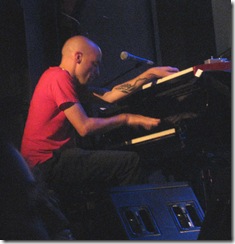 Greg Mayo on electric guitar. I have seen Greg's name many times, tweeted by many musicians, but I hadn't heard/seen him before. Wow! Fantastic guitar playing. After the set, my friend told me that he caught Greg for the first time the night before, and Greg was playing the piano in that show, just as well! I now have to catch Greg doing his own thing, asap!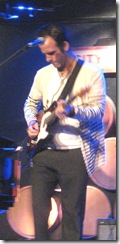 Chris Anderson on electric bass. We love Chris on the bass and I've written about that many times. Last night was the first time we've seen him accompanying someone other than the amazing Ian Axel. Of course, we weren't surprised to find out that Chris was just as good backing up Martin. Chris is Greg Mayo's bassist, which is probably how he came to play with Martin last night.
Craig Meyer on drums (couldn't find a good individual link). We saw Craig drum for Martin at the Haiti benefit as well. He's very good, and I enjoyed his play last night tremendously. Chris Anderson is always full of energy in his play, and whenever he turned to Craig, the two of them cranked it up a notch, with Craig getting into it as much as Chris did.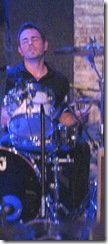 Vienna Teng was up next. This was a wonderful surprise for us. Vienna (and ambeR as well) was not originally listed on the bill when we purchased our tickets. Jay Nash was, and he didn't make it. Vienna performed three songs (as did every artist): Harbor, 1000 Oceans (a Tori Amos cover) and a song that she co-wrote with ambeR at a songwriters retreat. ambeR came out to sing harmony with Vienna on their co-written song. Another awesome performance by Vienna.
ambeR Rubarth opened with Novocaine, a song I can listen to 10 times every day and not tire of. She played it on an electric guitar, something we haven't seen her do before. She then switched to the piano and Vienna returned the favor of singing harmony with her on Rough Cut. ambeR returned to the guitar to close her three-song set with Letter to My Lonelier Self.
Christina Courtin played the ukulele and sang. We hadn't heard of her before. Not exactly our taste.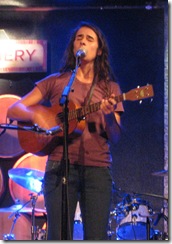 Ryan Scott on acoustic guitar, accompanying Christina Courtin. Ryan was very good on the guitar, and gave me something positive to focus on during Christina's set.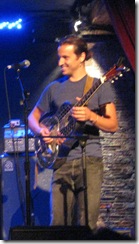 Among the Oak and Ash was up next. They were great! Josh Joplin is the front man and constant in this band. Josh plays the guitar and sings (and writes very good songs). Tons of energy creating a knee-slapping, toe-tapping experience for us. His band last night, left-to-right: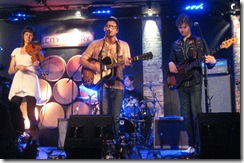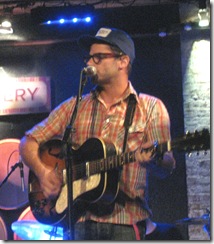 Claudia Chopek on the fiddle (she has a MySpace page, but Chrome warned be about some content on there, so I'm not sharing the link). Claudia was excellent! In a not-so-small-world story (because the Indie music scene has many interconnections), Claudia has also played with Vienna Teng. Here is a YouTube video of Claudia (front and center) playing with Vienna and Alex Wong. Of course, since it's closer to a classical sound, she was playing the violin (not the fiddle) in that one. 🙂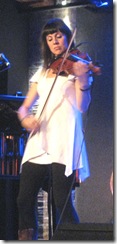 Ward White played the electric bass and sang harmony with Josh. Very nice job on both!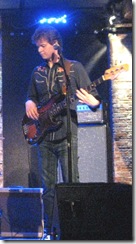 The drummer for Among the Oak and Ash was really good too, but unfortunately, I didn't catch his name. If someone lets me know who it was, I'll update this section.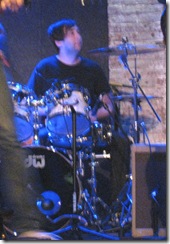 John Wesley Harding closed the show, on acoustic guitar and vocals. John was excellent, singing and playing, and cracked me up quite a bit with his very relaxed delivery of a number of quips. He had two excellent musicians accompanying him: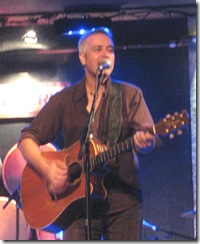 I didn't catch the name of either the piano and guitar player (I think his first name was David), nor the bass player. Both were excellent, with particular kudos to the piano playing which was highlighted a few times.
Update: From a comment below, the name of the Piano/Guitar player is David Nagler. No good individual link for him.
It frustrates me when I work really hard to figure out who is in the band and it isn't prominently mentioned on the artist's site. As above, I'll update if/when someone clues me in.
One very unusual thing during this show was that as artists finished their three-song sets, they came out and sat in the audience to enjoy the other sets. It was cool, and we were sitting among a number of our favorite musicians. 🙂
We arrived early and had a lovely dinner, including a carafe of City Winery's home-pressed Syrah, recommended!