Send to Kindle
Q: What word describes the following situation? You're old and exhausted and one of your favorite bands schedules a show at 6pm!
A: Perfect! 🙂
That's exactly what happened last night. The Paper Raincoat played a show at 6pm at Rockwood Music Hall Stage 2. The only worry in our minds (possibly in theirs too) was whether people would show up that early. No need to worry folks, the place was packed to the teeth with people spilling out the door. Of course, we got there very early and snagged the two seats at center stage.
I know that most of the people who read this blog know about The Paper Raincoat (TPR) already, but for the Google robot out there, it's a duo comprised of ambeR Rubarth and Alex Wong, each tremendous talents in their own right, that prove (yet again) that the whole is often greater than the sum of its parts!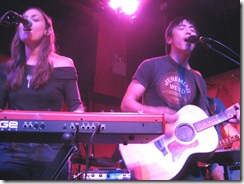 Alex joked a number of times that they were playing the Happy Hour show. As Ken Rockwood himself joked back: "Every hour is Happy Hour at Rockwood!". 😉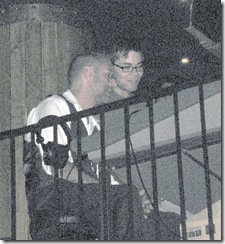 They played a nine-song set (not including the encore). If you're a fan, you'll know how good a selection it was. Either way, let me assure you that it was extremely well received by the audience.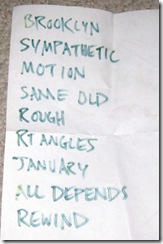 To give you a sense of how unusual the scene was, ambeR lost her place in Sympathetic Vibrations for a second. She always nails that one (though I won't be able to say always any longer) 😉 and she explained that seeing so many people jammed into Rockwood that early distracted her. I don't doubt that!
When they started Sympathetic Vibrations, Alex turned to the crowd and said: "You know your part." We did. We (everyone, not just Lois and me) clapped our part perfectly, loudly, in unison. ambeR recovered from her momentary lapse by joking that at least we knew our part. 😉
When Alex introduced January, he explained that it should be thought about from the perspective of an older drunk guy. To ensure that we really understood that, three members of the band (I'll cover each individually shortly) switched places, ensuring that they were no longer superstars on their respective instruments. It was fresh and fun. ambeR played the drums. She's tweeted that she's practicing but I didn't expect to see the result so soon.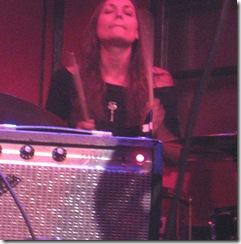 On Right Angles both Alex and ambeR played on the grand piano at the same time: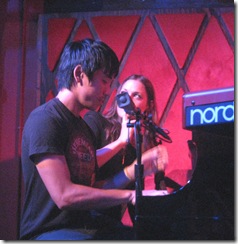 On It All Depends, they ended with their signature drumming extravaganza. First, they warmed it up by getting the audience to clap in a fast and steady beat. Then Alex joined Kevin with the two of them drumming together, with the audience never missing a beat. Then ambeR joined them with all three drumming on the same drum set (well, to be honest, Alex had a snare a little off to Kevin's left). It was as awesome as it always is, perhaps a drop more.
Both Alex and ambeR play a number of instruments. At times, Alex plays multiple ones simultaneously: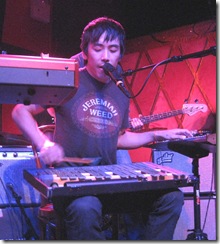 Closing the show (not the encore) with Rewind, ambeR, Alex and Kevin were awesome. The only thing that differentiates some previous TPR shows is that when Adam Christgau does Rewind, he also sings, making it three-part harmony at some points. Kevin doesn't sing, but the three of them still make live magic every time they perform this song.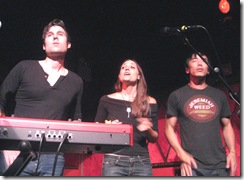 ambeR and Alex returned to thunderous applause for an encore without the band. They played In the Creases, a song they co-wrote before TPR existed. We love the song. Lois felt it was the best rendition she had heard. I loved it, but I doubt I'll ever experience it like I did at Joe's Pub for ambeR's CD release party, when Vienna Teng sang three-part harmony with them, and Katie Scheele played the oboe, and a full band supported them (including Vienna on the grand piano).
On to the wonderful band:
Kevin Rice on drums. Kevin was the original drummer for TPR, though for the first few shows that we saw them, Adam Christgau was their drummer. Kevin is awesome (as is Adam!) and many of the TPR songs allow great drummers to stretch a bit. The beat is such an integral part of the songs and Kevin never disappoints. For January, Kevin switched to the electric bass. He did a very nice job.
Tony Maceli on electric bass. Tony was great all night (as he always is). He's a lot more understated than a number of the bassists we've seen recently, but that's one of the things that makes him a great match for a lot of groups, his bottom is there for them, without Tony (or his riffs) becoming a distraction to their music. For January, Tony took ambeR's place. He played the electric keyboards with his left hand, and the trumpet with his right! Bravo Tony!
Melissa Tong on violin. Melissa always delights us and last night was no exception. Many groups add strings to their CD's without ever using them live. TPR (and ambeR and Alex individually) often have strings on stage, creating the same huge, rich sound that they deliver in studio. While Melissa (and David, up next) were excellent throughout, they were really brought to the forefront in the opening of Right Angles, which is mostly strings for the first 45 seconds. Gorgeous!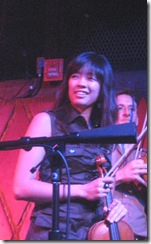 David Fallo on viola. David is wonderful on the viola. In addition to playing on all the numbers that Melissa played on, David also played on one that Melissa sat out. Everything that I said above about Melissa, in particular about Right Angles, applies equally to David!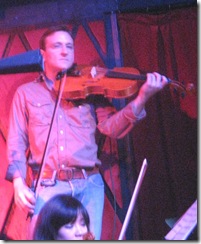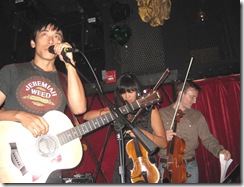 I already mentioned that we grabbed the two seats front and center. Joining us at our table were three very interesting people that we hadn't met before, but had shared a number of shows together. Getting to know them before the show started made the time fly (another advantage of getting there early) and we look forward to seeing them at many shows in the future!
Here's hoping that when we get even older, and NYC kicks us out and forces us to move to Florida, that TPR will show up and play a 3pm show for us while we grab our early-bird dinner special. 😉