Send to Kindle
Prior to last night, we've seen Angel Band perform three times. The last one was over two years ago and was a CD Release Party at Joe's Pub, covered in this post. Last night was also a CD Release party for their new album, Bless My Sole, this time at Rockwood Music Hall Stage 2.
A lot has changed in the past two years, but the core experience is the same, excellent!
Angel Band is three fantastic female vocalists singing three part harmony. One of the things that's somewhat different about Angel Band vs other three part harmony groups that we love is the sheer power that all three project (individually and simultaneously), without ever sounding too loud or overbearing. They can do subtle too, quite well, but they really shine when they crank it up.
We are also major fans of most things Bluegrass. While you certainly can't characterize Angel Band as a mostly Bluegrass band, their instrumentation and many of their songs do fit the description and that suits us just fine. They have a fiddle, mandolin, flat-picking guitar player, etc.
So, what's changed? First, one of the three Angels has changed. Jen Schonwald is no longer with the band, replaced by Aly Paige. Second, in previous shows the band backing up the Angels was always The David Bromberg Band. Last night was their own band, now formally highlighted on their site as well.
The heart of Angel Band is Nancy Josephson. She writes or co-writes most of their original songs (they do some incredible covers as well) and has a wonderful voice. My friend asked me to take a picture of what appeared to be a very cool hand-made tambourine:
Kathleen Weber also has an incredible voice and sings lead and harmony with equal effect.
Aly Paige sings beautifully, both harmony and lead. It took her one lead effort to warm up and put a little more power into her solo singing.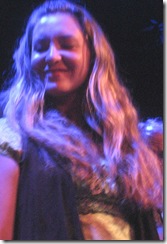 The band, left-to-right on the stage:
Christie Lenee on acoustic and electric guitar. Wow! She was filling the shoes of David Bromberg in the role of guitar-player for Angel Band. Not easy shoes to fill. While their styles are quite different, I was very impressed with Christie on both acoustic and electric, she's a great match for Angel Band's style, but I'm sure she's great independent of them as well.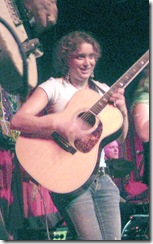 Marc Moss on mandolin, electric and acoustic guitar and drums! A man of many talents, he excelled on all four instruments. He also co-wrote a number of the songs that they performed last night. Well done!
Bob Taylor on electric bass. Bob has played bass with David Bromberg for years and has toured with Angel Band for years as well. He's extremely solid but not highlighted in their repertoire.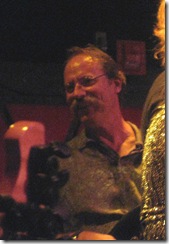 Nate Grower on fiddle. Nate is listed on the front page of Angel Band's site, but he doesn't have a video intro of himself like the others do, at least not linked on the same The Band page. Nancy joked that she's had a headache for longer than Nate's been alive. She also correctly points out that that doesn't stop him from being an amazing fiddler, which he is.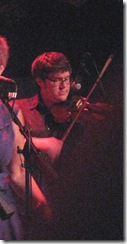 David Bromberg joined them as a special guest for three songs (for those who don't know, he's Nancy's husband). He played both acoustic and electric guitar. During the 70's, I attended as many David Bromberg shows as I could. He was one of my favorite live performers and he still thrills all these years later. We only discovered Angel Band because they were opening for David Bromberg at BB King in 2006 when I went to see David for the first time in many years.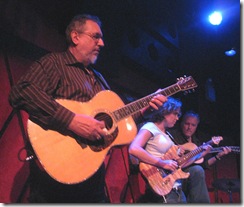 Joining Angel Band as another special guest for the last song and the one-song encore was Matt Parker on Saxophone. (I actually didn't catch the first name, so I apologize if I linked to the wrong sax player!)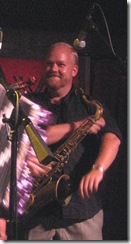 So, we would have gone just to see Angel Band, no matter who was opening, or even if there wasn't an opening act. But, much to my delight, the opening act was reason enough to show up, no matter who the headliner was. That's my kind of show!
Martin Rivas played a six-number set on two different acoustic guitars. I keep saying that I need to see more of Martin, and last night continued the trend of getting a bit more of him (it was the longest set we've seen so far), but still not long enough.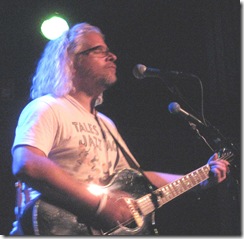 Martin played a number of songs from his new EP (The Convalescence EP). One of those songs was Raise Me Again. It's a gorgeous song, very deep, that describes the pain that many children feel but likely can't (or don't) express as movingly as Martin does. His introduction made the song all the more meaningful.
Chrissi Poland joined Martin for one song where she sang a verse on her own and sang harmony with Martin as well. We're going to have to keep an eye out for her, she has a fabulous voice, well paired with Martin's.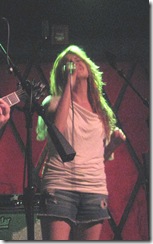 OK Martin, next time better be at least eight songs! 😉
We got to introduce three people to Angel Band, and two of them discovered Martin for the first time as well. All in all a wonderful evening out.
Time for a rant, so tune out if all you want is peace and love. 🙂
I rarely have a harsh word for Rockwood Music Hall. In general, both venues are fantastic in all respects, in particular to the musicians. Last night was a first at Rockwood in my experience. We showed up early (we always do) because there is limited seating, first-come, first-served. The center table was empty, but we were told it was reserved by Angel Band.
What? This kind of nonsense plays at BB King and Joe's Pub, and is annoying there as well (but at least there are many other tables there), but we came to believe that it wouldn't happen at Rockwood. I hope it's not a trend.
Why is it so bad for the band to reserve a table (in a club that has so few!)? Because in our experience, almost never do the people show up for that table. On the rare occasion that they do, fewer people show up than the number of reserved seats, and they never (as in never) show up for the opening act. These aren't music lovers, they are perk seekers (IMHO).
That was the case last night too, as the two seats that Lois and I tried to sit in were unoccupied for the entire show! 🙁
Here's a tweet from one of our guests (unprompted by me!) that sums it up more succinctly than I did above:
Wuz up with this BS of Reserved tables at Rockwood now? Me no likey! No likey at all!!
100% agreed. Let's nip this practice in the bud now!
Rant #2, and one I've only had to call this out once before (Colin Hay in regard to The Paper Raincoat). Nancy Josephson never once thanked or mentioned Martin Rivas for opening. Another classless act that matches the reserving a table for people who don't show up motif… Martin mentioned Angel Band (and thanked them) at least 1/2 a dozen times, totally classy!
Update: Please read the comments below for an apology directly from Nancy Josephson! Class has completely been restored! Whew.