Send to Kindle
ambeR Rubarth and Adam Levy are doing a residency at 55 Bar, performing there at 7pm every Wednesday in August. Of their four appearances, the only one that we could attend was last night, and we are both very glad we got to see them (the rest of you still have two more shots to soak in the fun!).
We'd never been to 55 Bar before. It's quite small. As long as we get seats up front, we're of the opinion that the smaller the better, so this place was great!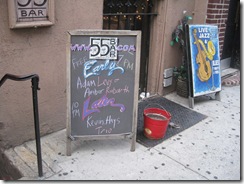 We showed up 15 minutes early, and the place was practically empty, so we got the two seats right near the stage (it's not raised, just the area where ambeR and Adam would be playing). In fact, ambeR was running late and wasn't there yet. We got to chat a bit with Adam as he was setting up.
Adam told us that he's recording a new CD in September, and he's attempting to fund it like many other artists are nowadays, through Kickstarter. If you're a fan of Adam, or want to support this kind of music in general, please donate to his effort. Here's the direct link to Adam's Kickstarter Page.
A minute later ambeR showed up, and a few minutes after that a crowd showed up (perhaps ambeR shared a clown-cab with a few dozen people). 😉
We've seen ambeR in many different types of venues, from the small (Tin Angel and Rockwood Music Hall) to the large (Highline Ballroom), with each show having a very different character. This was probably the smallest room, and we were a few feet from her with no raised stage, so it felt like she was serenading us alone, in our living room. We loved every second of it.
In addition to a few of our favorites, ambeR played two new songs that we'd never heard. Both were wonderful (as Lois enthusiastically proclaimed after each).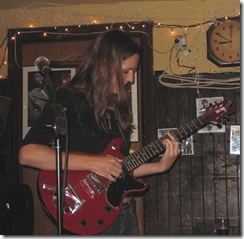 ambeR and Adam mostly traded off two-songs at a time, with Adam playing guitar on most of ambeR's numbers. I requested Washing Day (which they co-wrote) and it was one of a few songs that they sang together (trading verses and singing harmony).
Adam Levy is a master guitar player, who also writes wonderful songs and sings them with a soulful gravelly voice. We've seen him a number of times and enjoyed each show, but last night was the best of them, largely due to the intimacy.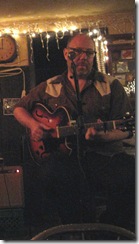 Without a band (which we experienced once before at Jammin' Java), he is free to play softly and not feel like he's hogging the spotlight with his guitar leads. It's easy to get carried away by him (and with him).
In addition to a couple of Cole Porter covers, and one by NRBQ, Adam also played one of my favorites of his, No Dancing (which he's hoping/expecting to include on the new CD). ambeR sang harmony with him on that.
Including a short intermission, they were on for just under two hours. The audience was wonderful. There wasn't a peep during the songs, even though this is a bar. These were music lovers first and foremost.