Send to Kindle
Having previously seen Wicked eight times, it generally takes an external event to get us to go again. Of course, we are constantly on the lookout for such events, so it's not hard to get us to go. 🙂
A few weeks ago, friends of ours mentioned that seeing Wicked was high on their list. Our lookout sensors kicked into gear and we picked a mutually agreed date, which turned out to be yesterday's matinee.
My only criteria for pre-show excitement level is the quality of the two leads, Elphaba and Glinda. We've seen awesome ones (in both roles), and horrible ones (more so some of the Elphabas than the Glindas).
I hadn't seen either of the current leads. I read a short review in the NY Times. I also watched a YouTube video of each doing one signature number. The voices sounded good, the acting wasn't as good.
I am happy to say that they've either gotten way better as actresses, or the videos were somehow wildly unrepresentative of their abilities.
Katie Rose Clarke played Glinda. Her voice is magnificent. I could quibble that she's a little over-the-top in her comedic acting, but it all worked, so I'm contradicting myself. The only (extremely minor) letdown in her performance was a relatively flat (not off key, but rather affect) in the song For Good. Not in my top three Glindas (this was, after all, our ninth time), but she's spectacular.
Mandy Gonzalez played Elphaba. Her voice is also magnificent. Her acting was weaker than Katie and other Elphabas, but not bad in the least. A few too many smiles in scenes where smiles didn't feel called for.
Both women hit the high notes crisply, cleanly and with power. Lovely!
The rest of the cast was very good, including the Wizard, who was either a stand-in, or so new to the cast that he wasn't printed in the Playbill yet.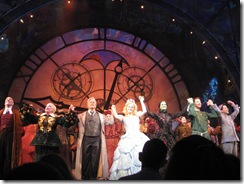 I loved every minute of the performance, even the quibbles mentioned above (they're more notes for my own recollection than critiques).
At some point in the not-too-distant future, we'll hit double digits. It was roughly 11 months since the last time we saw Wicked, so it might not be right around the corner, but it's coming, I can feel it. 🙂