Send to Kindle
We weren't supposed to be back in NYC until tomorrow (Thursday). Friends of ours from Thailand were in the states and are leaving tonight. We decided to come home early and have lunch with them today to see them off (that didn't work out in the end!).
Once we committed to that, we left even earlier (yesterday morning), so that we could be back in NYC in time to catch Delta Rae at Arlene's Grocery.
We've seen Delta Rae once before, at Rockwood Music Hall and I covered that evening in this post. I mentioned that I would love to hear them play with a band. Ask and ye shall receive. Delta Rae played at Rockwood again this past Saturday, another acoustic set, but at Arlene's Grocery, the set was billed as full band.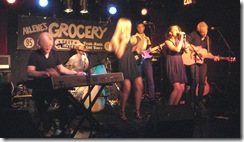 We picked a good day to come back early. As we pulled in front of our building, the thermometer in the car read 105 degrees: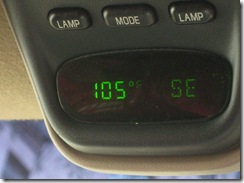 Delta Rae performed an excellent set last night. It was extremely well-received by the audience (including us). Having a full band meant adding a drum set and electric bass. That was enough to make the difference I was interested in hearing, but they could also stand a good lead electric guitar, and possibly even a fiddle or mandolin on a few numbers.
The four members of Delta Rae have wonderful voices individually, that blend in magical ways collectively. Given the power and emotion that they produce while singing, it's a very good thing that each can hold their own singing lead, as it gives a slight rest to the others when they pass the proverbial baton around from song to song.
Mike McKee on drums (no good individual link for him, sorry). He was really good on every song, I thoroughly enjoyed his play! Photo isn't good either.
Mark McKee on electric bass. Very solid throughout. As much as I really liked the drums, the bass is what really created the bigger sound (big bottom) for Delta Rae, to differentiate from their acoustic set.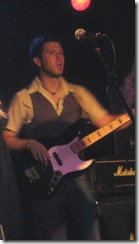 While I liked the bigger sound, there's always a tradeoff. They play a song (Morning Comes) where the ladies clap between lines in a way that adds a very nice touch to the song. They did it last night, but you couldn't hear the clapping at all over the bass and drums. Of course, I could see them, and fill in the sound in my mind, but it wasn't the same thing.
We still got a taste of the acoustic side with their Gospel number, Bottom of the River, delivered largely a cappella (the drummer did enhance their normal foot-stomping). They also did the Fleetwood Mac cover The Chain with Ian on acoustic guitar. That's the only song where the McKee boys left the stage. Here's a YouTube version of the song performed in Eric's bathroom! 🙂
They closed the show with a song that they pitched to Kelly Clarkson. She liked it but it didn't fit her current album so they're free to use it themselves again. That said, when we left, Lois told me that Lady Antebellum would be nuts not to want to cut that song immediately. So, if you're listening Hillary Scott, Lois thinks you would fall in love with this song. Grab it while you can, before Delta Rae scores with it directly!
We support the artists we like. We already have two copies of their EP (get it!) so Lois bought a Delta Rae T-Shirt after the show.
Thanks for coming back to NYC a second time in one week (they played in MD in between!), and bringing along the McKee brothers to let me experience the full band sound so quickly.
Already looking forward to our next Delta Rae encounter!
We chatted briefly with Eric and Ian before the show and I noticed Ian was carrying around a tired-looking set list. Here's a photo of it, though it was from a previous show and they tweaked the set last night from this one: