Send to Kindle
We first saw Derek James and The Lovely Fools at Flux Studios in July. We went to see Ian Axel and left as big fans of Derek James as well, an unexpected side-effect of chasing Ian wherever he plays. I wrote about that night in this post.
Derek has played a number of shows since then that we were unable to attend. Last night he was scheduled to play Rockwood Music Hall Stage 2 (one of our favorite venues) at 10:30pm. While a little late for us old folk, it was better than his recent 11:30pm and midnight shows there. 🙂
Since we had come back early to see Delta Rae anyway, we were determined to see Derek last night. Unfortunately, after running around all morning in the heat, Lois wasn't feeling well last night. Feeling a bit guilty (through no fault of Lois, who encouraged me to go), I decided to abandon her at 10pm and head down to Rockwood to see the show myself.
Here's how I described Derek's music in my last post:
It's probably easy (for some) to describe Derek's style, but I am having trouble finding the right words. It's some kind of blend of up-tempo bluesy/rock, tinged with some cajun-infused country, all delivered with gusto. There's a super-charged energy that had me swaying throughout the set, even though it was sleepy time for us.
I'd like to update and simplify that. Derek James' music is fun, through and through! You would have thought I had restless leg syndrome if you saw might right leg bouncing up and down non-stop throughout their set!
Derek played the guitar, ukulele, kazoo and sang, all wonderfully. He even threw in a slide-whistle for 5 seconds at the end.
I couldn't help recalling the following when Derek picked up the ukulele (an instrument we really love). I follow a lot of musicians on Twitter. One of them is the awesome Matt Nathanson. Just a week ago, on August 27th, Matt tweeted the following:
i'm calling for a ukulele moratorium. please. god. #wegetityouarebookishandcute #killme
I'm sure it was all in good fun. The next day, he had a very cute exchange with the band Guster:
the moratorium started yesterday, so ur good. plus, u guys r sexy. #soitsdifferent RT @guster uh oh. #ukeeverywhereonthenewrecord #goddammit
Derek and Ian, keep the uke in the shows, please! 🙂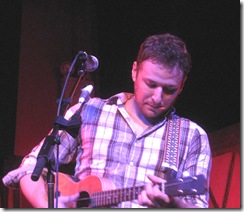 There were two big differences last night from the show at Flux Studios. The Flux show was acoustic (except for the electric bass). Last night the lead guitar was electric and a full drum set was added to the mix. That didn't change the quality of the experience, but it was quite different nonetheless.
Roy Gurel (again, no good individual link) is the lead guitarist and backup vocals as well. Last night was electric, Flux was acoustic. He's an amazing guitarist, and I'd go out to see him without Derek as well. He seemed to have to work harder on the acoustic than he did last night, but both efforts were fantastic.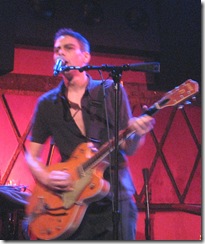 Derek mentioned that they really wanted to get on the Rockwood calendar for last night because Roy is heading back to Israel for a while (hopefully not too long for us music fans' sake!). This was really a sendoff for Roy, and it was a might fine one!
I'm going to miss Roy at future shows, but I bet that any number of top-notch guitar players would jump at the chance to play with Derek and Assie.
Assaf Spector (Assie) on the electric bass and backup vocals (and Kazoo on one number). He's absolutely wonderful on the bass, his vocals are solid, and he's simply fun to watch (like Chris Anderson at an Ian show, but totally different at the same time).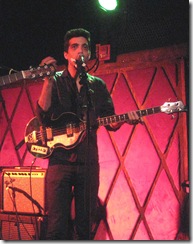 Jamie Alegre on drums (no good individual link). He was a real treat as an addition to the Flux sound. In addition to being spot on throughout the set, he was highlighted during the last two numbers quite a bit, holding down a 1940's style big band beat. It was a ton of fun to watch him (there's that fun word again).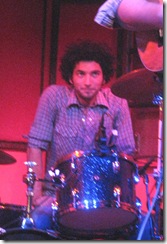 I was so glad that I decided to go and just as sad that Lois missed it, since she's just as big a Derek James fan as I am. It was very good that she didn't push herself to go though. The person that was on before Derek continued to play well past Derek's announced starting time. I don't know if he started late, or if he just wanted to deliver more to his fans (they were screaming for him to keep playing). Either way, Rockwood didn't stop him (which was unusual).
So, with 20 minutes to set up after the stage was cleared, Derek didn't start playing until 11:10pm (40 minutes late). That was the only hitch in an otherwise wonderful night out. I was home by 12:15am and my leg was still restless. 🙂
P.S. Lois normally takes all of the photos in this blog. She handed me her camera as I left yesterday, so any complaints about the quality of the photos is entirely my fault in this one!