Send to Kindle
Last night was our second time at Mercury Lounge. We went to see the same group that brought us there the first time, The Paper Raincoat.
No matter how many times we see the same groups, each show has it's own character, making it worth coming out for reasons other than simply supporting great talent (though that alone is a worthy enough reason!).
The last few times that we saw The Paper Raincoat (TPR), they had a violin, viola and bass accompanying them. Last night, they were back to the original configuration that we originally saw them in (way back in April 2009), Alex Wong, ambeR Rubarth and a drummer (last night it was Kevin Rice, but that first time was Adam Christgau).
We love the strings (Melissa Tong and David Fallo) and Tony Maceli on the bass. I look forward to a TPR show with them all as soon as possible, but still, there was a tingle to get back to the core sound that we originally fell in love with.
TPR was one of four bands on the bill (third in the lineup), so their set was slightly shorter than usual (around 40 minutes). They had an excellent set selection so we didn't feel let down by the length.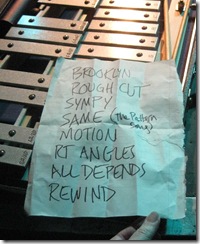 At least 1/2 of the very large audience was there to see the headliner, The Do, so they were experiencing TPR for the first time. From our center vantage point, they liked TPR plenty.
Kevin Rice was extraordinary (not that he's ever less than amazing). On Sympathetic Vibrations, Alex had a particularly long introduction (which was cool in itself) and Kevin was wailing a rock-steady beat throughout. My arms hurt just watching him, but I couldn't take my eyes off of him either.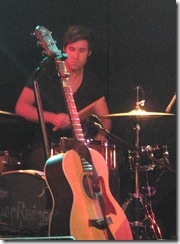 That was hardly the extent of his incredible drumming. In addition, they played It All Depends, where they often end it with Alex, Kevin and ambeR all drumming at the same time (heavenly). Last night, Alex spotted Danny Molad in the audience. He's the drummer for Elizabeth and the Catapult. Alex coaxed Danny onto the stage, so It All Depends ended with four people sharing one drum set. Hazzah!
Alex and ambeR also played Right Angles. We've seen them play it before, with both on a grand piano at the same time, but it was tucked away in the corner of Rockwood, so you only see them sitting together. Last night they played it on the electric keyboard, with their hands flying up and down the keys simultaneously, right in front of us. Awesome!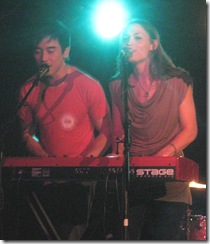 So, how did I know that 1/2 the audience was new to TPR? They closed with their signature a cappella Rewind. When they start the awesome cross-hand-clapping, 1/2 the audience laughed (gleefully). That happens to everyone the first time they see TPR do it. After that, you anxiously look forward it, but don't laugh out loud. 🙂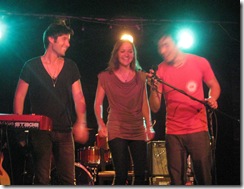 We only stayed for 1.5 songs of The Do. Not my taste (plus it was late for us). But, to give them their proper due, as crowded as it was for TPR, I can't believe how many more people jammed into Mercury Lounge for The Do. They have a huge, loyal and adoring set of fans. I'm sure those people thought we were crazy for leaving, but they had to be happy to have the extra space. 😉
Now that I've been to Mercury Lounge twice, I can definitively say I'm not a fan (I'll go again without hesitation, but I won't look forward to the venue part of the evening). Standing is only one negative for us. The bigger one is the sound system and engineering there (only two data points, I know) is way below the quality we're used to at over a dozen other venues. C'est la vie…