Send to Kindle
I have no fear of emptying my music bucket list in my lifetime, because I add things to the list at a faster rate than I check them off. Last night, I got to finally remove two items that have been on the list for a while. I can summarize in advance that both items were as satisfying as I had hoped they'd be when they first made it on to the list. 🙂
Allie Moss was very high on the list. The other was seeing Chris Kuffner play bass. I've seen him play lead electric guitar a dozen times. Check and check!
Rockwood Music Hall (Stage 2, a fantastic venue) mostly has one-hour sets (45 minutes plus setup between artists), so there isn't typically a headliner, except for the paid shows at Rockwood 2 (this was a free show, one drink minimum with a voluntary tip jar for each set). They often cluster a  group of friends so that they can join each other on the various sets, which is exactly what happened last night, to great effect.
Since I came specifically to see Allie, I'll start with her set.
One other important note. Lois takes all of the photos for this blog. She had a fever last night and didn't attend. My Droid failed me completely in the low light. I chatted for a bit with Allie's mom, who was taking photos of all three sets. I asked her if she would be kind enough to email some of them so I could include them in the blog.
Yvonne Moss took every one of these shots (click on any for a larger version), including the B&W and negative artistic transformations. I hope you agree with me that she's an excellent photographer. The link from her name will take you to her blog on various topics. A most interesting woman!
Allie Moss is a superb singer/songwriter/musician in her own right, but she spends a good deal of time as a member of Ingrid Michaelson's band. Given Ingrid's commercial success, Allie tours quite a bit with her.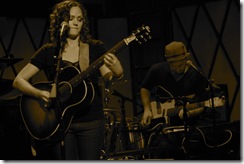 Allie has a beautiful voice, plays the guitar very well and writes very good songs (light Pop, Jazz/Folk). You can listen to nine songs on her site (linked to her name above) and get a very good sense of whether your taste aligns with mine.
Allie has a very relaxed stage presence, getting the crowd to chuckle many times. She's a natural performer.
While she performed a couple of solo numbers (beautifully), she was backed on most by an excellent group of musicians. Here's one of Yvonne's transformations (can you feel a Poster being formed?):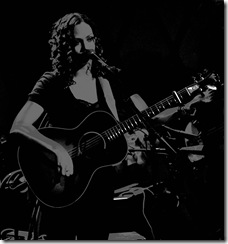 Lauren Zettler on piano and harmony. Lauren played the piano beautifully and sang gorgeous harmonies with Allie. Lauren had her own set prior to Allie's, which I'll cover later, but she never played the piano during her set, so this was a very pleasant addition/surprise.
There were no photos of Lauren playing the piano with Allie, but you'll see a couple below when I cover Lauren's set.
Saul Simon MacWilliams on a lot of stuff (Allie was between us, totally obscuring my view, but I am sure he was on percussion, electric guitar, electric keyboards, at a minimum, probably more, including some background vocals). He was excellent throughout. Even though I couldn't see him, thanks to Yvonne, you can! 🙂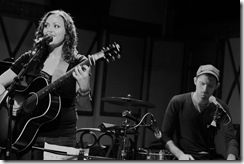 Chris Kuffner on electric bass and background vocals. I've written a number of times that people I trust have told me that Chris is an extraordinary bassist. Finally, I can judge for myself. During the set, most of what Chris played was solid straight-up bass playing. Allie's set didn't call for anything fancier. (Chris is blended into the background on the right hand side in this photo):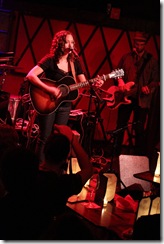 Luckily for me, while he was warming up, Chris ripped off a few riffs that were mind-boggling, so even though I didn't get to see it during the set, I now know that my peeps correctly clued me in to yet another of Chris' many talents!
I'm most definitely an Allie fan now, so expect to see me at future shows (please make room for me). 🙂
Matthew Perryman Jones was up after Allie. He's a singer/songwriter/guitar player. He opened with one number on electric guitar and switched to acoustic for the rest of the set. Matthew has an exceptional voice making the entire set a pleasure to listen to.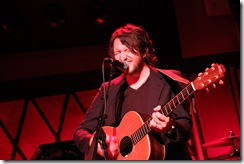 Allie joined him for two numbers singing beautiful harmony, including one number that she learned right before the show. She had an iPhone cheat sheet, just in case. 🙂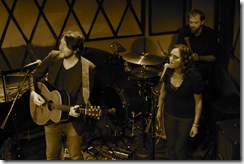 Todd Bragg played the drums for all but one number. Todd did an excellent job. What was impressive to me (this is more about Matthew, but speaks to Todd getting it right as well) is that it's not all that common to have a singer with an acoustic guitar being backed by a full drum set (no bass, no other instruments or vocals).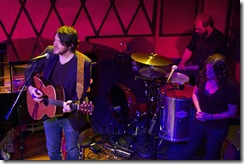 Matthew's voice is so strong (not overwhelming in the least) and there's enough of a reason to have a beat in many of his songs, that it just works, well!
Peter Bradley Adams played the piano on three numbers. He did a fine job, but it wasn't integral to the sound of these songs. In a not-so-small irony, Peter Bradley Adams is on my music bucket list too. I've listened to the free EP's that he regularly gives away and I'm extremely impressed with him. I still need to catch him doing his own set before I can cross his name off the list.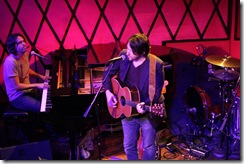 Lauren Zettler was the first artist up for the evening. She sang, amazingly (what a voice) and played acoustic guitar on all but the last song (I'll get to that shortly). Lauren has the kind of voice that can easily be the lead in a Rock band, though her own songs are more Folk/Pop.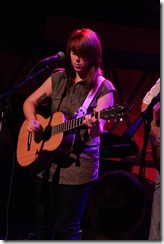 On her last number, Lauren switched to an electric ukulele (it looked like a baby Stratocaster). I have never seen anything like it and I have to admit that I missed much of the song just staring at that cute little thing. 😉
Cameron Mizell accompanied Lauren throughout her set on electric guitar and harmonica. He did an excellent job.
If I don't catch what Lois had/has, I'll be crossing another 1.5 items off my bucket list tonight (unfortunately, late for me). I'll be back at Rockwood 2 (10pm), seeing Rachel Platten for the first time and seeing Martin Rivas play a full set following that (counts as .5, since I've seen Martin play short sets many times now).