Send to Kindle
There are two tangible benefits of befriending other music lovers who attend many of the shows we do:
They sometimes become real friends, beyond the music, enriching our lives in the process
They recommend other groups for us to check out. Due to our first-hand knowledge of their excellent taste in music, we're rarely disappointed, and often thrilled at the new discoveries
Last night was an excellent example of #2 (the person also completely qualifies for #1). We're rarely in the city on a Sunday night, and even rarer for us to venture out for a late show (let alone for someone we have never heard before). Due to the recommendation of our friend @HappyBee3, we altered our normal plans and headed in to catch a show at Rockwood Music Hall Stage 2.
Vicci Martinez sang and played electric guitar (she had an acoustic guitar tuned and ready to go, but she didn't touch it during last night's show). While diminutive in height (I believe Vicci is 5'1"), there's nothing else diminutive about Vicci Martinez. Her voice is huge (powerful and crisp) and her guitar-playing complements the big voice. She writes the songs too, so she is the complete package.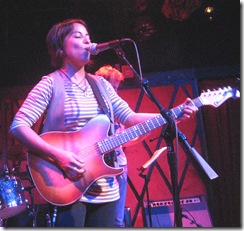 Another short singer/songwriter that I like is Michelle Citrin. Michelle has coined the phrase: "lil grrl, with a big sound". While it's true in her case, a more accurate description might be "lil grrl, with a big voice". Given Vicci's musical style (and voice!), "lil grrl, with a big sound" is a more accurate description for Vicci.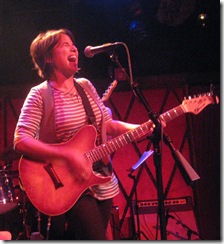 While we don't often attend Rock shows, Vicci's show made two in one week for me (Lois missed Martin Rivas' show last Monday). Aside from a rocking good time in both shows, there was little similarity in the two performances. That's a good thing, variety is the spice of life.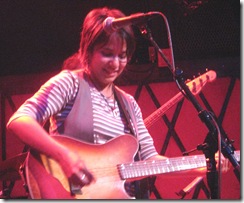 The one big similarity with Martin's show was the infectious beat that had nearly everyone in the place physically into the music. Vicci had a full band all of whom complemented her perfectly. From left-to-right on stage:
Eric Robert on grand piano. Eric traveled from Seattle (where Vicci is based) for this show. Lois and I are thankful that he did (and that we came out). Eric was electrifying on the piano. We had the best two seats in the house to enjoy his show, just behind him and to his right. We got to watch his hands and fingers fly up an down the keyboard. Rock piano can be a thing of beauty in the correct hands. Eric owns those hands!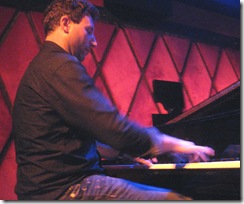 On two numbers he did something I may have seen once before. With his left hand he plucked the actual piano strings while pounding away on the keys with his right hand.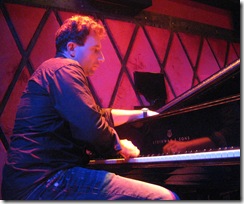 Tony Mason on drums. We've seen Tony twice before, both times playing with Adam Levy. Tony is very good and got to shine a bit more opening up his play for Vicci. (Sorry for the poor photo quality, Tony was hidden in the back corner of the stage):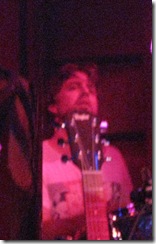 Chris Morrissey on electric bass. Given the tempo and power of Vicci's set, the bass player is key in keeping it all together. I was extremely impressed with Chris' play, even though there were no flashy leads. As Vicci herself said of her band, they are all P-R-O-F-E-S-S-I-O-N-A-L-S.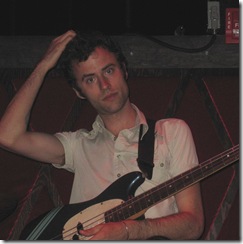 While Eric made the trip from Seattle, Tony and Chris are locally based. They only played with Vicci twice before. They were all so tight that I would have believed they'd played together 100 times prior to last night.
Here's Vicci's set list (courtesy of @HappyBee3). She didn't get to the last song, but no one left unsatisfied: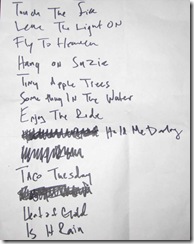 I could repeat the mini-rant from last Monday about Rockwood 2 starting to slip starting times by a wide margin. The group before Vicci ended their set at 10:15pm (Vicci was listed as starting at 10pm).
It took 30 minutes to clear that group and get Vicci set up, so she didn't start playing until 10:45pm. Clearly, if one band slips (legitimately or otherwise) it is nearly impossible to make up the time and be fair to upcoming bands and their fans. A sad fact of life, making the late shows even more dicey for us.