Send to Kindle
The Open Sea is a duo comprised of Ari Hest and Rosi Golan. They were secretly announced on March 24th, 2010 in a show that we attended. We are fans of both Ari and Rosi separately, but on that night I had an instant love affair with their side project, The Open Sea.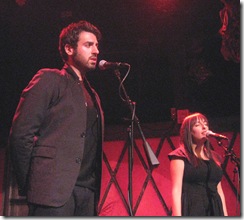 The first show was at Rockwood Music Hall, while last night's was at the new(er) Rockwood Music Hall Stage 2 (right next door to the still-going-strong original).
Waiting six months to hear them again felt like an eternity. That could lead to expectations that are difficult to meet. They met, they exceeded, they conquered (at least me, but I'll bet that the majority of the stuffed-to-the-gills crowd felt the same way!).
Last Tuesday (9/14/2010) The Open Sea released their first EP. I decided not to buy it right away, hoping to purchase a physical copy last night (to put more money in their hands, get it signed, etc.). Unfortunately, for now, it's only a digital release, so this morning I grabbed my copy. Awesome!
For those that didn't get to see them, buy the download and experience the magic for yourself!
Ari Hest sang and played acoustic guitar. He was the primary musical support, playing on all but one song. Most of them were beautifully finger-picked with a bit of rhythm and flat-picking thrown in for good measure. Ari has a smoky/raspy voice (or at least did last night). It blends beautifully with Rosi's.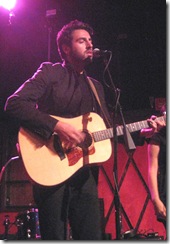 Rosi Golan sang and played acoustic guitar. Rosi has one of the most extraordinary voices I've ever heard (I'll say it every time I get a chance to write about her!). Laser-like crispness, very wide range, soothing and exhilarating at various times. Rosi played the guitar on a few numbers.
Both are accomplished songwriters and the five song EP shows that their collaborations are at least as good as their individual efforts. I love Rosi's current CD The Drifter and the Gypsy. Ari has a CD coming out early next year (can't wait to hear it, as it's produced by the wonderful Alex Wong).
In addition to playing the songs from the new EP they played two cover songs (Rosi picked a Ray LaMontagne song and Ari picked an Everly Brothers one, which was a huge treat for Lois and me).
They performed the title cut from Ari's upcoming CD and Rosi debuted a song from her soon-to-be-recorded CD, called Lead Balloon. It could be a top 10 Country Hit (IMHO) instantly. Even if you hate Country, you'll love this song!
I know I'm fawning, but I can't stop, so one more platitude. I never want their sets to end. There, I said it.
Daniel Mintseris played the piano on a few numbers including one where Ari and Rosi sang without playing guitar. Daniel also plays piano on the EP. He's excellent and complemented their sound extremely well.
Here is the set list: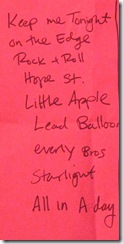 Katie Costello performed the set before The Open Sea. On June 29th we saw Katie perform at Rockwood 2 and I wrote about it in this post. I agree with everything I said then (whew), but I have a more nuanced opinion now that I'm getting a little more familiar with Katie's music.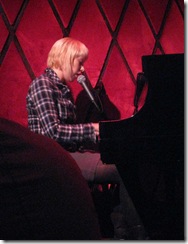 First, a few differences from that performance. Katie didn't perform any solo numbers last night (she book-ended the show with then in June). The drummer was different (more on that in the band section in a minute).
Katie has an excellent voice. Not only is it powerful and clear with good range, but as I noted in the last post, it can change in character as well. On more Jazzy numbers she can command a smoky quality (that feels completely natural). On more upbeat pop numbers it's crystal clear. She also plays the piano very well.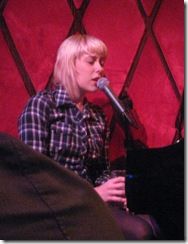 Last night I was able to pay attention a bit more to the shifts in style. I found the pop stuff to be more engaging and suited to the setup (her voice and the band). On the slower numbers, it was hard for me to keep focused. I like a ton of mellow stuff, so it's not a generic problem (for me).
Katie also tried to banter more last night than the previous show. I'm all for the effort, as it's one of the things that makes live shows qualitatively different than listening to a CD. Unfortunately, while it's clear that Katie has a quick mind and a deep wit, most of the banter struck me as awkward at best. It will come with time, I'm sure. I'm equally sure that some portion of the audience found it awesome and/or endearing.
Katie's band from left-to-right on stage:
Daniel Mintseris on keyboards and glockenspiel. Last time I had trouble differentiating Daniel. This time no such difficulty. Daniel did an excellent job. Given that Katie was on the grand piano, Daniel's keyboards were more organ-ish in nature (like Patrick Firth was for Rachel Platten). He also played a type of accordion that sits on the table and is played with one hand while the other operates a bellows-type mechanism.
Tony Maceli on electric and upright bass. We always enjoy Tony's bass playing. Understated and solid no matter who he is supporting. On the one song where he played the upright, he used a bow.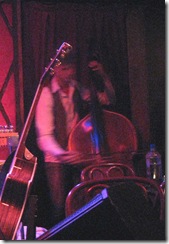 Given how tight the stage setup was, he stepped off the stage and played right in front of the entrance to the green room. On Katie's last number Tony played the acoustic guitar (first time in our experience) and then halfway through the song he switched back to electric bass.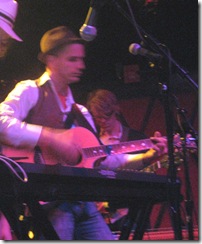 Doug Yowell on drums. Doug did a good job throughout the set. In a not-so-small irony, the only other time we saw Doug play was for Vienna Teng. When? The same night we saw The Open Sea for the first time. Vienna's set (oops, I mean Linz Ho's set) was right before The Open Sea.
Rich Hinman on electric and pedal steel guitar. As I mentioned last time, Rich is really good on both. Last night he was incredible on the pedal steel. Some of his leads on the electric were great, but a few times it felt to me like he was stepping on Katie's vocals. He's still incredible, but they might need some work on their arrangements.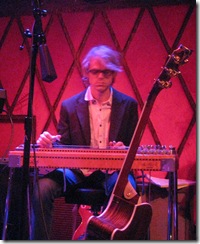 Here is Katie's set list: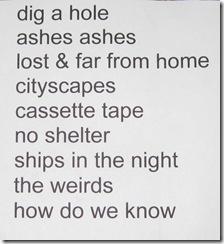 Another great night at Rockwood. Tonight will definitely be another great night there. 🙂