Send to Kindle
I grew up on classical music. My dad had thousands of full reel-to-reel tapes that he played non-stop from tape #1 through the last. When I need to be rejuvenated, I still turn to classical music, though I listen to other stuff way more often.
Last night our friends invited us to a very special performance of Cirque De La Symphonie at Richmond CenterStage. It was a one-night performance (with the Richmond Symphony Orchestra), but you can catch them with other orchestras and I highly recommend that you do!
This was our second time seeing the Richmond Symphony perform. I covered the previous one in this post. I am sure it won't be our last, they are wonderful! They are led by Steven Smith, Musical Director and Conductor. Last night his role was expanded, as he also interacted with the Cirque performers, including one fantastic illusion.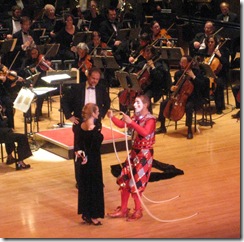 The symphony performed four or five pieces without the Cirque performers on stage. During those pieces, the symphony was well lit and it was as visually interesting as it was aurally. My particular vantage point allowed me to focus on the cello players. Their fingers were flying up and down the frets, mesmerizing. The violin section was all bows to me, moving in unison at lightning speed.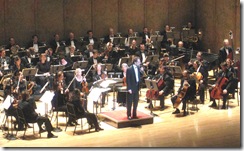 I love most instruments, but I always surprise myself when one is highlighted and I catch myself thinking "That's really one of my favorites!". Last night was the flute. Many of the pieces were flute heavy (or should I say flute heaven?).

The last row was the horns. I love brass (see, I told you, I really love them all!). Our godson's fiancée plays the French Horn, so  I couldn't help but try to pick out every note from the four French Horn players. I wasn't so successful at that.
One last shout out to the viola section, they were superb.
When the Cirque players were on stage, the orchestra was beautifully but dimly lit. That made it easy to spend 100% of the time being awed by every single performer (six in all, with a few of them performing multiple routines). I have never seen a Cirque performance live. It won't be my last.
If you know what Cirque is you don't need my description. If you don't know, my description wouldn't do it justice, so I'll just leave you with a few of Lois' photos of the performance.
Thank you to our friends for inviting us last night and to the Richmond Symphony and Cirque De La Symphonie for a truly magical evening!
We spent a couple of hours in the afternoon wandering around the annual Richmond Folk Festival. A perfect day of weather and music. We didn't stay at any one stage long enough for me to write a blog about it. If you get a chance to attend one in the future (or later today?), run, don't walk!