Send to Kindle
We visit Birmingham, AL at least twice a year. We were planning to arrive late last night. A week earlier, I noticed a tweet by Joey Ryan that he was touring the South opening for Matt Hires. After a quick consultation with Lois, we changed our plans to arrive much earlier in the day, in order to see them at Workplay (a place where we saw Vienna Teng and Alex Wong open for Glen Phillips).
We came to visit our godson and his fiancée and we were glad (and lucky) that they were able to join us for the show.
Joey Ryan put on his typical (in the best sense!) show. If anything was a bit different, it was that his self-deprecating humor was highlighted a little more. He was dead on. When Joey asked the audience questions, often only one person answered. Even when the answer was whisper soft, Joey (and the rest of us) could hear it clearly. That gave him fodder for some very funny (and spontaneous) responses/comebacks.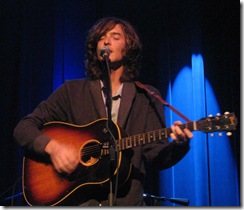 The sound system and engineer at Workplay were both excellent last night. Joey's guitar and voice were crisp and the volume was just right. His set selection was wonderful and included both a new song (at least it was new to me!) and a Ray LaMontagne cover.
The audience wanted Joey to keep going, but after checking two different times with the sound engineer, Joey was forced to leave us hanging.
After the set, we headed to the lobby to say hi. We bought a copy of Joey's CD and EP (both), got them signed by Joey, and gave them to David and Rebecca. They were both wiped. Anticipating that, we came in two cars, and after chatting with Joey for a few minutes, they headed home.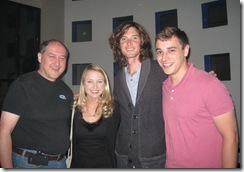 We stayed to see Matt Hires and his band, having never heard of him before discovering that Joey was opening for him during the last leg of his six week tour.
We both liked Matt's sound a lot. Very energetic numbers, catchy/hooky lyrics and melodies. Matt has an excellent voice and does a nice job on the guitar (he played both acoustic and electric). He played one number solo. In addition to playing his own material, he also played a Beatles cover: You've Got to Hide Your Love Away. Hard to go wrong with a Beatles cover, as long as you can deliver, and Matt and the band delivered.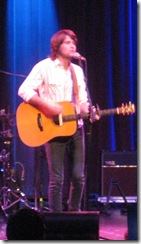 Matt's band, standing left-to-right on the stage:
Chris Miranda on lead electric guitar and harmony. Chris was superb on the guitar and did a terrific job singing with Matt as well. A quick search shows his name all over, including that he played lead guitar for Kate Voegele among others.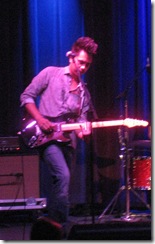 Bob Matthews on drums. Bob did a very nice job throughout the set, including coming up to the mic for You've Got to Hide Your Love Away, playing a tambourine and shaker, finishing it off with a Melodica!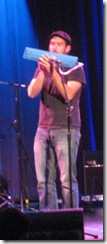 Aaron Bishop on electric bass and background vocals. A solid job on both!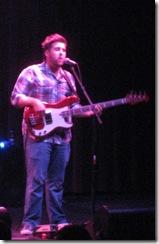 In addition to Chris playing with Kate Voegele, so did Bob and Aaron, so Matt hooked up with a ready-made band. Good choice, as the chemistry and talent were already a proven commodity.
If you want to hear a teeny tiny flavor of Chris' smoothness on the guitar, you can watch this YouTube video of Matt introducing the band. It's from 10 days ago, but it's exactly how he introduced them last night.
When Matt's set was over, we went out and bought his new EP, A TO B. It's only four songs long, with two being different versions of the same song. Still, it's very good. Both the title cut (A TO B) and both versions of Honey, Let Me Sing You a Song are wonderful productions. It's $2.99 to download on iTunes.
We said a very quick goodbye to Joey and headed back to the hotel. What a great way to start off the week in Birmingham. We have a fabulous way to end it as well, but you'll have to wait to read about that until we're headed home.