Send to Kindle
On May 8th, 2008, a musician friend of ours sent both of us an email recommending that we listen to the new album by The Weepies, Hideaway.  I trust her and bought the download without even listening to the previews. After one listen, I bought Happiness (their EP) and Say I Am You (another full-length album). I love all three and have listened to them countless times.
The Weepies is a husband and wife team, Steve Tannen and Deb Talan. Each was an individual singer/songwriter. They never toured in support of Hideaway, because they had their first child shortly before it was released. That didn't stop Hideaway from being a runaway hit (deservedly so). They have had a large number of placements on TV (shows and ads) which has made them a commercial success without having to tour.
They just released a new album, Be My Thrill, and with a second son in tow, they are currently touring in support of that album. That included one night in NYC, last night, at Hiro Ballroom. There was no way I was going to miss it, even though it was a standing room only show (very low on our list of things to do).
Deb and Steve are exceptional songwriters. Most of their songs have a light/mellow pop sound/feel. There's almost an ethereal quality due both to their voices and the top-notch production of their albums.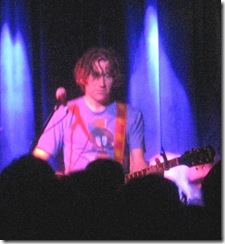 Deb has a distinct voice that affects my ears like a personal earworm, even though it's not the most classically beautiful voice. Steve sings well, but his voice comes across better to me on the albums than it did last night (for the most part).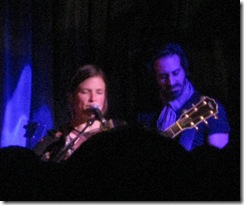 Both play acoustic and electric guitar, mostly rhythm with the occasional finger picking. They were supported last night by four band members, left-to-right on stage:
Brad Gordon on electric keyboards. Brad did a very good job throughout, but it didn't always feel integrated to me.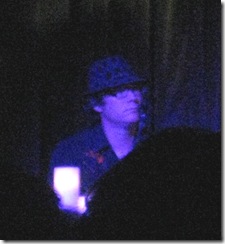 Frank Lenz on drums. Frank did a nice job as well, but I didn't really take note of his skill until the last song of the night.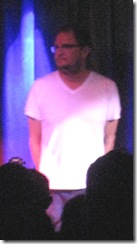 Jon Flower on upright and electric bass. Another good job, which occasionally commanded my attention, but mostly blended well in the background.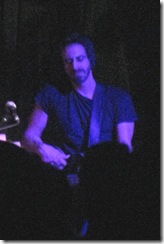 Meghan Toohey (Meg) on electric guitar and harmony. Meg is actually the most integral part of band. She nails the guitar riffs that complement Deb's voice, bringing the ethereal quality to the live performance that is likely more easily captured in a studio. She did a very nice job harmonizing with Deb and Steve as well.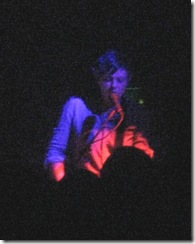 Both Deb and Steve are warm and engaging on stage. Steve is the more natural/comfortable story teller, easily drawing the crowd in with stories/intros and responding to the many things that people yelled from the audience. Deb was a little more hesitant but did end up telling one story very well toward the end, the introduction to Antarctica.
The good: excellent set selection, excellent sound system, overwhelmingly respectful crowd, seeing The Weepies live for the first time.
The indifferent: I'm a huge live music lover, often enjoying shows more than the perfect recordings of the same groups. It's possible that my expectations for this show were too high, but there was no magic for me whatsoever, just a well done show. I spent this morning listening to The Weepies non-stop and I love it every bit as much now as before, so the lack of magic last night hasn't affected my opinion of The Weepies.
The bad: the mixes on the albums are perfect. Last night, occasionally the keyboards or the bass slightly washed out the vocals. Steve sang his harmonies way more softly than his leads. In my opinion, their music is more suited to a seated show. The crowd loved them and for the most part was exceptionally quiet during the songs, but it's not exactly dance music. To make it worse (for me), I was at the back, so it meant that every time someone shifted, it was a distraction from my view and I had to adjust to see again.
They were on stage for 98 minutes, including a two-song encore. They put on an excellent show and thrilled the overwhelming majority of the people in the room (capacity is listed as 400, but it felt like more than that to me).
Greg Tannen opened the show. Greg is Steve's brother and a singer/songwriter in his own right. He just released his own new album, Maybe the Sun.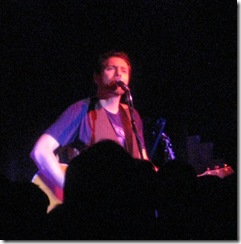 Greg has a very good voice and plays the guitar well and writes good songs. He has a relaxed style on stage and engaged the audience quite a bit (including poking fun at how he was invited to open for The Weepies).
He was accompanied by:
Andrew Sherman on electric keyboards and harmony. I couldn't find a good individual link for Andrew, but there's a bio of him at the bottom of the page that I linked to. He was very good on the keyboards and did a very nice job harmonizing with Greg.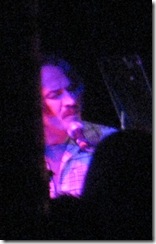 Tim Luntzel on electric bass. Tim did a nice job, not highlighted much.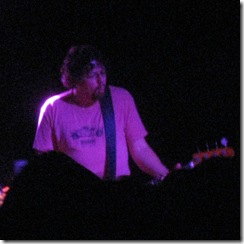 Greg was on for 35 minutes and we both enjoyed his set. For his fourth number, he invited Steve and Deb up to join him on a song he co-wrote with Steve, that The Weepies recorded, Vegas Baby, a song I like a lot (on the Happiness EP).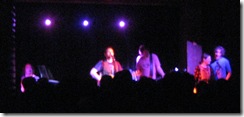 Lois and I did not experience the show together. I stood on the floor, near the back, dead center with a friend of ours who spotted us toward the end of Greg's set (amazing, given how crowded and dark it was). Lois stood on the staircase about 15 feet away, so she could actually see the stage.
I would go see The Weepies again, but only for a seated show.