Send to Kindle
Last Wednesday we saw Girlyman and Red Molly perform at City Winery. We were there with five friends. One of them told me before the show that I had to join him some Tuesday to see Jenny Scheinman play the violin at a bar in Park Slope in Brooklyn. She does a residency most Tuesdays and he's seen her there many times.
On Friday we attended a birthday party in Brooklyn. I spoke to someone I've heard about for a long time but had never met. During the conversation, he tells me that I have to see a group called Slavic Soul Party some Tuesday at a bar in Park Slope. I tell him that my friend told me about Jenny Scheinman. He tells me that they play at the same bar, Jenny first, then Slavic Soul Party, most Tuesdays!
That bar is Barbes, on the corner of 9th Street and 6th Avenue in Brooklyn.
The next morning I contact my friend and tell him the small world story. We agree to go see them both on Tuesday (last night).
Jenny is considered to be one of the top violin/fiddle players in the world. She plays many styles, many genres with many different artists/bands. Her Tuesday residency at Barbes is not likely as raucous as some of her other shows (from what I've heard), given the tiny room size and that she is likely rarely accompanied by more than one person at Barbes.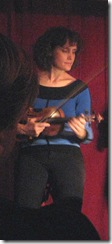 Most of the selections last night were pure (hard core) Jazz, with a bit of Blues thrown in. A number of the songs were written by Jenny, but the rest were old time classics (not that I'd know many if I heard them).
Jenny displayed quite a number of different techniques on the violin, from near-whisper shimmers (spooky and cool) to Bluegrass-style riffs, to orchestral long strokes. She's a master. Whimsical and serious, depending on her mood. She's brilliant in every respect.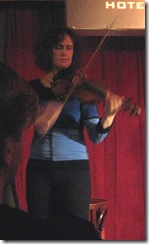 The problem for us (Lois and me) is that hard core Jazz doesn't really do it for us like most other music does. This wasn't improvisational stuff (which can meander even farther from our likes), it was real songs, but still not melodic enough for us. We were certainly not the typical listener though, as nearly everyone else in the room was in complete rapture.
Jenny was accompanied on every number by Steve Cardenas on electric guitar. Steve was wonderful. When he took a number of leads, he was so fast and interesting. When he played in the background, he was good.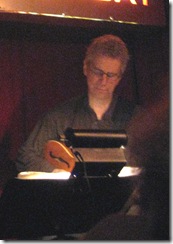 He played on the smallest amp I've ever seen, a ZT: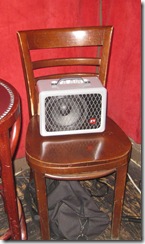 Steve Cardenas packing up: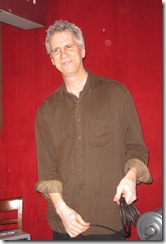 Jenny called up a guest from the audience (embarrassingly, I didn't catch the name, Maddy something), that our friend tells me is a star in her own right. She sang two songs with Jenny and Steve accompanying her with them taking turns doing amazing leads themselves.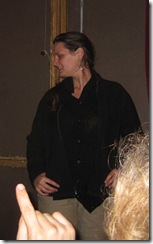 All in all, a technically brilliant evening, that didn't move us musically. I am very glad to have experienced it, and I would actively seek out a Jenny Scheinman show that had a different character/genre to it, but I'm not likely to show up at another Tuesday residency show of hers.
In an unusual twist, Slavic Soul Party canceled their 9pm set (I don't know why and whether that happens with any regularity). Rather than just rush home, the four of us had a drink at the bar. I had my first Chocolate Martini in so long I can't recall the last one. It was awesome. I can almost say that the trip to Brooklyn was worth it just for that drink, but the company I was enjoying while drinking it was most definitely the highlight of the evening.

Happy Thanksgiving everyone!