Send to Kindle
We've seen Greg Holden perform three full sets over the past year and sing as a guest at a few other shows. He's grown on me each time I've seen him. Last night was his last show of 2010, at Rockwood Music Hall Stage 2. It was scheduled for 10:30pm so we were shaky about making it out that late. In the end, Lois was too tired to go out. So was I, but a scalding shower and the outside air gave me the necessary second wind.
I was particularly interested in seeing the show because Greg just finished recording a new CD (Titled: I Don't Believe You, likely out in the Spring). He was going to debut a few new songs from the CD. I was also under the impression that there were new arrangements for some existing songs and I was curious to hear those as well.
Greg came on stage at 10:45pm. That was way better than I expected, given that there was a private party at Rockwood from 6-10pm.
The first number he performed was solo, Following Footsteps. It was very slow, very quiet, very well done. The vast majority of the people at Rockwood were quiet and totally focused on Greg. One jerk at the bar could be heard (louder than Greg). Unfortunately, that jerk became a focal point throughout the set. It made for some laughs along the way, but ultimately, people like that need to be shown the door.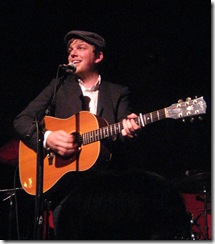 When the song was over, Greg was joined by a full, all-star band (another reason why I pushed myself to go out). I'll cover each of the band members shortly (as I always do).
That second number, Hell and Back, was very upbeat. It got the crowd going (and overwhelmed the jerk). After the song, Greg joked that he should have opened with that number.
Greg only played one other song solo (I think: I Don't Believe You), another slow soulful number, beautifully finger-picked. The band left the stage for that one, but otherwise accompanied him on the rest of the set. Greg joked that he was playing some depressing songs (e.g., American Dream, inspired by a homeless couple he sat next to on the subway). He added that if you wanted happy songs, you should have gone to see Ian the night before.
While it's true that the subject matter of some of Greg's songs was dark (depressing?), whenever the full band was playing, there were more rock overtones to the songs making them feel less sorrowful. Speaking of the band, from left-to-right on stage:
Ian Axel on grand piano and vocals. The first time we ever saw Ian was when he sat in as a guest on a few numbers for Greg Holden's set at Rockwood 1 (that was also the first time we saw Greg). Their interaction has clearly grown since then. Ian sang significantly more harmony with Greg last night than he did last year. I really enjoyed their blend, with Ian taking the high notes and Greg the baritone. Of course, Ian always sounds great on the piano, nothing needs to be added on that subject.
Tony Maceli on electric bass. I've said dozens of times what a solid musician Tony is. I was shocked that it took Greg Holden's music (something I don't, or rather hadn't associated with rock) to open up Tony's bass playing considerably. On the first song that the band joined Greg (Hell and Back), Tony wailed on the bass, playing faster riffs than I've ever seen him do. He remained energized and tasty throughout, handling the mellower numbers with his usual skill.
Adam Christgau on drums and vocals. The night before (in my post about Ian's show) I mentioned that my count-down clock to see Adam had started again. I'm so happy that I got to reset that clock a little over 24 hours later! Adam is a joy to listen to. I even got to see a bit more of him than usual at a Rockwood 2 show, because Tony kept moving toward the piano, giving us a slightly better glimpse of the drum set tucked in the corner. Adam also did a nice job on the vocals (a bit more on that later).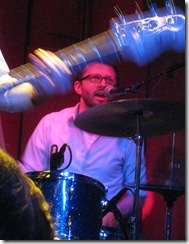 Chris Kuffner on lead electric guitar and vocals. One night after finally getting to see Chris open it up on the bass, I got to see his best performance (in my opinion) on the electric guitar. That's saying something, because he's impressed me a number of times in the past! Just like with Tony on the bass, Hell and Back had Chris going wild with incredible leads. To repeat, not something I expected from past Greg Holden shows! Chris continued this kind of play, including one fabulous number mostly played with a slide. Bravo!
Back to the show. One of my favorite Greg Holden songs is one he co-wrote with Joey Ryan. The only versions I've heard (live and on YouTube) are acoustic, very mellow. Lois titled the song Nothing But a Memory (when it was still untitled). Greg and Joey finally named it As Far as I Can. It will be on the new CD and Joey recorded it with him. Here's their debut of the song on YouTube (have patience if they show an ad first!):
Greg Holden and Joey Ryan performing As Far as I Can
Last night, with a full band, and Ian singing Joey's part (well!), the song was dramatically different. More rock-n-roll than folk. I liked it and it was performed well, but I much prefer the original version. When the song was over, I turned to my friend and noted that. She likes the original version too, but was much happier than I was with the new one. I'll be curious to see which version Greg puts on the new CD.
To close out the show, Greg played one of his signature songs, Bar on A (co-written with Nate Campany). Greg invited anyone who wanted to sing it with him up on the stage. Nine people (mostly professional musicians) came up and formed a Rockette-like chorus line behind Greg. The ones I'm sure of, left-to-right were Katie Costello, Lauren Zettler, Bess Rogers, Allison Weiss, Sam Teichman, Nate Campany and standing behind them Seth Faulk. There was someone standing to Katie's right (our left) who I couldn't see (and don't know). Between Allison and Sam was a comedian (Sam told me his name after the set, but I've forgotten it).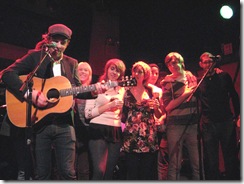 Greg did a generous and cool thing with this song. When the song started, he turned to Ian and nodded. Ian sang lead on the first verse. Then Greg looked back to Adam, who stood and sang the next few lines. Greg then followed that with Tony singing a few and Chris doing some as well. A very nice way for him to highlight the amazing band that played with him!
A fun night out. I'm glad I shook off the exhaustion!

Before the show, Greg and Adam going over the set list (on an iPhone!). Technology marches on!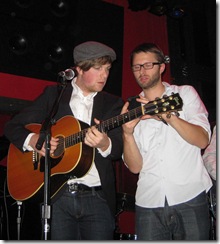 P.S. Since Lois didn't attend, any complaints about the photos go directly to me…