Send to Kindle
We've seen Ricky Skaggs and Kentucky Thunder a couple of times, most recently in June 2008. When we saw that they were performing at BB King, we knew we'd be there. The only other act listed on the bill was Abigail Washburn, opening for Ricky. We've seen Abigail a number of times, so that was a plus.
What we didn't know was that two other bands were also performing, sandwiched in between Abigail and Ricky. Since one of them was the highlight of the evening (definitely for us, likely for many/most in the audience), I'll break my normal format and start with them.
The third act up was the Punch Brothers. I can't tell you how excited I was when Abigail mentioned that they were on the bill. I'll gush about each of them in a minute, but the main reason is their leader, Chris Thile. In my opinion, he's the best mandolin player in the world (there, I said it!). We own four of his solo CDs and all of his Nickel Creek CDs as well (which I simply can't get enough of).
Chris has unbelievable stage presence. He's only 29 (soon 30), but he recorded his first CD when he was 13, so he has a ton of experience. His talent would be enough to carry him even if he were wooden on stage, but thankfully, he's loose and natural and made us laugh throughout his set.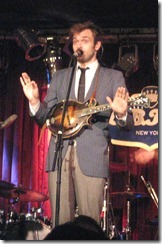 He sings really well, writes superb songs, and oh yeah, there's that mandolin magic that simply boggles the mind.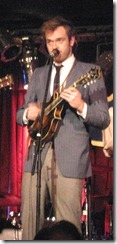 I can't imagine a musician that wouldn't want to play with him. Conversely, I can't imagine him having someone in his band that wasn't superb. That is certainly the case for the members of Punch Brothers.
Chris was center stage. Here are the other members of the group, standing left-to-right:
Gabe Witcher on violin and vocals. Fantastic on the fiddle/violin. Wonderful voice, singing lead and harmony.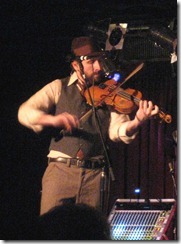 Chris Eldridge on acoustic guitar and vocals. Amazing flat picking on the guitar. Excellent vocals, mostly three-part harmony with Gabe and Chris Thile.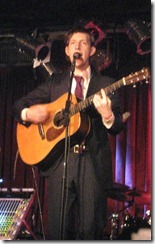 Paul Kowert on upright bass (no good individual link). Paul is the only person in Punch Brothers who didn't sing (or even speak). His bass play says it all though, both with a bow and plucking. He's incredible.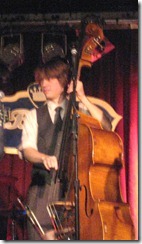 Noam Pikelny on banjo and vocals. Folks, everyone in Punch Brothers is a world-class musician. Noam is a cut above your average world-class musician. He's unreal. He's also subtle. Many top banjo players hack at the strings (not that there's anything wrong with that, I love that style). Noam can do a lot more with a banjo.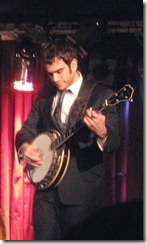 A few months ago, he was the winner of the inaugural Steve Martin Prize for Excellence in Banjo and Bluegrass. Check out the judges (including Bela Fleck, perhaps the best banjo player in the world!). I certainly have no quibble with their choice.
Noam didn't sing much, but he did create four-part harmony on occasion. Most notable was a dryly delivered quip that had the audience burst out laughing. Between songs, he casually stepped up to the mic and in a deceptively deep voice said the following:
For those of us who live in NYC, playing in this neighborhood is incredibly special, given that it's the last refuge remaining in this great city!
For the one reader who may not know where BB King is, it's in the heart of Times Square. Everyone in the audience got it and the line was delivered perfectly.
All I can tell you is that the Punch Brothers awed on every single number. We took our goddaughter with us (her husband had to cancel at the last second for a work emergency). When she got home, she immediately bought their latest CD, Antifogmatic!
They are currently nominated for a Grammy. The song, New Chance Blues is available for free download on the front page of their site (linked above), in exchange for your email address!
Back to my normal format of covering acts from the headliner backwards (don't worry, I won't repeat the Punch Brothers section).

Ricky Skaggs has been a superstar for years. He was a major Country star. More than 10 years ago, he dedicated himself to Bluegrass. For those of you who aren't familiar with Bluegrass, whether you like the style or not (we love it), Bluegrass attracts some of the best musicians in the world. Ricky and his band (Kentucky Thunder) are no exceptions.
Last night he broke his Bluegrass-only streak. He opened the show with a few Country numbers. They were great. He played an electric guitar and lit it up.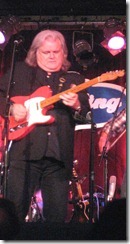 Then he switched gears and played a few songs from his new CD, Mosaic. He started with the title song. To say that the mood changed dramatically in the place would be an understatement. He received applause after each song, but many were polite and in general it was shorter than the first few songs.
After two more from Mosaic, a number of people in the crowd were saying "Play some Bluegrass" loud enough, but no one yelled in a heckling or disrespectful manner.
Eventually, Ricky got to the Bluegrass portion of the show. The crowd went nuts. He broke out the mandolin (of which he is one of the best!) and tore it up.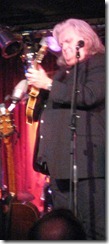 When Ricky performed Country and the Mosaic numbers, there were 10 people on stage. For the Bluegrass set, the drummer, lead electric guitar and electronic keyboards people left, leaving the core seven people that typically perform in Kentucky Thunder.
Ed Faris and Paul Brewster both play rhythm guitar. The magic that they bring to the group is their absolutely incredible harmony with Ricky Skaggs. The three of them make vocal magic on practically every song.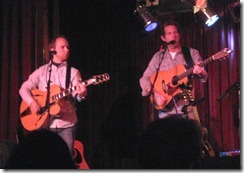 Andy Leftwich played the fiddle. He's always incredible (we've seen him at least two times) but last night he was on fire (or I bet his fingers were!). He played mandolin on a couple of songs as well.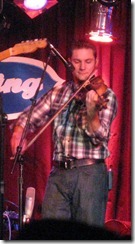 Cody Kilby flat picking the guitar. Cody is one of my all-time favorite flat pickers. That you couldn't hear a single note during the Country and Mosaic part of the set is a crime that should be punishable by a 10-year prison term! Thankfully, he got to work his magic during the 30-minute Bluegrass set. Unfortunately, even then, he was the only one under-mic'ed, but I could still hear and see his brilliance.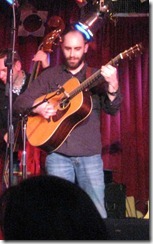 Mark Fain on bass. Marked played electric bass during the Country and Mosaic portions and upright during the Bluegrass. Great on both instruments.
Finally, a very sad note, coupled with a very happy one. I can't tell you how much I was looking forward to seeing Ricky's banjo player, Jim Mills. I have been mesmerized by him each time we've seen him perform. He's in my top five favorite banjo players. I don't know what rock I've been living under, but Jim left Ricky roughly six months ago, after playing in Kentucky Thunder for 14 years!
On the plus side, another of my favorite all-around musicians replaced him.
Justin Moses played the banjo, dobro and mandolin. I own his solo CD which is awesome. He was the fiddle player in the Dan Tyminski Band (where he also played banjo and dobro). He's an extraordinary fiddle player, but that job belongs to Andy. While I've heard him play banjo with Dan, I didn't fully appreciate how excellent he is on the banjo until I heard him last night.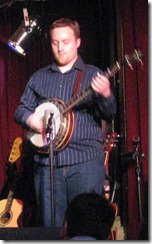 He played the dobro throughout the Country and Mosaic sets. I know he's excellent on the dobro from the Dan Tyminski shows we attended. Unfortunately, as with Cody, he was totally drowned out when he played the dobro, I couldn't pick out a single note.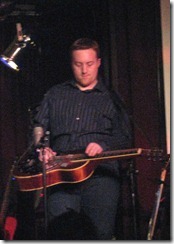 I thoroughly enjoyed the Country part of the set (even though I couldn't hear Colby or Justin), but my dinner companions did not. None of us enjoyed the Mosaic portion of the evening. Oh well, at least he ended with 30 minutes that had the crowd enthralled!
Continuing backwards, skipping over the Punch Brothers.
Another surprise for us was the second act.
Nanci Griffith is a well-known singer/songwriter. We've never seen her before, so it was a real treat. She did a wonderful job.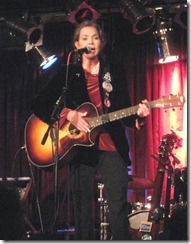 We have friends whose favorite group is The Kennedys. We've never seen them. They were part of Nancy's band last night and I totally understand why our friends love them. Maura has a wonderful voice, and Pat played the guitar amazingly and sang harmony.
Pat McInerney played the drums really well. He's been accompanying Nancy for 22 years!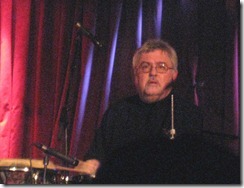 I don't recall the name of the guitar player who accompanied them (apologies). He too sang well, and played well when he wasn't having technical difficulties.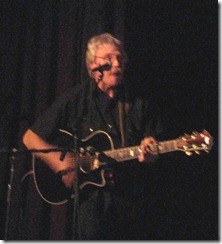 A very nice set all around.
Opening the show was Abigail Washburn. We've seen Abigail a number of times. We really like Abigail as a person. She has a lovely voice and plays the banjo well. Unfortunately, her set selection rarely thrills us. She has the talent to do so, so it's more a matter of mismatched taste between what she wants to play and what we want to hear.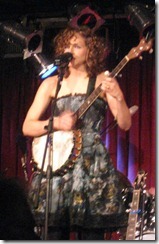 She has a new configuration for her band. We hadn't seen any of them before. They're all excellent (no surprise).
Kai Welch on keyboards, guitar and harmony. Kai is the main collaborator with Abigail on her new CD. He is the inspiration of her new style and exploration. He is a very good musician and sings wonderfully.
Rayna Gellert on the fiddle. Excellent! Abigail teased her that she's not dramatic enough. Perhaps, but she thrills nonetheless.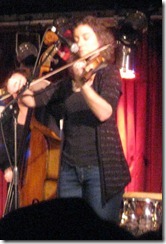 Alana Rockland (no good link) on electric and upright bass. It's not often that I see female bass players. Given how talented Alana is, I hope to see more of them, soon!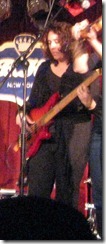 Jamie Dick (also no good link) on drums. Solid throughout the set.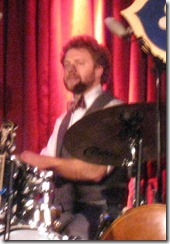 All in all, an epic night of music. The show started at 7:30pm and ended at 11:15.
We had an excellent meal before the show started. I always recommend that you come early for a BB King show and enjoy their wonderful southern comfort cuisine.