Send to Kindle
It's been a month since we've seen Alex Wong perform at Rockwood Music Hall. It's not good to go much more than a month between doses of Alex, so it's good that he had a show last night.

In fact, after seeing his solo show at Rockwood 1 on December 9th, we saw him sit in for one song with Alex Berger at Rockwood 2 on the 13th. That night, they performed a song they had written that weekend (and just finished up the morning of the show!), called The Fighter. I wrote about how beautiful a song it is.
Alex opened last night's show with that song, solo this time, at the piano. As much as I like the song, it also immediately reminded me of the fact that our beloved Alex Berger is now too many thousands of miles away, back in merry old England, leaving us less merry in these old United States…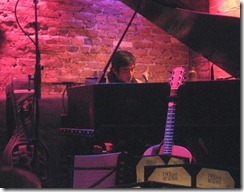 Next Alex invited Rachel Platten to join him. Rachel played the piano and Alex the guitar. They played a song they co-wrote about Alex's first Christmas in NYC (one he spent here not by choice!). It's a wonderful song called Make It Home. We've seen Alex perform it solo a number of times, but this is the first time we got to see Alex perform it with Rachel, harmonies included.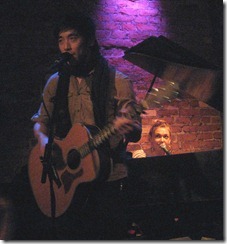 The song is special for another reason. Alex and Rachel have made the song available for purchase at Bandcamp. It costs (a minimum of) $2.25 (please feel free to donate more, we did!). 100% of the proceeds go to City Harvest. The production quality is superb (no surprise, Alex is one of the best producers around!). You'll get a great song and be donating to a very worth charity. Just do it, you'll feel a lot better about yourself and have the music to enjoy for years to come!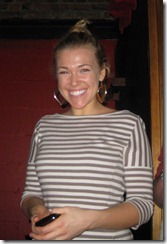 Next Alex invited Melissa Tong and David Fallo to join him. I've written about both many times. Suffice it to say that any string section in any style of music would be instantly enhanced if either Melissa or David joined them. Both at the same time? Dream time!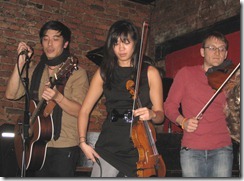 But wait, there's more! I purposely left out one thing about Make It Home above because it fits better here. One of our favorite drummers is Adam Christgau. Adam was supposed to leave for a tour in Australia, yesterday morning. On Tuesday, his flight was canceled preemptively due to the anticipated snow storm (that wasn't much of a storm after all). So, Adam was stranded in NYC (much as Alex had been in 2004, for different reasons). Alex dedicated Make It Home to Adam, who happened to be in the audience for Alex's show.
With Melissa and David on stage, Alex coaxed Adam to join them to play the drums. Since Adam was there as a guest, he didn't have his equipment with him. No worries. Seth Faulk, another top local drummer handed Adam his cymbals (Rockwood has the core drum set) and his brushes. Thanks Seth!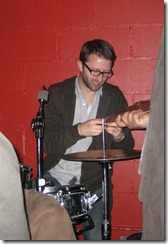 With that, Alex proceeded to right a wrong that he perpetrated on his audience a month ago. As I mentioned in the post about that show, Alex teased us by playing the intro to Brooklyn Blurs (one of our favorite songs) and then changed his mind. Last night he played it, with the strings and drum, more than making up for his indiscretion the month before.
During the song, I could swear that I heard someone singing the ambeR Rubarth part (harmony) absolutely perfectly with Alex. I couldn't see anyone doing it, and it wasn't anyone on stage (it was a female voice). After the show, my friend turned to me and said: "Did you hear that woman over there singing the ambeR part perfectly?". Yes, yes, I did! I honestly thought it was just me knowing the song so well that my mind filled in ambeR's part on it's own! Whew, I'm not totally addled just yet…

Adam tried to get up after Brooklyn Blurs, but Alex cajoled him into playing one more song, Motion Sickness, with Melissa and David as well. Not just them, but the entire crowd was split into two to sing along with the chorus. I was on the side of the audience that in the previous two shows was assigned the "na na na na, na na na na, na na na na, na" part. Alex changed it up this time, and our side was given the "oh, oh, oh oh oh" part. I'm adept at both, so he didn't throw me for the loop that he hoped to!

After dismissing the band, Alex started his looping machine and tapped out some percussion on the guitar body. Then he added a whooshing sound by rubbing the strings. While that looped endlessly, he returned to the piano and played another new(-ish) song (I think it's one he co-wrote with Paul Freeman). Absolutely wonderful!
For more Alex Wong / Paul Freeman goodness, check out their new project, Bellows Band where you can hear three songs stream for free!
He followed that with a song he co-wrote with Nate Campany. I call it the Yeah Yeah Yeah song (that's the entire chorus). Last time, Alex Berger sang the Yeah Yeah Yeah part in harmony with Wong. This time, the audience did. It was awesome. In particular, Seth Faulk (the aforementioned drummer) stood right over my left shoulder and sang incredible harmony with Alex. Nicely done all, but especially Seth who gave me a personal concert!

I might be missing another song or two, but suffice it to say that the entire set was a blast.
Making it even better was running into three friends who we sat with (I didn't know any of them would be at the show, though I could have guessed). We even got to introduce one to the other two, so the circle widens. Good music, good company and a good glass of wine. It doesn't get much better than that.