Send to Kindle
I have been waiting (not so patiently) for a chance to see Derek James perform again. Lois has been waiting even longer. We saw him for the first time on July 22nd at Flux Studios. Then I saw him without Lois on September 1st at Rockwood Music Hall stage 2. Both shows were extraordinary.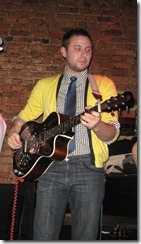 Last night night Derek played Rockwood Music Hall stage 1, so I expected a bit of a more mellow setup, like he had at Flux. I admit to being a bit nervous as to what I might hear, since Derek announced at the September show that his guitar player, Roy Gurel, was heading to Israel for a long stay and wouldn't return for a while.
Unfortunately, Assaf Spector wasn't with Derek either, giving Derek a completely new band. Last night was their first performance together.
I love everything about Derek's music. He writes fun songs and delivers them with a zest that has to be experienced live. That was all true last night too. While I definitely enjoyed the set and again am looking forward to seeing Derek as soon as possible, my expectations were too high for the reconfigured band to meet (my fault, not theirs).
Derek modulates his voice by running his mic through the equivalent of a guitar pedal. Even though I had noticed interesting qualities in his voice in the previous performances, I never noticed that he was controlling it electronically (silly me). Last night, mostly in the first song, but still noticeable throughout the set, Derek seemed to set the effects a little too high. During the first song, he sounded a bit like he was on helium. To make matters worse, his vocals were mic'ed a bit too low (even without the effects) and his guitar was a bit too low as well.
On to the band. I normally go left-to-right, but I'll go right-to-left this time, because that happens to be the order that impressed me.
Michael Riddleberger on the drums (and a bit of vocals). Mike (that's how Derek introduced him) impressed me mightily. Derek's beats are fun and big and are greatly enhanced by a drummer who can bring out the 1940's big band jazz sound (full, echoing drums). I was extremely nervous when the set began, because I was literally 10 inches from the drum set. Mike was perfect in his beat, and in not blowing my head off.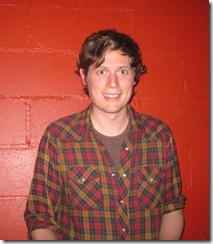 David on the bass and light vocals. I bothered to make a note of his full name on my Droid. When I looked at the note tonight, the auto-corrected text had his last name as "disease". Sorry! Anyway, he was quite good on the bass. Not quite as loose or fun as Assie (Assaf) is. But, the biggest difference is that Assie shares a ton of vocal harmony with Derek which was missing. Also, there is a general showmanship (dancing around) that was missing last night.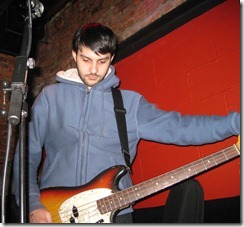 Michael Day on electric guitar and vocals. I might have heard the name incorrectly, because I can't find a link to him. Michael is clearly a talented guitarist with some fast leads. But, he's filling shoes that are very hard to fill. Roy Gurel might be my second favorite local guitar player (behind Greg Mayo). Roy also does as much singing and dancing as Assie does (well, did!).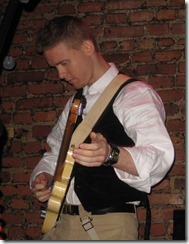 I am not blaming Michael and David for not being able to replace Roy and Assie on their first-ever show. I am just hoping that a few more rehearsals and shows will continue their development quickly and dramatically.
Derek James can mesmerize me solo, I have no doubt. But, the current setup is called Derek James and the Lovely Fools. If that's accurate, then the configuration with Roy and Assie should have been called Derek James and the Loveliest Fools!

One final negative note (not under Derek's control). While the 7pm set for Sarah Jarosz was whisper quiet during her songs, quite a number of people talked loudly during Derek's numbers. Of course, those same people cheered, clapped and whooped it up like they were his biggest fans when the song was over. I know Derek's music creates a total party atmosphere (did I mention how much fun his songs are?), but that's no excuse to party without him while he's performing…