Send to Kindle
This week was perhaps the most live-music-filled one in our lives. It seemed fitting that we expected an epic ending to the week on our last night in NYC for a couple of weeks. You'll have to read four separate posts to know if the reality lived up to the dream. This is the first of those posts.
I love the mandolin. I'm always a happy person (always), but a good mandolin player can lift my spirits even further. A great one can deliver an out-of-body experience for me. Some of my favorites proved themselves as kids (Chris Thile and Sierra Hull to name two). So, when I first heard about Sarah Jarosz (don't recall how or from whom) and saw that she was touted as a mandolin phenom, I immediately bought her CD (Song Up In Her Head). It's gorgeous!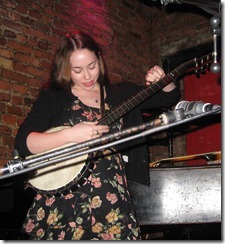 I just searched my blog. While I still don't know how I heard about Sarah, I know when, roughly December 2009. Here's what I wrote in a Jan 2010 post:
A month ago I heard about mandolin phenom Sarah Jarosz. Then I found out she was opening for Del McCoury. To top it off, so was Marty Stuart. My excitement for this show was almost uncontainable. Still, I didn't buy tickets. Why? I had no idea at the time, but I know now that I wasn't meant to.

A week later I received an alert that Vienna Teng and Alex Wong were playing at City Winery that same night. Believe it or not, my mind failed to make the connection that it was the same night. I asked Lois and she instantly said "Grab tickets!". I did.
When I saw that Sarah was playing a set at 7pm at Rockwood 1 there was no way I was going to miss it. She was listed as a solo performer. I was more than a bit surprised at two things: Sarah did not have a mandolin on stage (see my correction below!) and she had a fiddle player for all but two songs.
Sarah played the banjo on a few numbers (including the opener) and guitar (another mistake) on the rest. She had two guitars (nope). I could swear one of them had eight strings (and even sounded a drop like a giant mandolin). Yup, confirmed in this photo, it's an eight-string guitar!
Update: See comments below, someone corrected me and said it's not an 8-string guitar, but rather an Octave Mandolin! Cool, I learned something new today. 🙂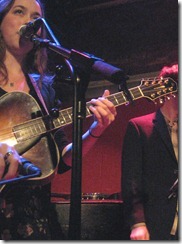 Sarah was wonderful on all three, but I was most impressed with her guitar play (specifically the eight-string). Her leads were fluid and fast.
She sings wonderfully. Extremely powerful and clear voice. She writes her own songs. She played a collection from her current CD (mentioned above) and a couple from her upcoming CD (May 2011 release). She also played covers by Bob Dylan and The Decemberists.
It's a testament to her talent that I was surprised to see no mandolin. Some of the songs that she performed last night are from the CD that I own and I ended up really liking them without paying attention to the fact that she was playing banjo or guitar on those as well (I went back and paid more attention today!).
Alex Hargreaves played the fiddle. He was instantly familiar to me and I was blown away by his play from the first few notes. It wasn't until Sarah introduced him by name (a few songs in) that I realized why he was so familiar to me. I had seen him play with the one and only Jerry Douglas at the Highline Ballroom. Here's what I wrote about Alex that night:
Alex Hargreaves played the fiddle and sang on one number. He looks like he's 12. He's an absolutely extraordinary musician and has played with some of the greatest musicians in the country, now including Jerry Douglas.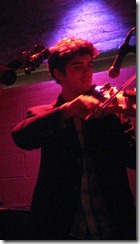 Seeing him from five feet away, with only one other mellow instrument on stage, was a highlight for me. Absolutely incredible. The two of them played one instrumental number where they harmonized with each other (Sarah on the guitar). It was magical. It's on the current CD: Mansinneedof (Man's in need of).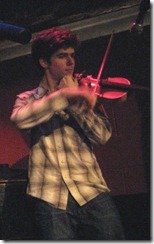 We walked into Rockwood at 6:50pm. All but one seat was taken (including the barstools) but practically no one was standing, so the place felt empty. Lois grabbed the one open seat and I stood near the unused drum set. By 7pm, a mere 10 minutes later, you could barely breathe in there it was so crowded.
Sarah mentioned a few times what a great audience it was (respectful, quiet during the numbers, loud with the applause). She was right. It was perfect. That would turn out not to be the case when we returned to Rockwood a few hours later (that will be post #3 for the night).
A great start to the night.