Send to Kindle
This is post #2 of the evening. #1 was about Sarah Jarosz and Alex Hargreaves and can be read here.
Under normal circumstances, we would have stayed at Rockwood and caught Leslie Mendelson at the 9pm set. We'd never heard her before, but we were planning to be at Rockwood 1 for the 10pm set anyway and I liked what I heard on Leslie's MySpace page.
Then we heard that Melissa Tong was sitting in with The Ramblers at The Living Room. That was enough to make us change our plans.
We walked in to The Living Room at 8:50pm. The place was a zoo (not in the child-like wonder way). The bar was mobbed, the inner room where the music is played even worse. We could barely make it in three feet from the curtain dividing the two rooms.
We watched the last three songs of Shanna Zell's set on a TV that shows the live action from the stage for those who are too far back to see it. Shanna has a nice voice but otherwise couldn't hold my attention. Given the crowd (and who knows how late her set got started), the show went past 9pm. When it was over, it took us another few minutes to get an additional 20 feet closer to the stage, still behind everyone who was seated.
The Ramblers had a number of special guests (they called it an orchestrated acoustic set), so it took them extra long to transition from Shanna to their setup. There were nine people on stage so it wasn't surprising, just frustrating to wait, uncomfortably at that.
Then they started playing. Excellent. Definitely my kind of music. Actually, since they had so many guests, I don't know how I would react to a normal The Ramblers set, but I'm willing to find out.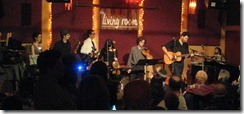 Thankfully, during the first two songs, the violins (yes, there was a second violin joining Melissa Tong) were front and center (literally, at center stage and figuratively, as in highlighted throughout the piece). We were far back, so apologies for the fuzziness of the few photos worth posting.
Jeff Young played the violin amazingly (as Melissa always does). Together, bliss.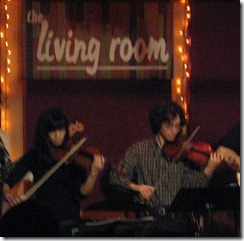 Melissa didn't play during the third song. Jeff was featured, as well as another guest Bill Bell on mandolin. I wanted to stay because I love mandolin so much (did you read the Sarah Jarosz post?). While Jeff was incredible, Bill's part was nothing special. This is not a comment on Bill's skill. When he was sound-checking before the set, I was quite impressed with the licks he was throwing around.
Anyway, because the set started so late, we had to run out after the third song. I was sorry to miss more of The Ramblers (and Melissa and Jeff in particular), but very happy to get out of that crowd.
Between Sarah and The Ramblers, we had a quick and exceptional meal at Sugar Café. It looks like a hole-in-the-wall on the corner of Houston and Allen. We've walked by there a hundred times and never considered going in before. What a mistake. We loved our food (fast and fresh) and the staff were as outstanding as the meal. Don't go for the atmosphere, but if you're on the Lower East Side and need something good, quick and reasonably priced to eat, I recommend it.