Send to Kindle
This night couldn't come fast enough for us. We bought tickets the minute they went on sale (we like to believe they were the first four sold, so don't burst our bubble if you know differently).
Ian Axel just released a new CD (well, at the moment it's digital downloads only, but the physical CD is coming soon), called This Is The New Year. The NY CD Release Show was last night at the Studio at Webster Hall and Ian tweeted in advance that he'd be playing the entire album in order.
The show was sold out and there are only roughly 10 seats around the edges, so there were 300+ people standing packed like sardines throughout the night. There were two opening acts making it a long night of standing for us old folks. Q: Would we do it again? A: Seven nights a week!

Rather than post a set list, I'll point you to where you can buy the CD, since the track listing is what was played last night (with the exception of the encore). Here it is on Amazon first (my preferred place to buy MP3's). Here it is on iTunes. It's the same price (currently) on both, $7.99, but there's a different bonus track on each service, so that too might sway your decision as to where to buy it. There are gorgeous liner notes in a downloadable PDF in iTunes. I don't know if they come in the Amazon flavor, so that too might be a factor in your decision.
Ian came out with the full band with one new twist. In addition to the drums, bass and guitar, Chad Vaccarino was tucked away in a dark corner behind Ian played a double-decker electronic keyboards (from what I could hear, largely an organ sound to complement Ian's piano sound on his electronic keyboards).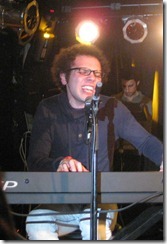 In the very old days (yes, they're still only 25, at least for another month!) Chad only used to sing. More recently, he has added his trumpet playing skills to a number of songs. On a few numbers last night, Chad played both the trumpet and the keyboards! This adds a new dimension. Very well done!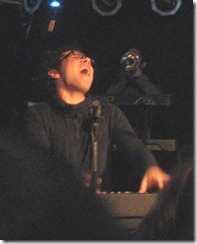 After playing Leave Me Alone and Afterglow (knocking them out of the park, of course), the band left the stage. Ian played Gone, solo. It's a very moving song in general, but given that we were standing inches from Ian's mom and a few feet from her twin sister, the emotions in our vicinity were running a little higher than usual.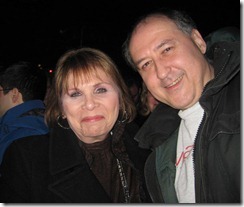 It's a tribute to Ian's overwhelming talent that he can electrify a crowded room with a full band and not lose a single audience member when switching to a heart-tugging solo number.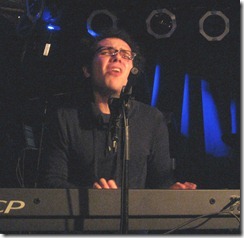 The band came back out for The Music that Haunts this Town with a surprise guest in tow. Dan Romer came out with an accordion and joined Ian for consecutive numbers, rejoining again later. While the accordion was a fun addition to the sound, it wasn't about adding an accordion sound that caused Ian to invite Dan on stage.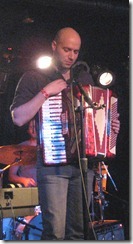 Ian told us that Dan produced the album (the title track was produced by John Alagia, with Dan getting credit for producing the piano on that track as well). Dan produced the rest. Dan also produced the original version of This is the New Year and while Alagia added some things, he stayed reasonably true to Dan's vision. It was a wonderful way for Ian to thank Dan and ensure that everyone knew who made this album sound as good as it does!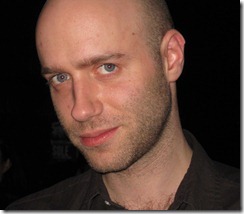 When Dan left the stage, Chad Vaccarino came front and center and everyone in the room knew what was about to happen. Not only because we knew the order of the show, but because the electricity in the room became even more palpable. The title song was about to be played. If you weren't there, I have no words to describe what was going on at Webster Hall. Suffice it to say that Ian and Chad could have healed the sick if they touched their foreheads right after that song.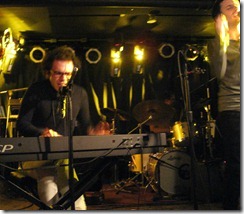 After keeping the blood pumping with Hangman, the band again left the stage. Ian played Cannonball solo, again tugging at everyone's heart.
When the band returned for Girl I Got a Thing, another special guest joined. Glenn Chocky joined to perform his usual ritual during this song (a staple at Ian's NY shows). Chocky drinks burboun (or scotch, etc.) on stage while Ian sings. He has two jobs, both of which he nails. 1) Shake a tambourine when Ian sings "You make me wanna shake my tambourine." (the crowd goes nuts!) and 2) lead the crowd in singing back "Girl I got a thing for you" in response to Ian singing it. Chocky often gets the crowd to clap as well, so he really has three jobs. I am not sure whether the drinking is part of the job or just his compensation.

It's a shame that Chocky probably can't afford to go on tour with Ian just to perform this one song. The crowds in other cities are missing out on a bit of fun.
The setup changed again for Pacific Sun. Ian took center stage with his ukulele. Chad moved to Ian's keyboards (sitting down) but didn't play. He sang harmony and lead on a verse as well. Whenever the two of them sing together the already magical numbers/performance rises to a new level.
After playing We Are (back in the normal band configuration), Ian mentioned that it had been ages since he'd performed that. It's clearly an emotional song for him.
One last time, the band left the stage and Ian closed the show (and album) with Say Something on the keyboards. Another wildly emotional tug at our heartstrings. On the iTunes version of the album, the bonus track is a ukulele version of this song.
Of course there was going to be an encore. Everyone returned to the stage, including Dan Romer and Glenn Chocky. Chad took center stage and Ian announced that they would play You'll Be Okay (a crowd favorite). He explained that he and Chad co-write most of the material, but that they went a year without writing after Say Something. When they finally sat down to write again, You'll Be Okay was born. Thank goodness they started writing again! What a way to close the show!
I can't end the Ian section without writing about his amazing band. I've already mentioned that Ian mesmerizes all on his own, but I have to tell you that the full band is a mandatory experience, if you have the chance!
All three members of the band are top-notch musicians, but more importantly (from our perspective) is that all three are absolutely incredible people. You'd want to hang out with each of them even if they couldn't play a note.
Adam Christgau on drums and light vocals. Adam is one of our favorite drummers (I've said it often, I'll say it again, deal with it!). He was perfect last night. I've recently written about two other amazing drummers, Josh Dion and Vinnie Sperrazza. In both of those cases, I wrote that their drumming on each song was better than their solos.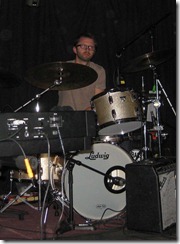 To extend that, Adam didn't take any solos last night. But, I believe that if you recorded Adam's drums last night, and cut out all other sounds completely so that you were just listening to his drum track, you would be listening to one of the best drum solos ever. In other words, his normal drumming on Ian's songs are full-out gorgeous drum solos, which just happen to perfectly fit with the rest of Ian's songs and band.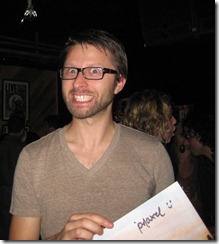 Simply amazing. The fact that Adam is the person most responsible for us discovering Ian Axel to begin with (both in a roundabout and direct way!), makes it all the more satisfying to hear him complement Ian's sound so well.
Chris Anderson on electric bass and light vocals. Another of our favorites (we've seen him a number of times in the past couple of weeks). He's always excellent, but his fit with Ian's music and style make his appearances with Ian the best. Last night the bass was at the right volume, but at the same time, every note shook Webster Hall to it's core. The bass never overwhelmed any other instrument, but my pants were vibrating and a rush of air hit my chest every time Chris played a note.
Chris Kuffner on electric guitar and vocals. While Adam and Chris Anderson sing a bit of backup vocals (Girl I Got a Thing for You, for example), last night, Chris Kuffner took a more prominent role. On at least two numbers (Pacific Sun most notably), Chris sang full-on three-part harmony with Ian and Chad. It's a role often reserved for a different guest star, Mike Campbell. Chris nailed it.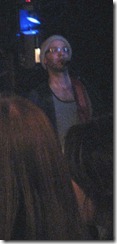 Chris is also a top guitarist (and bassist), but on most of Ian's songs, it's hard for me to pick out the guitar lines. There was at least one very notable exception, where Chris got the guitar to sound exactly like an organ. It was cool and eerie at the same time.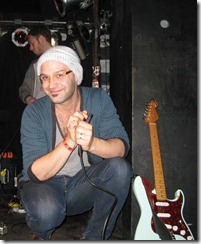 It was incredible to watch/hear so many people in the audience singing along with every word. I'm not surprised that Ian's fans know his songs so well, that's a given. What's cool is seeing their joy at having a chance to sing those songs with him.
To sum it all up, awesome! Much of the crowd hung around afterward to say hi to the performers, buy stuff, get things signed and pick up one of the 150 signed posters that Ian was giving away. Lois bought a T-Shirt (new style just out that day) and got a poster. Many people just mingled to not let the glow fade too quickly by leaving the place.
Greg Holden opened the show. Greg is releasing a new CD in April and played a number of songs from it, including some of his previously recorded favorites as well. For the most part, he played solo accompanying himself on the acoustic guitar. He had some guests that I'll cover in a minute.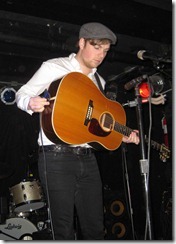 The show could have started off disastrously for Greg, but he turned a problem into an interesting solution, without missing a beat. Half way through his opening number he moved slightly and somehow, lost the amplification on his guitar. It was obvious, but he didn't panic or stop the song to figure out what was wrong.
After trying quickly to jiggle the cable (again, without missing a beat in his vocals), he pushed the guitar onto his back and finished the second half of the song a cappella. He did a great job, including maintaining all of the long-ish pauses where he might have played some guitar (very brave and very well done) in order to keep the song and pacing completely authentic. He turned a potential mishap into a crowd-winning maneuver. Very professional and well executed.
When the song was over, he figured out that the cable itself was bad. He switched cables and didn't have any issues for the remainder of his set.
New cable: $1.98. Not missing a beat when discovering a bad cable: Priceless!

After playing a couple of songs solo, Greg invited up one of our favorite violin players, Melissa Tong. She played two songs with Greg, and returned for two more later in the set.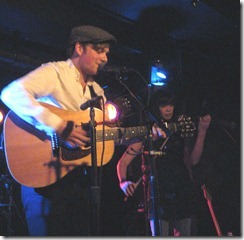 Melissa's fills between Greg's verses were amazing. Very classical in nature, complementing Greg's guitar play and the melodies in a way that made the two of them sound very compelling together.
After the show I asked Melissa if Greg sent her a score to follow (I figured he might have violin parts from his upcoming CD recordings). Amazingly, she said "No, he emailed me the tracks he wanted me to play on, and I improvised those parts.". Folks, she got the tracks that morning and was teaching violin lessons during the day. If you don't understand why we think so highly of Melissa, you never will.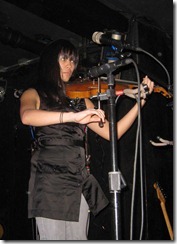 I want to give Greg the credit for thinking of her to begin with (since they never played together before!) and for being brave enough to risk something cringe-worthy in order to achieve what he had hoped he would!
Greg closed his set with all of Ian's band (including Ian) joining him on stage. In addition, the act following him (to be named in a second) and Melissa Tong were on stage as well, to sing his signature number, Bar On A. The crowd sings the chorus along with everyone on stage and I always enjoy it as I did last night.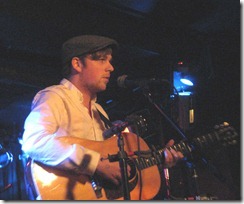 Julia Nunes was next up. Julia played all but two numbers solo, accompanying herself on two different ukuleles. She has a very powerful and clean voice and some of her lyrics struck me as insightful and well put together. Oh yeah, she's only 22-years-old (that will become more relevant in a moment).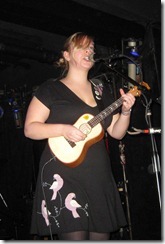 First, she's a YouTube sensation. Videos that Jullia has uploaded have collectively been viewed more than 43 million times! Second, quite a percentage of the audience last night were huge Julia Nunes fans. I was amazed that dozens of people (OK, mostly young girls, but they're people too!)

sang every word to every song, from the first note, out loud (and very well, they could join her as a professional chorus!).
Second, and by far the most impressive to me about Julia's set is her stage presence. 22-year-olds aren't supposed to have that kind of poise on stage. Her style is forceful and cheeky (I'll give an example in a minute) and it doesn't/won't appeal to everyone. I'm not judging the style, but rather the ability to pull off any style (she gets to choose!) and I think she has what it takes to completely own a stage.
Here's but one example (Julia bantered quite a bit): She said that she was about to play a song (it was a cover) that would sound ridiculous if the crowd didn't sing with her (actually, do their part). She said that if she wasn't impressed with our singing, she'd walk off the stage and give us the finger. Hysterical to some, crude (at best) to others. Thankfully for all of us, the crowd did indeed sing their hearts out and we were spared the indignity of getting the finger from Julia…
On one number, Julia invited up Ian, Greg and Adam to sing harmony with her. Greg did the majority of the harmony, but Ian and Adam pitched in nicely as well. When Julia continued to play the ukulele during that number, Greg was barely audible and Ian and Adam not even. But, toward the end of the song, Julia stopped playing and all four voices came together beautifully for a very powerful ending!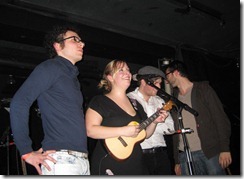 I enjoyed the set for the most part and I certainly see the talent (which obviously has many years to grow and mature). But, as much as I like the ukulele as an instrument, merely strumming it for 10-straight songs doesn't hold my musical interest and the songs themselves (at least the originals) often blended in my mind. Her fans would completely disagree with me and I honestly get why. We're just at different stages in life.
A few more random photos of some friends and musicians, who are huge Ian Axel fans as well.