Send to Kindle
Last night, Matt Simons and his friends threw him(self) a birthday party at Rockwood Music Hall Stage 2. Rather than sit in the audience and have others perform for him, Matt chose to work on his birthday (midnight, this morning).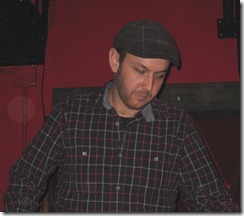 Chris Ayer opened the show at 11pm on the dot (highly unusual for a Saturday night Rockwood 2 show to start on time!), but I'll circle back to Chris after covering Matt.
Matt started at 11:28pm, so he serenaded us at two different ages.

He played the keyboards (grand piano and electronic) extremely well and sang wonderfully. Matt opened the show with a brand new number, setting the mood immediately. Throughout his set, nearly every head in Rockwood was bobbing to the beat. It was hard to resist doing that (not that I tried!).
Matt played a few covers (one of them a solo Beatles number) and what I think was an original that morphed into Sweet Home Alabama (where the band joined to sing as well). It was an eclectic selection that showed off Matt's and the band's talents well.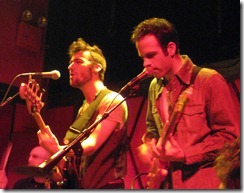 Aside from his solo, Matt was supported by three band members (covered shortly). For a few numbers, he invited Chris Ayer up as well.
Morgan Holland joined for at least two numbers, one of which was her own Subway Love (a wonderful fantasy song, at least I hope it's a fantasy

) that she sang lead on and played ukulele, with everyone supporting her (Chris Ayer was on stage for that too).
A few minutes before midnight, a fan passed a cake onto the stage, with Happy Birthday Matt written on it. It would have been impossible to pass that around (like the cookies sometimes make the rounds) so the poor band probably had to enjoy it after the show.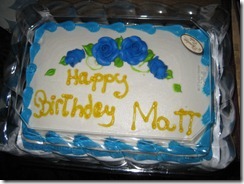 Of course, we all sang Happy Birthday to Matt!
The band (which played with Chris Ayer and Matt Simons), left-to-right:
Stephen Chopek on drums. I just wrote about Stephen 12 days ago, when many of the same people from last night performed at Jammin' Java in VA at a show we attended. Stephen impressed me then as he did again last night.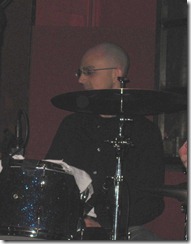 Chris Anderson on electric bass and light vocals. 12 days ago, Chris played the upright bass. Four days ago, he played the electric bass in support of Ian Axel at an amazing show at the Studio at Webster Hall. Chris is masterful with the bass. On Wednesday night, he had Webster Hall shaking (literally). Last night, much of his electric bass play was as subtle (and beautiful) as his upright play the week before.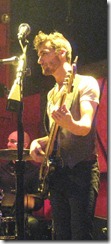 In other words, Chris is not a one-trick pony, simply blasting the bass. He has a feel for the music and complements it perfectly. Even last night his bass play varied, as some of the numbers were very upbeat and others were extremely mellow (and still enhanced by the bass). I wondered why he selected the electric over the upright for last night and I suspect it may have to do with the addition of the next band member.
Greg Mayo played the electric guitar and light vocals. Greg was a surprise for us. When we committed to attending this show, we didn't know who else would show up other than Matt and Chris Ayer, who were the only ones listed. I never get tired of documenting how great Greg is on the guitar, so this was more than just the proverbial icing on the cake (especially since there was actual icing on a cake last night, no proverbs need apply!).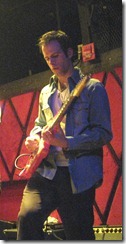 Greg took a number of traditional leads (I'd guess roughly seven between Chris and Matt's sets). They were all awesome, as they always are. But, I got to experience a new level of enjoyment of Greg's play last night. Previous shows where Greg played the guitar tend to be heavily weighted toward Rock. That means that between leads, much of the guitar play is straight-forward rhythm.
The mellower sounds of last night's sets meant substantially fancier play, even when the guitar wasn't the highlight. Over and over, I kept noticing that there was a subtle beauty dancing around the vocals and other instruments. Inevitably, looking over toward Greg revealed the source.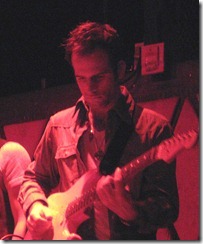 I suspect that Chris Anderson chose the electric over the upright because this time there was an electric guitar to play against. Greg's play was so appropriate to the mood that I think Chris could have easily pulled off the upright had he chosen that instead.
Chris Ayer opened the show. Chris has made our list of must see musicians after just two shows. Deeply interesting lyrics (we discover something new on each listen) sung by a fantastic voice, accompanied by wonderful finger picking guitar (he can most definitely perform solo and completely hold our attention).
I pointed out to Lois afterward that for the first time, she did not take a photo of the set list that Chris writes on his arm. She was not happy with me. I guess I should have remained silent…
Chris opened with Graduate and Awake, both great songs. The band took a break when he sang Relativity (a new song, available on iTunes) with Matt Simons and Morgan Holland supplying the amazing three-part harmony. The iTunes version has much more instrumentation (last night Chris' guitar was the only instrument). Both versions are fantastic. Morgan sang harmony on a couple of other numbers.
Lois loves her Chris Ayer T-Shirt (which she wore to the show):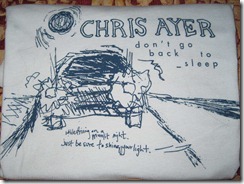 We don't seek out late-starting shows. Having been out later than expected for Ian's show on Wednesday, we ended up bailing on both Thursday and Friday, even though we were really looking forward to both nights out. Thankfully, we regained enough energy to make it last night.
Happy Birthday Matt (all day today!).
In order to raise our chances for good seats for Matt and Chris' sets, we decided to come for the 10pm set as well. Our plan worked out fine in terms of grabbing the exact two seats we wanted.
Kendra Morris sang, supported by a full band. Kendra has a very good voice and all of the songs (originals plus a few covers) were good. Even though we listened like we would for anyone else, I couldn't say that the songs left any lasting impressions.
Kendra projects an image as you can see in photos of her outfit and tattoos. She also adds quite a bit of drama in her on-stage movements. Not exactly our thing, but the younger men behind us made sure Kendra knew how much they appreciated it.

The band was extremely professional. Left-to-right on stage:
Tyler Cash on keyboards (grand piano and electronic). Very nice job. A bit more noticeable on the electronic keyboards than on the grand, but well done all around.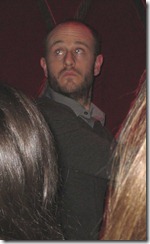 Jeremy Siegel on electric bass (sorry, couldn't find a good individual link). I'm sorry I couldn't find a good link, because I was extremely impressed with Jeremy's play. Very understated in terms of affect, but very precise and tasty bass play on every number. He was playing harmonic lines to the melody.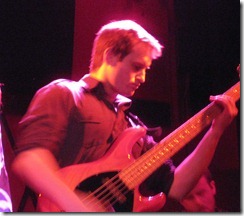 Sam Merrick on drums. Sam grabbed my attention on the very first number. While his drumming remained good throughout, for me, the highlight was that first song.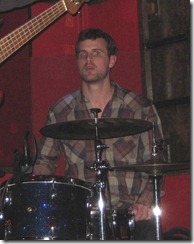 Jeremy Page on electric guitar (also no good individual link that I could find). Kendra credited Jeremy for being the creative force behind this project. He played the guitar really well, also very understated, like the other Jeremy in the band.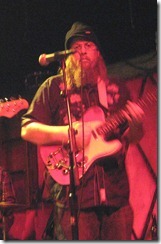 On one number, Kendra brought up someone who's name I thought was Godfrey. A quick search this morning looking for Jeremy Page gave me the real name: Godforbid. Nice.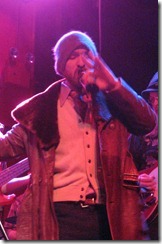 Godforbid held a mic in one hand a beer in the other. They sang 500 Miles by The Proclaimers. Their version was played at about 1/3 the speed of the original, with a melodramatic flair by each singer (they alternated leads and sang harmony with each other throughout). While it was nothing like the original, it was really good. If I closed my eyes to avoid the show, it would have been even better.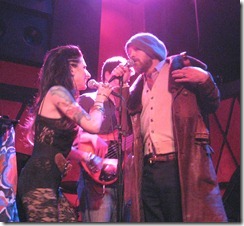 Here's how I found Godforbid. He, both Jeremys and Sam were/are in a band called That Handsome Devil. Considering that I really like every band member and that Godforbid has quite a good voice as well, if the band still plays I'd be interesting in checking them out sometime.