Send to Kindle
Having just seen Ian Axel and Chad Vaccarino perform at a house concert the night before, you might assume that we wouldn't make the trek to NoVA again to see them headline Jammin' Java. Silly Human (spoken in the proper Ferengi accent!), we couldn't wait!
The two experiences were dramatically different, even though the setups and set lists were reasonably similar. You can read my post about the house concert if you want all the details (I'll highlight some of the main differences here).
First, some set list changes. The opening sequence was tweaked. Ian started with The Music that Haunts this Town. It was a good choice and highlighted one of the critical differences in the venues. At a house concert, it takes little more than flicking the lights on/off or simply saying shhhh to get the crowd to be quiet instantly. At a club, people are (typically) drinking more heavily and socializing. They may even be there for the other acts. The point is, there is generally a lot of settling down that has to be done when a new set begins.
Very few clubs announce the performers nowadays (somewhat surprising). So, Ian was sitting on stage, alone, fiddling with his keyboard, while people were still talking loudly (most probably had no idea Ian had emerged yet). If Ian had started a song with lyrics, it would have ruined the first verse (or two) for his fans until the socializing eventually quieted down. By opening with a powerful instrumental, it still took some time to get quiet, but by the time he morphed into Waltz, the atmosphere was just right!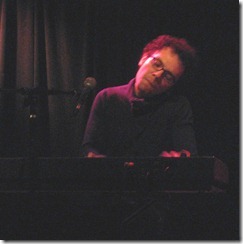 Ian then played Leave Me Alone! This time, I was determined to clap, no matter what. Of course, self-conscious dork that I am, I couldn't get the correct beat going. Then some people on the other side of the club started staring at me, probably thinking that I didn't realize the song hadn't ended yet (right, 20 seconds in and it wasn't over yet?). That only distracted me even more so that I never got on rhythm. Total Fail on my part.

It turned out that Lisa, my savior from the night before during this song, was sitting to my immediate right (but at a slight angle, so I wasn't sure until later in the evening). If I had waited five more seconds, I could have piggy-backed on her excellent timing. Anyway, no one other than us even tried, so this crowd didn't get to experience what it's like at a typical NYC show.
At the end of the song there is the call/answer part "It's Not Easy". Very few people sang the audience part (though it wasn't just Lisa and me).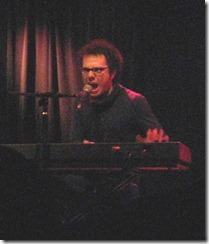 Two other prominent set changes. Instead of singing the song about his sister, Ian substituted Hangman. In addition to being his always awesome self (Ian, in case you're not paying attention), 1/2 way through the song, Chad Vaccarino casually stepped onto the stage, trumpet in hand. At the precise moment when you expect the horns to come in during Hangman (you do own the amazing This Is The New Year album, right?), Chad chimed in perfectly. He didn't play the trumpet at the house concert.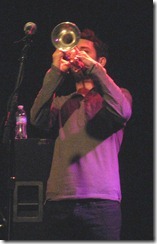 The second addition was Girl I Got a Thing. It was great. It also highlighted a few more differences in NYC audiences. Lisa and I automatically sang the (correct this time) Girl I Got a Thing answer (perhaps a few other people joined, but it wasn't obvious). More notably, I doubt that anyone realized they were missing out on Chocky drinking on stage and shaking the tambourine at just the right time. It also took a bit longer than expected for the crowd to get into the na-na-na-na, woa wo part, but I was impressed that people got a bit more emboldened. It was particular cool that people quickly picked up on singing it softer and softer at the end, following Ian's lead. Excellent!
The other obvious difference was not having Mike Campbell there. We missed him, especially since it meant that they didn't perform Shorty Don't Wait. They did do Pacific Sun (with Ian on the ukulele, first time for us seeing him jacked-in with his new pickup) and Down By the River (yesterday I knew I was wrong when I called it Down To the River).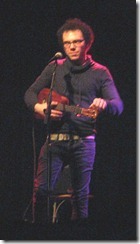 I did start out by saying the difference was dramatic. The #1 reason was that Jammin' Java was amplified and the house concert was not. Both were awesome, with the sound engineer last night doing a terrific job of getting the levels right. Still, hearing their voices amplified and hearing the keyboards much louder (in particular the bass lines) puts it squarely in between an acoustic show and a full band one.
The way I raved about the house concert, you'd think that I would much prefer it over last night's version. You would be wrong (again). Variety is the spice of life and I really fully enjoy all of Ian's setups!
Of course, Chad thrilled on You'll Be OK, Down By the River, Pacific Sun and This is the New Year. There were even a handful of "Yeah, Chad"'s called out, making it ever-so-slightly more like a NYC show.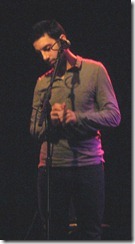 But, for me personally, the biggest difference last night from any other show is that Lois finally decided I was a big enough fan of Ian Axel to warrant buying me my own Ian T-Shirt. For over a year, I have had to walk around with Lois wearing one of her many colored ones, the original version saying "I'm with Ian" (so people may have thought my name was Ian!). We'll see who wears theirs out first (probably me, since I still only have one…).
So, awesome indeed, but now I'm ready again for a full band show. Let's get it done boys!
Ian has a way of creating super fans (we definitely qualify). The same ladies that organized the house concert the day before volunteered to run the merch table at Jammin' Java. Lindsie and Sara did a great job, including bringing a jar of the Ian Axel Fortune cookies. If you signed the mailing list you got one. Our two guests did and got their reward.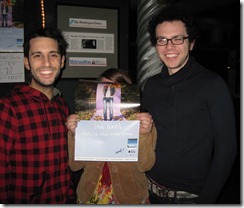 I may have my facts wrong, but I heard a rumor that the opening act was supposed to be someone we've just recently seen in NYC. Pleasant but nothing that excites me. Then we heard that he canceled. Whether that's true or not, a local group was chosen to open for Ian.
Sub-Radio Standard is five guys, a number of whom look like they're still in High School (perhaps they are). Not one to be blinded by age-ism, let's start out by saying they were a great selection to open for Ian. They are all talented, but the lead singer is really the heart of the group.
Adam Bradley sang lead on every song and played acoustic guitar (quite nicely) on roughly half of them. He has a terrific voice that Ian called out as well.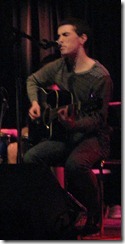 Matthew Prodanovich on acoustic guitar and light vocals. Matthew did a very nice job on the guitar, in particular on the few songs where he played some very interesting leads (integrated into the songs, rather than solos). He sang nicely, but nowhere near often enough.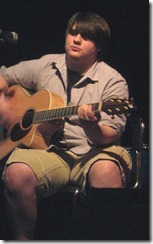 Before I continue, I have an excuse to point out one thing that Sub-Radio Standard (and Adam in particular) needs to start doing. Introduce the band! Adam didn't name the members of band. Even though they are listed on their Facebook Fan Page (which is how I know the spelling), there is an extra person listed, that overlaps with the instruments I am about to name, so I may be choosing the wrong person!).
John Fengya on electronic keyboards, acoustic guitar and small djembe. John (or is it Mike Chinen?) is likely the most talented musician in the group. He played the keyboards very well. His play on the guitar was really good too. He joined the full-time percussionist on the closing number and did a very nice job there as well. One one song John also used a shaker.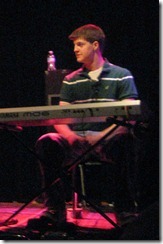 Michael Pereira on percussion (small djembe and bass drum, both played with his hands only). He also played the tambourine with his foot. Michael kept a lively beat throughout. He also sang a bit of harmony with Adam on the first number (and on the last, but I don't think he was near his mic since he moved over to share the bass drum with John, which was quite cool).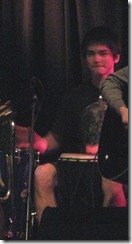 Mark Siford on acoustic bass. Nice job.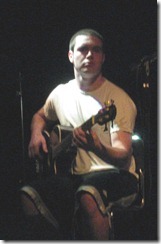 Sub-Radio Standard played at least three covers (including the opening number) and at least five originals. The covers were all by big groups (Kings of Leon, Maroon 5 and Coldplay). I know I'm one of the only people in the world who doesn't get why many of these super groups are so popular. I don't know many of their songs, but the reason I don't is that none of the ones I've ever heard have made me want to listen to more. In general, they're very pleasant, but not interesting.
I felt exactly that way last night. Sub-Radio Standard did a high quality job on all three covers. The performances were worth listening to, but the songs, I have no need to ever hear again (by Sub-Radio or the original groups). On the other hand, I liked every single original song that Sub-Radio played. So, keep writing guys, you're doing a good job!
My only complaint about Sub-Radio Standard is that they don't do nearly enough harmony. Matthew and Michael are clearly capable of enhancing Adam's sound. Even though Adam called out Matthew for his harmony, I assure you it was way too little. They need to work on this since they have the raw material sitting there (literally).
Some final thoughts about Jammin' Java. We really like it there and look forward to every show we attend. The food is excellent as is the coffee. For the most part, the staff there are extremely nice. Last night, that was 95% accurate (the food, coffee and majority of the staff).
For whatever reason, they decided that last night would be a standing only show (with a few tables in the small elevated area). Fine, that's their right, even though without the full band, Ian is better served by a seated show. At 7:20 (or later!), 10 minutes before Sub-Radio Standard was supposed to start, they changed their minds (that's fine too and we were thrilled). They started rolling tables and chairs out.
They did it fairly quickly and efficiently. But, one staff member decided to be officious and tried to keep people away from tables that were clearly done until "they were all done". Her attitude was difficult to take, but it never ended. Once she got in a mood, it lasted until after the show was over. One of our guests ordered some chili to go. While one person was happily making it, our moody gal remarked (loudly) "You're not making food now?". Hey, we tried to give the club more business in this economy. We apologize for the inconvenience…