Send to Kindle
I just posted that we saw Marjory Lee at Arlene's Grocery last night. Her set ended at 8:45pm and the six of us walked the block and half to Rockwood Music Hall to catch Chris Kasper.
We caught most of a Chris Kasper set (also at Rockwood) back in October 2009! He was on before ambeR Rubarth. That night he was accompanied by another acoustic guitarist, Ross Bellenoit. You can read my thoughts on that show at the bottom of this post.
I can't believe that I missed Chris a few times since, so I was particularly happy that the timing worked out so well last night.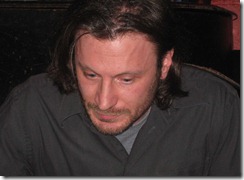 One of the interesting things in seeing indie musicians live is that a lot of things can change from one performance to the next. Last night, instead of just one other guitar player, Chris had a full band. I'll cover them all in a minute.
Aside from the obvious fuller sound (and different instruments), Chris proved my earlier assumption about his guitar play. Last time, Chris deferred to Ross (who is excellent), but flashed some quality play of his own. Last night he showed more of his guitar chops.
Chris has a nearly-perfect voice for folk music (to my taste). Enough gravely/raspiness to make every word sound authentic. I really like his songs too (lyrics and melodies). Basically, he's a top singer/songwriter in my book.
Accompanying him last night, standing left-to-right on the stage:
Kylie Ryan on fiddle, banjo, glockenspiel and (way too soft) harmony (sorry, can't find a good link for her). Kylie played the fiddle beautifully, enhancing Chris' sound on a number of songs. She also played the glockenspiel on one song. That led to a funny situation. The microphone kept slipping down when she was setting up. A helpful audience member propped himself on a chair against the wall and held the mic stand in place throughout the song. Yay for good samaritans!
Kylie sang harmony on many songs. Unfortunately, it took a lot of concentration to pick out her voice, even though I was sitting a few feet from her. When I locked in, I was impressed. After the show I told her that she needed to pump it up a bit. She told me that she had a cold and that when she's feeling better, she cranks it up. Feel better soon, we look forward to hearing your healed voice!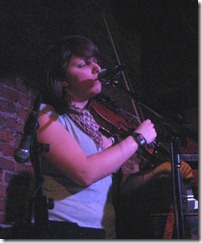 Phil D'Agostino on electric bass and very light harmony. Very nice job throughout. It was a mellow set, so no fancy bass needed or delivered, but solid bottom was a nice addition.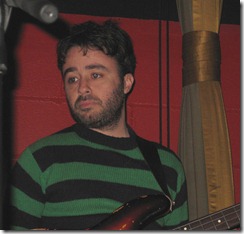 Kevin Killen on drums and very light harmony. Just like with the bass, the drums could have overwhelmed Chris' sound. Not so in the hands of Kevin. I'll tell you what I told Kevin when we bumped into him on the street after the show: "You are the brush master!". Yes, most of the set was played with the brushes, to excellent effect. Kevin's cymbal play was outstanding.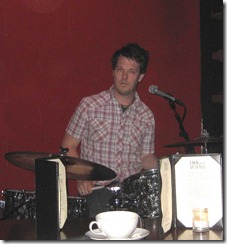 On one number, Chris called up a guest to sing harmony with him.
Adrien Reju sang gorgeous harmony with Chris. She has her own set at Rockwood on April 14th at 7pm.
I am so glad that we finally got to see Chris Kasper again. I am looking forward to the next time. Even though we already bought both his solo CD's and one of him with his previous band Lowlands, we like to support the musicians we enjoy. So, aside from putting money in the tip jar, we bought another copy of Chasing Another Sundown, which we intend to gift someone with, shortly.