Send to Kindle
We rarely attend dance recitals (is that the correct word? feels wrong to say "concert" or even "show"). We love music. One of the flexible groups of musicians that we follow is The Artemis Chamber Ensemble. In particular, we are huge fans of Melissa Tong, David Fallo and the conductor and musical director, Matthew Oberstein.
When we heard that Artemis was performing with SYREN Modern Dance for three nights (part of a six-night run for SYREN, opening their 8th season), we bought tickets for the third night. The performances were (and are being) held at Baryshnikov Arts Center.
SYREN performed two pieces, broken up by an intermission. The first was Dolce, choreographed by Kate St. Amand (one of the co-founders of SYREN).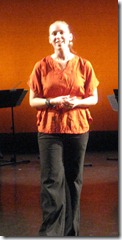 There were six dancers for this piece. They performed in every permutation from only one of them on stage to all six. They were: Sonja Dale, Chanelle Lagacé, Xuexin (Nico) Li, Brigitte Mitchell, Lynn Peterson (the other SYREN co-founder) and Chihiro Shimizu. They were all terrific, individually and collectively.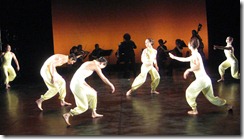 Artemis can be configured from a quartet all the way up to a 19-piece chamber orchestra. Last night was seven pieces plus Matthew working his conductorial magic. The seven players were: Melissa Tong, Heidi Shaul-Yoder and Sarah Koenig-Plonskier on violin, David Fallo on viola, Laura Bontrager and Emily Brausa on cello and Eleonore Oppenheim on bass. They were fantastic (no surprise, that's why we showed up in the first place).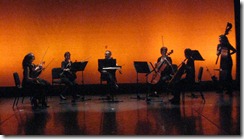 Dolce was set to Holberg Suite by Edvard Grieg. It's a stunning musical piece, brought to life perfectly by Matthew and Artemis. SYREN's choreography (or Kate St. Amand's, to be more precise), matched the music wonderfully. Given that we're not "dance first" people, the visual could have distracted me from the amazing music, but it didn't.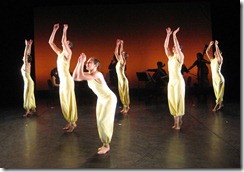 The second piece was "the last of the leaves" (I put it in quotes since it wasn't capitalized in the program) also choreographed by Kate. In addition to the same six dancers above, two male dancers were added to the mix: Bryant Henderson and Jeremy Neal. The men dressed in the same outfits as the women.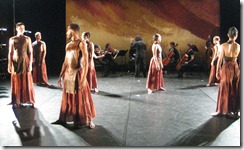 The dance was set to Shaker Loops by John Adams.
While the dancing and choreography were as fluid and interesting (to my untrained eye) as the first piece, the musical experience was nothing like the Holberg Suite. I would describe the piece as constantly dissonant. The skill require to play the piece might have been even more difficult, but it felt to me like I was watching horror movie transitional music.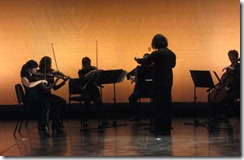 I was expecting a knife to come through a shower curtain, or someone to be pushed down a flight of stairs in the dark. Unlike Dolce, without the dance, I would not have been able to enjoy the music with my eyes closed.
The dance matched the music in this case as well, but I could have stood for a repeat of Grieg's work.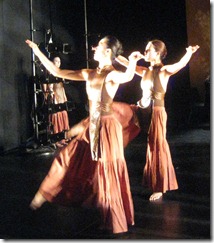 I am thankful that we get to broaden our horizons through our connections with our friends and the musicians that we actively follow.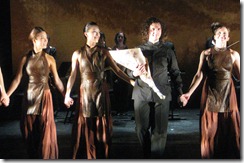 Tonight through Sunday, SYREN is performing a different piece (without Artemis to my knowledge): Toward Home, music by Damon Ferrante.